Recently found by viaLibri....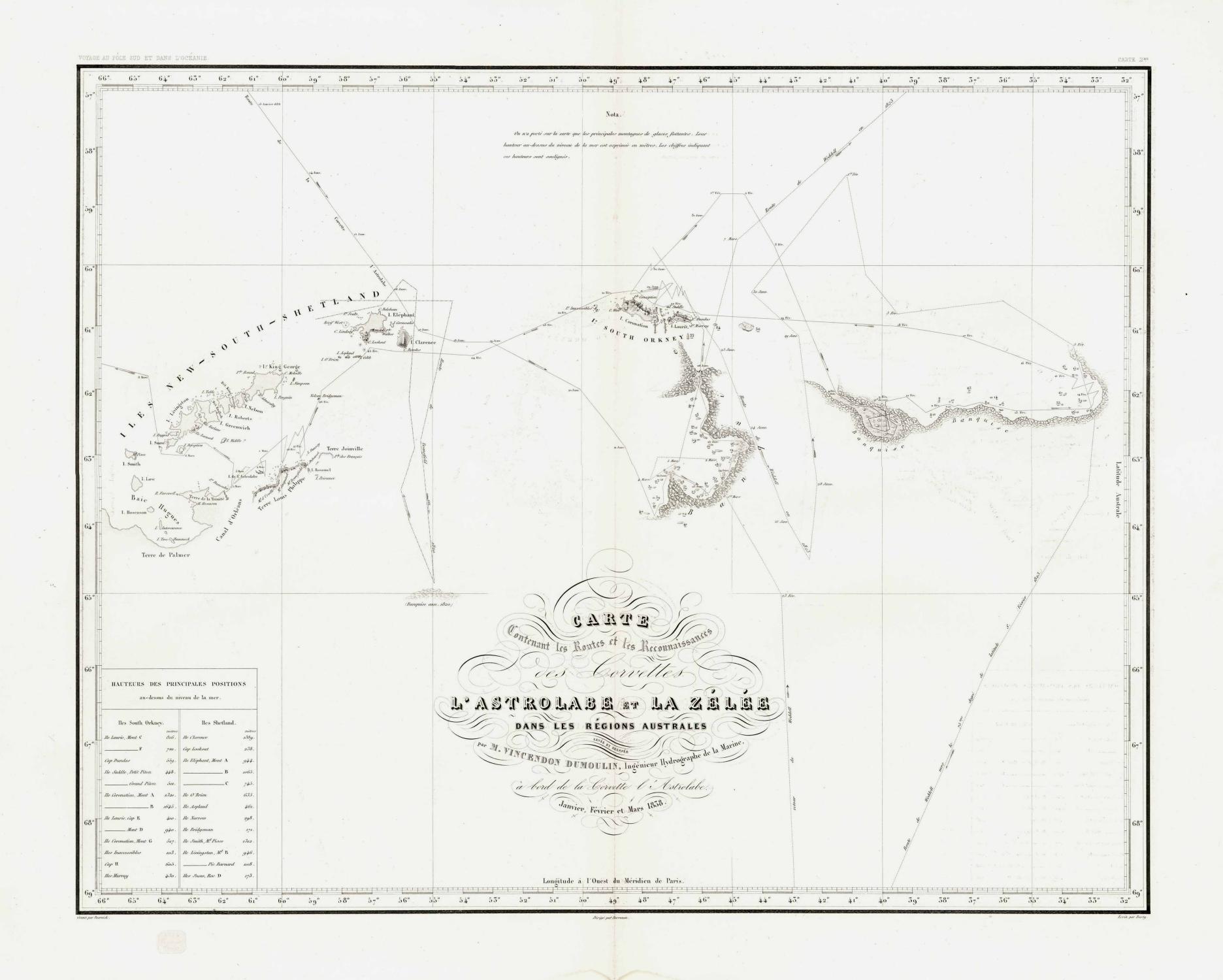 Carte Contenant les Routes et les Reconnaissances des Corvettes L'Astrolabe Et La Zélée Dans Les Régions Australes - Levée Et Dressée par M. Vincendon Dumoulin, Ingénieur Hydrographe de la Marine, à bord de la Corvette l'Astrolabe. Janvier, Février et Mars 1838. - Gravé par Doornick. - Dirigé par Borromée. - Ecrite par Burty.':.
1838. Lithographie v. Doornick & Burty n. Clément Adrien Vincendon-Dumoulin aus Voyage au Pôle Sud et Dans L' Océanie. ., dat. 1838 (pub. 1846), 43,5 x 55,5 Tooley's Dic. of Mapm. Rev. Ed. Q - Z, S. 328. - (Vincendon-Dumoulin was a French hydrographer aboard the corvette Astrolabe. Served under Dumont d'Urville on voyages to the south. - He produced numerous charts throughout his voyages.) - Zeigt die Südlichen Orkney-Inseln und die südlichen Shetland Inseln im Südlichen Ozean (Südpolarmeer, Südliches Eismeer, Antarktischer Ozean, Antarktis, Antarctic). - In der unteren Hälfte Titel. - Unten links Kartusche mit Erklärungen. - Außerhalb des Kartenrandes Trockenspempel ('Gide Editeur Paris.').
Bookseller:
Antiquariat Norbert Haas
[Bedburg-Hau, Germany]
Search for more books on viaLibri
LINK TO THIS PAGE:
https://www.vialibri.net/years/books/209159250/1838-sudliche-orkneyinseln-sudliche-shetlandinseln-south-orkney-carte-contenant-les-routes-et-les
Browse more rare books from the year 1838