Recently found by viaLibri....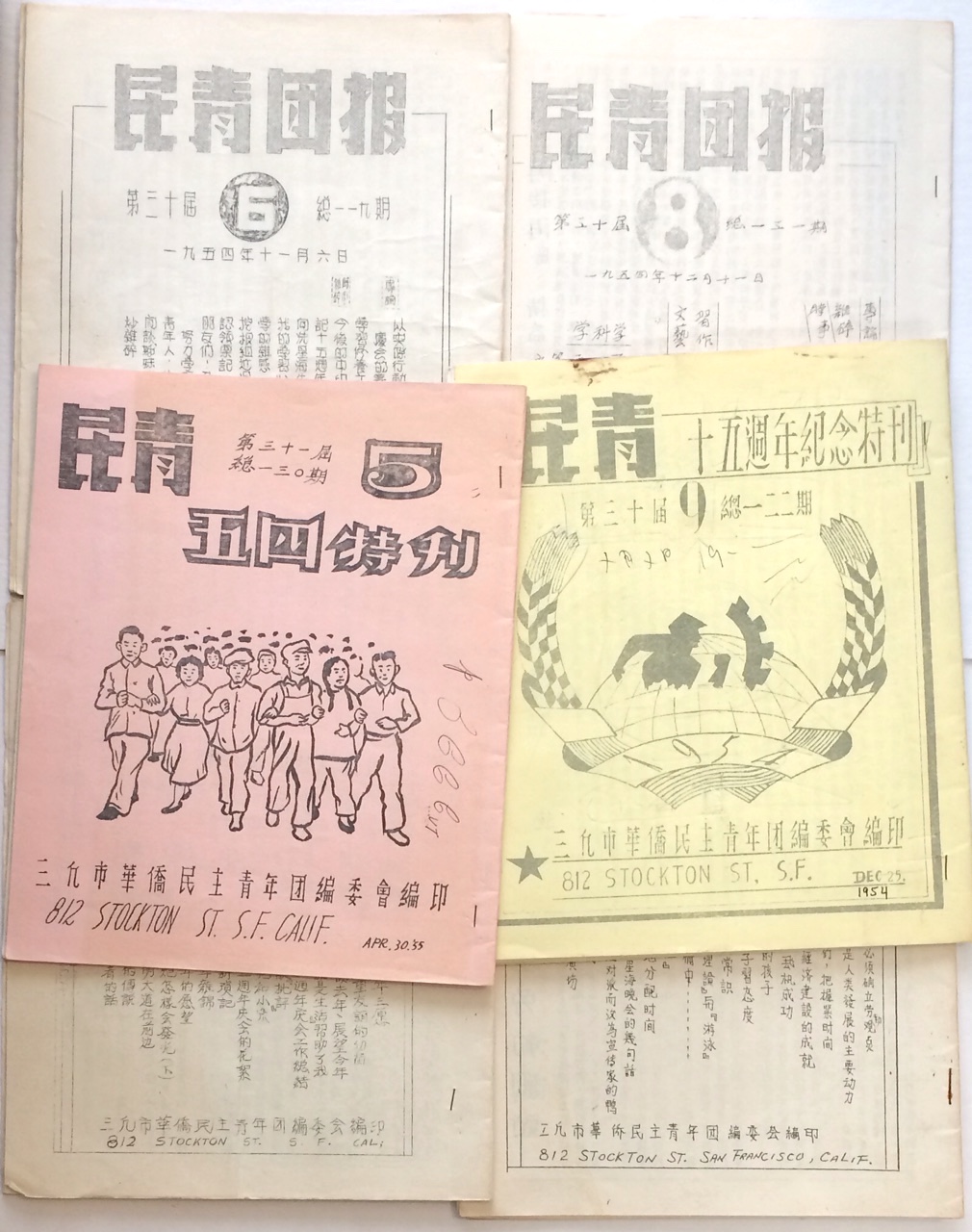 Six issues of the mimeographed newsletter by the radical Chinatown organization targeted by the FBI]
Mun Ching, San Francisco, 1955. Six newsletters, all mimeographed, 7x8.5 inches, minor pen marks or doodles on the cover, one with pencil doodles on the interior. Eralier issues are titled Min Qing Tuan Bao, later issues shortening this to Min Qing (Mun Ching in Cantonese). Text in Chinese. Issues present are whole numbers 117, 119, 121, 122 (special issue for the 15th anniversary of the organization), 123, and 130 (special issue to commemorate the May 5th literary and cultural movement). Also present, but not included in the count, is issue 184 from 1958, missing the back cover. Contents of these newsletters include updates on activities, members' discussions of how they became involved and what Mun Ching meant to them personally; updates on theatrical performances and clubs, and on a broader level, discussions of international politics and Marxist theory. Mun Ching began as the New Chinese Alphabetized Language Study Society, an organization in Chinatown devoted to alphabetizing the Chinese language in order to promote literacy in the working class. In 1943, in the context of China's battle against Japan, the group broadened its mission and re-named itself the California Overseas Chinese Youth League for National Salvation. They put on plays to raise money for care packages for Chinese American soldiers, also issuing mimeographed publications and building a library. By this point, political theater was a core part of the group's activities, as part of its outreach to the broader Chinese-speaking public. In 1946, the group was renamed the Chinese American Democratic Youth … [Click Below for Full Description]
Bookseller:
Bolerium Books Inc.
[San Francisco, CA, U.S.A.]
Search for more books on viaLibri