Recently found by viaLibri....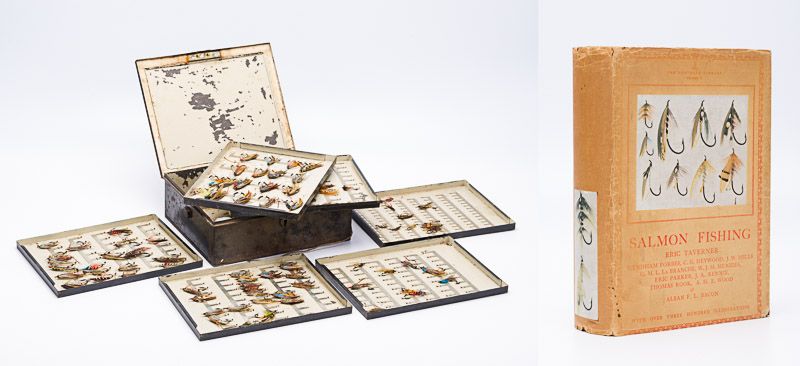 Collection of 40 books / publications on Fly Fishing, General Angling [Sharks, Trout, Salmon etc.] plus one vintage metal box with 85 (!) antique / vintage Flies (Salmon-Flies / Trout-Flies), professionally tied in early 20th century Ireland (West Cork, c.1920-1940). Published between the years 1851 and 1999, the excellent collection includes for example William Houghton's 1879-edition of British Fresh-Water Fishes with all the chromolithographs, the very rare, first ever publication on Salt-Water-Flyfishing, with hand-coloured plates on Connemara Fly Fishing from 1851 with Flyfishing and Angling in America / Nova Scotia / Connemara - Fly-Fishing at Lough Ina, near Clifden, in Bertraghboy Bay, at the Skyard Rocks, at Deer Island and off the Isle of Mweenish and the Isle of Arran etc.
London and other places of print, Harper Collins / William Mackenzie / John Van Voorst and others, 1851-1999. Octavo. More than 3000 pages with many illustrations for the Beginner as well as the Advanced Angler. Original Hardcover and Softcover publications, often with the rare illustrated dustjacket in protective collector's Mylar. Many of the publications with some signs of wear but overall, and especially the collector's items in excellent condition with only minor signs of external wear. The historical publications are true gems for the collector and this collection would be the perfect foundation for a meaningful Fly-Fishing-Library. This collection is the perfect gift for the Fly-Fisher. [Please ask for a full list with details and photographs of the books included in this collection]. The price includes an upgrade to worldwide free shipping of the collection per DHL Express Courier. Sprache: english. [Attributes: Hard Cover; In Dust Jacket]
Verkäufer:
Inanna Rare Books Ltd.
[Drimoleague, CORK, Ireland]
Search for more books on viaLibri