Recently found by viaLibri....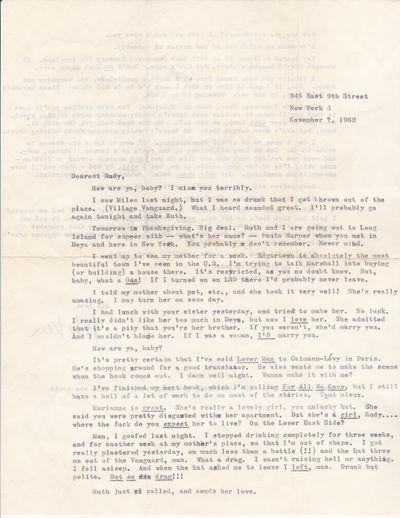 A collection 10 intimate TYPED LETTERS SIGNED by the JAMAICAN-AMERICAN AUTHOR ALSTON ANDERSON to the author & screenwriter RUDY WURLITZER, together with 2 Typed Letters to Alston Signed by Wurlitzer.
New York & Vineyard Haven, Massachusetts, November 1962 to November 17th, 1965. [1962]. [1962]. - Ten letters by the Jamaican-American author of "Lover Man" densely typed on 11 inch high by 8-1/2 inch wide creamy buff paper. Addressed to the author of "Nog", Rudy Wurlitzer, each letter is signed "Alston". In a November 1962 letter, typed on both sides of the sheet, Alston dives right in, letting loose his "wild" side which one can at once consider a gift or a plague. "I saw Miles [Miles Davis] last night, but I was so drunk that I got thrown out of the place. (Village Vanguard.) What I heard sounded great. I'll probably go again tonight and take Ruth." Perhaps not surprising considering the cause of his fallout with Robert Graves, without qualms Alston reveals his feelings for Rudy's sister: "I had lunch with your sister yesterday, and tried to make her. No luck. I really didn't like her much in Deya [ie: Deia, Mallorca], but now I love her. She admitted that it's a pity that you're her brother. If you weren't, she'd marry you. And I wouldn't blame her. If I was a woman, I'D marry you." As is the case throughout his letters, Alston philosophizes about writing: "Read the Tibetans, baby, read the Tibetans. The only problem you'll have is that you'll come to realize that there's really nothing worth writing about." Briefly falling back into explicit descriptions of his lusty feelings, Alston closes with "Bye bye, blackbird". In a 1-1/4 page letter dated December 21st, 1962 typed on both sides of a sheet of paper, Alston first elatedly mentions that he's "been writing. I'm work … [Click Below for Full Description]
Bookseller:
Blue Mountain Books & Manuscripts, Ltd.
[Cadyville, NY, U.S.A.]
Search for more books on viaLibri