Recently found by viaLibri....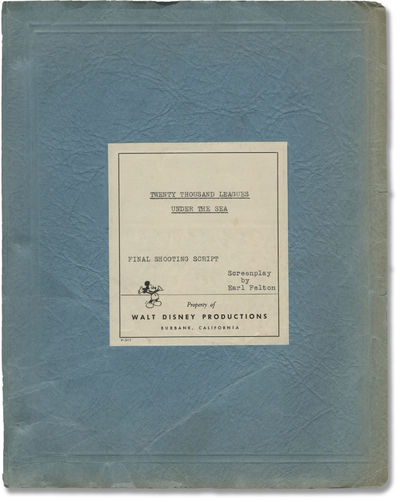 20,000 Leagues Under the Sea (Original screenplay for the 1954 film)
Burbank, CA: Walt Disney Productions, 1954. Final Shooting Script for the 1954 film, with blue, yellow, and green revisions throughout. Based on the 1870 novel "Twenty Thousand Leagues Under the Sea" by Jules Verne. Walt Disney's "20,000 Leagues Under the Sea" was one of the most expensive and ambitious productions of its time. A 200 foot submarine, a 225 pound diving suit, a specially built soundstage with a 90 x 165 foot tank, and a giant squid which weighed two tons and required a crew of 28 to operate were just some of the monumental challenges of the production. Disney's first CinemaScope motion picture, "20,000 Leagues Under the Sea" was a resounding success and went on to be considered one of greatest live-action adventure movies ever made. In 1868, off the coast of San Francisco, Professor Aronnax (Paul Lukas), his assistant Conseil (Peter Lorre) and master harpooner Ned Land (Kirk Douglas) set sail upon a armed frigate to investigate a spate of sinkings, rumored to be caused by a sea monster. After months of searching, the "monster" is spotted sinking a merchant vessel and the frigate attacks, only to be sunk themselves. Adrift in the ocean the three come upon a strange metal vessel, and realize the "monster" is a "submerging boat." The trio are captured by Captain Nemo (James Mason) and taken aboard the submarine, the Nautilus, and journey on a voyage of adventure and discovery under the sea. Nominated for three Academy Awards, winning two for Art Direction and Special Effects. Shot on location in California, Jamaica, and the Bahamas. Blue titled wrappers … [Click Below for Full Description]
Bookseller:
Royal Books, Inc.
[United States]
Search for more books on viaLibri