Recently found by viaLibri....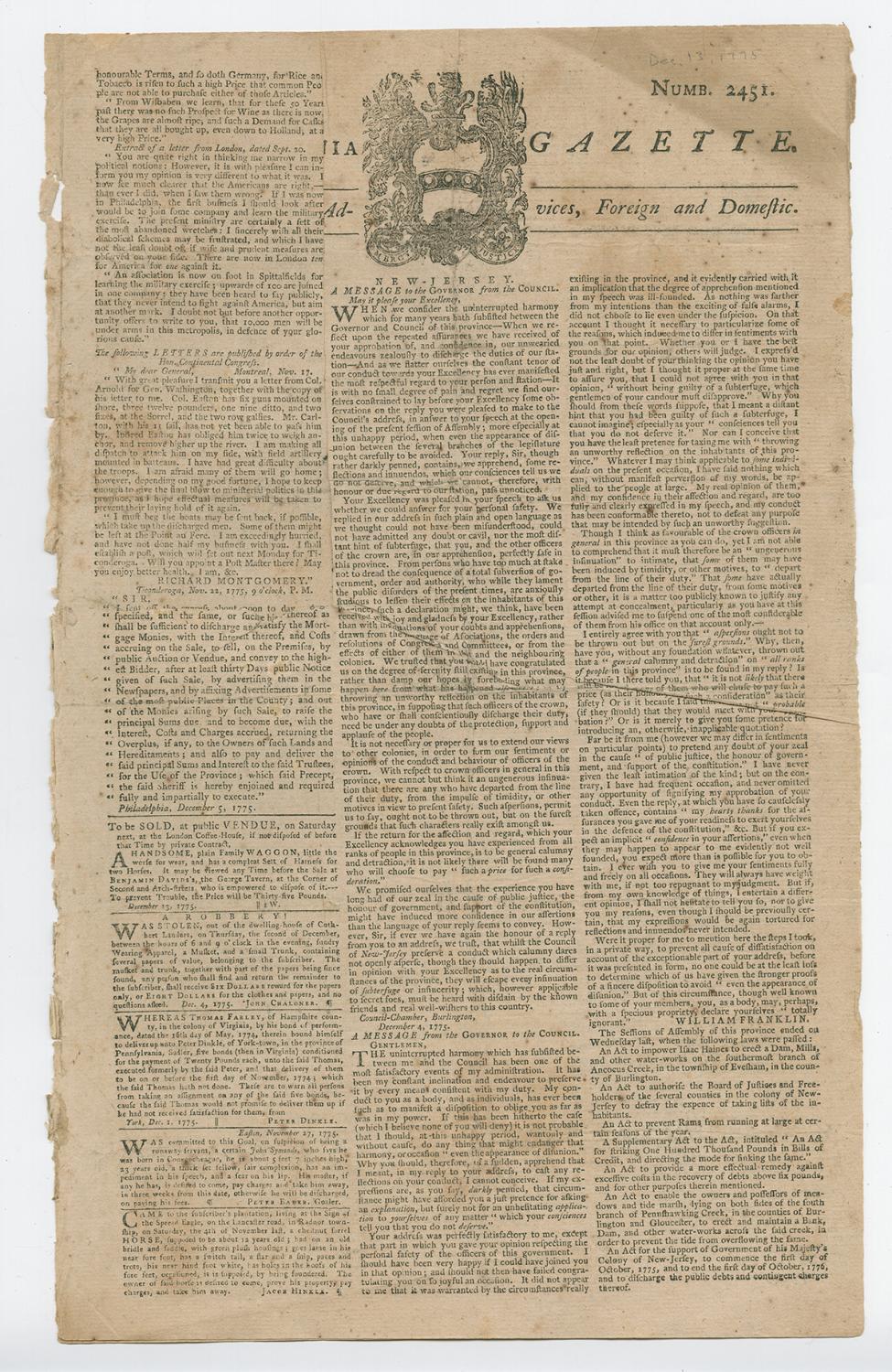 Congress Responds to King George III's Proclamation that the Colonies are in Rebellion
Philadelphia, Pennsylvania: David Hall and William Sellers, 1775. "We are accused of 'forgetting the allegiance which we owe to the power that has protected and sustained us.'... What allegiance is it that we forget? Allegiance to Parliament? We never owed--we never owned it. Allegiance to our King? Our words have ever avowed it...we oppose the claim and exercise of unconstitutional powers, to which neither the Crown nor Parliament were ever entitled." [SECOND CONTINENTAL CONGRESS].Newspaper. The Pennsylvania Gazette, December 13, 1775 (No. 2451). Philadelphia: David Hall and William Sellers. With the Response of the Continental Congress to King George III's Proclamation of Rebellion. (December 6, 1775). 4 pp. 10 x 15½ in. [Significant damage: Half of column on p1 excised.]Historical BackgroundIn response to British plans to fortify the hills surrounding Boston harbor, colonial forces besieging Boston occupied Bunker Hill and Breed's Hill on the Charlestown peninsula, north of Boston. On June 17, 1775, British troops repeatedly attacked colonial defenders and suffered substantial casualties. The British eventually succeeded in forcing the colonists to retreat to Cambridge. When news of the battle reached London, King George III responded with "A Proclamation for Suppressing Rebellion and Sedition" on August 23.Colonial Secretary Lord Dartmouth (1731-1801) drafted the Proclamation. Dartmouth had received a copy of the Olive Branch Petition, signed by the Second Continental Congress on July 8, 1775. Because the King refused to receive the Olive Branch Petiti … [Click Below for Full Description]
Bookseller:
Seth Kaller Inc.
[White Plains, NY, U.S.A.]
Search for more books on viaLibri