Recently found by viaLibri....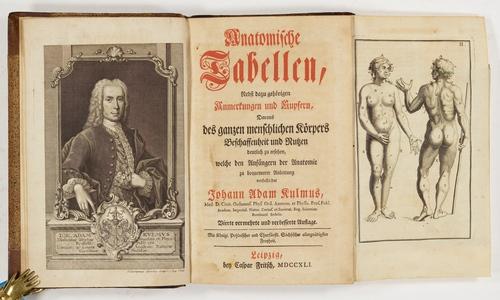 Anatomische Tabellen, nebst den dazu gehörigen Anmerkungen u. Kupfern, Daraus des ganzen menschlichen Körpers Beschaffenheit und Nutzen deutlich zu ersehen, .
Vierte vermehrte und verbesserte Auflage. - Leipzig, bey Caspar Fritsch, 1741, gr.-8°, Portraitfrontispiz, 8, 121, (7) pp., 28 (inkl. Portrait, 16/17, 22/23 Doppel-) Kupfertafeln, Halbledereinband d.Zt.; wie immer minimal gebräunt. The "Anatomische Tabellen" were even translated into Japanese. After the Japanese physicians MAYENO RYOTAKU (1723-1804), GENPAKU SUGITA (1733-1817), and JUN'AN NAKAGAWA (1739-1786) had convinced themselves the 4th of March 1771 in Kotsukappara, near Edo, by the dissection of an executed, about 50 years old Japanese woman, Aocha-Baba (Mother Green Tea), that those "Tabellen" presented the true anatomical relations, thus demonstrated that anatomy as it had been taught in Japan up to that time was false. "The book in no way differed from what we saw before us. If we could translate parts of this Tâheru Anatomia we could gain a clear understanding entirely and advance medicine beyond its present level." Genpaku Sugita, Rangaku katohajime (1815). So Kaitai Shinsho (New Book on Human Dissections) was the first complete translation of a medical work which originated on a German text. It represented an empirical approach to nature, which was undermining the prestige of Chinese medicine in Japan. It took about 4 years and eleven attempts to translate it, and was edited by GENPAKU SUGITA in 1774. The translator MAYENO RYOTAKU didn't sign it because of his extreme modesty. -cf. Hirsch-H. III, 632; Heinrich Vianden, Die Einführung der deutschen Medizin in Japan der Meiji-Zeit, p.23ff.; Y.Fujikawa, Der Arzt in der Japanischen Kultur, p.58.
Bookseller:
Antiq. F.-D. Söhn - Medicusbooks.Com
[Marburg, Germany]
Search for more books on viaLibri