Recently found by viaLibri....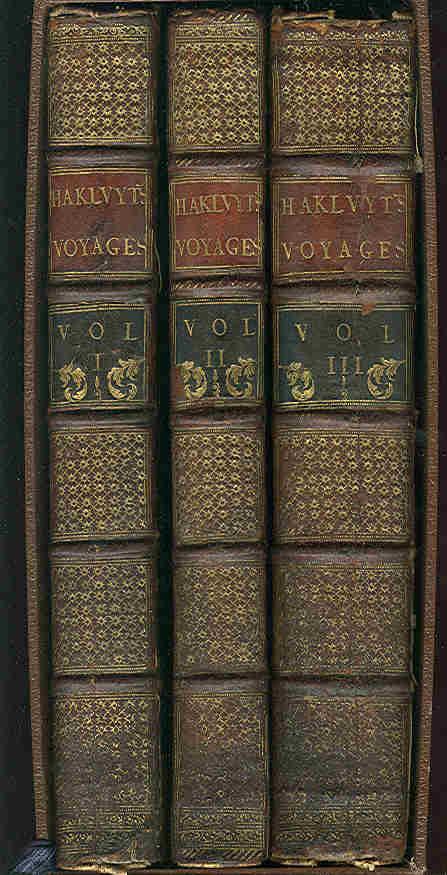 Principal Navigations, Voyages, and Discoveries of the English Nation.
Imprinted at London by George Bishop, Ralph Newberie, and Robert Barker. Anno 1599. [-1660]. Second edition, with the1599 title-page in volume one. Three volumes, small folios; size of the bindings: 7 1/2 inches x 11 5/8 in. Volume 1: [24], 1-606 + pp. 607-620; Volume 2: [16], 312, 204 p.; Volume 3: [16], 868 p. [With: "yeres" reading on the title-pages of volume 1 (line 7) & 2; "yeeres" reading in volume three. Title-page in volume two with the "Hackluyt" spelling; George Bishop, Ralph Newbery, and Robert Barker ANNO 1599. Title-page in volume three: George Bishop, Ralfe Newberie, and Robert Barker. Anno Dom. 1600. Volume 1 has the Voyage to Cadiz: pp. 607-620. This is a ca. 1720 reprint (This is comparable to the copy in the H. Kraus' Drake Collection; and see STC: Short Title Catalogue, second edition; p. 553; #3). The average page size is: 7 1/4 inches x 11 3/8 in. Woodcut initials; without the map, which is lacking in most copies. Bound in full old calf with five raised bands on the spines, and red leather title labels and black leather volume number labels in the second and third compartments, with gilt titles: HAKLUYT'S VOYAGES; the volume number labels, each show two, gilt leaf forms, the other compartments have gilt borders, and small diamond and star forms, with decorated gilt borders around the cover margins, decorated gilt on the cover edges; sprinkled edges; red marbled endpapers. These 18th century calf bindings show some wear to the spine ends, cover corners, with cracking to the front hinges on volumes one and three. The set is preserved in a brown, textured … [Click Below for Full Description]
Bookseller:
Peter Keisogloff Rare Books, Inc.
[Brecksville, OH, U.S.A.]