Recently found by viaLibri....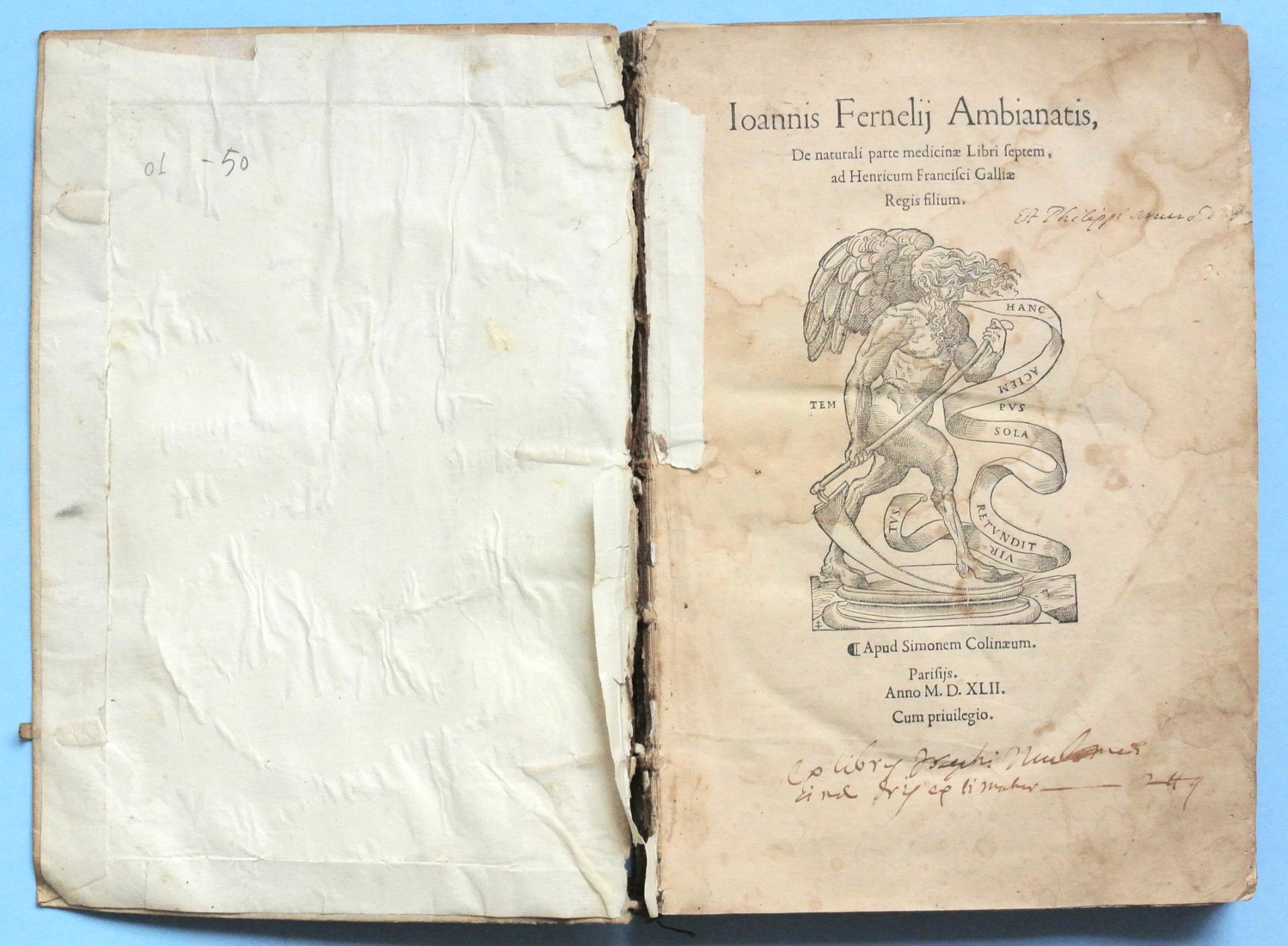 Ioannis Fernelij Ambianatis, De naturali parte medicinae Libri septem, ad Henricum Francisci Galliae Regis filium.
Parisijs: Apud Simonem Colinaeum, 1542. [Para pedidos desde fuera de España, por favor, consulte las condiciones de venta y envío, tipo B. / For orders to be delivered outside Spain, please, let you see our sale and shipping terms, type B. / Pour les commandes à livrer hors d'Espagne, s'il vous plait, voyez les conditions de vente et de livraison, type B.].- // 1ª ed.- Fol., (293x210 mm.).- [10], 165 [i.e. 166] f.; sign.: ?6, ??4, a-z6, A-D6, E4 [errores de foliación: f. 92 malnumerado 93, f. 96 como 91, f. 114 como 115; f. 162-165 como 164-167 y f. 166 como f. 165]; marca tipográfica de Colines con la imagen del Tiempo, motto 'Tempus. Hanc aciem sola retundit virtus', en su formato grande; iniciales grabadas; apostillas marginales; colofon en verso de f. 165 [i.e. 166], 'Imprimebat Parisijs Adamus Sulnerius, Impensis honesti viri Simonis Colinaei. Anno M.D.XLII.'- (1) 'Tempus, nº 1', en términos de Renouard (Bibliographie des éditions de Simon de Colines 1520-1546, p. 104, y nº190 en su Les marques typographiques parisiennes des XVe et XVIe siècles), BaTyR n° 27646 (Base de Typographie de la Renaissance) y Silvestre, 329 (Marques typographiques, ou, Recueil des monogrammes, chiffres,.). Colines la empleó desde 1527, en esta y en otras variantes de menor tamaño, algunas de ellas con el lema cambiado a 'Virtus sola aciem retundit istam'.- // Guardado en caja de conservación, con tejuelo en el lomo. Encuadernación en pergamino, lomo perdido, cuerpo casi descolgado. Portada un poco sucia, con restos de humedades y bordes rozados; punta inferior de los primeros 20 folios doblad … [Click Below for Full Description]
Bookseller:
Andarto B.
[Pamplona, NA, Spain]
Search for more books on viaLibri