Recently found by viaLibri....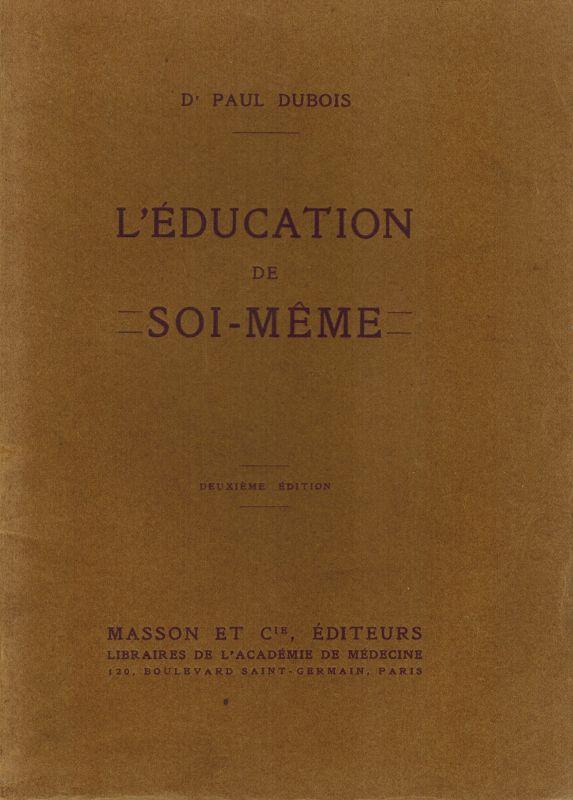 L'Education de Soi-Même.
Paris, Masson et Cie Editeurs, 1909. Deuxième Edition. 15 cm x 21.5 cm. 265 Pages. Couverture originale souple avec protection en Mylar. Bon état avec seulement des signes mineurs d'usure externe. Inscription et signature de l'auteur en première page. [Signed / Inscribed by Paul Dubois ! - Very Rare] Includes for example the following essays: La Conquête du Bonheur / La Pensée / L'Acte / La Conscience / L'Education / Clairvoyance Morale / Egoïsme et Altruisme / Pensée Méditative / Tolérance / Indulgence / Humilité / etc. Paul Charles Dubois (28 November 1848 – 4 November 1918) was a Swiss neuropathologist who was a native of La Chaux-de-Fonds. He studied medicine at the University of Bern, and in 1876 was a general practitioner of medicine in Bern. He was interested in psychosomatic medicine, eventually gaining a reputation as a highly regarded psychotherapist. In 1902 he became a professor of neuropathology at Bern. Dubois was influenced by the writings of German psychiatrist Johann Christian August Heinroth (1773–1843). Dubois is known for the introduction of "persuasion therapy", a process that employed a rational approach for treatment of neurotic disorders. Within this discipline, he developed a psychotherapeutic methodology that was a form of Socratic dialogue, using the doctor-patient relationship as a means to persuade the patient to change his/her behavior. He believed it was necessary to appeal to a patient's intellect and reason in order to eliminate negative and self-destructive habits. He also maintained it was necessary for the physician to convince the patien … [Click Below for Full Description]
Bookseller:
The Time Traveller's Bookshop Ltd.
[Skibbereen, CORK, Ireland]
Search for more books on viaLibri