Recently found by viaLibri....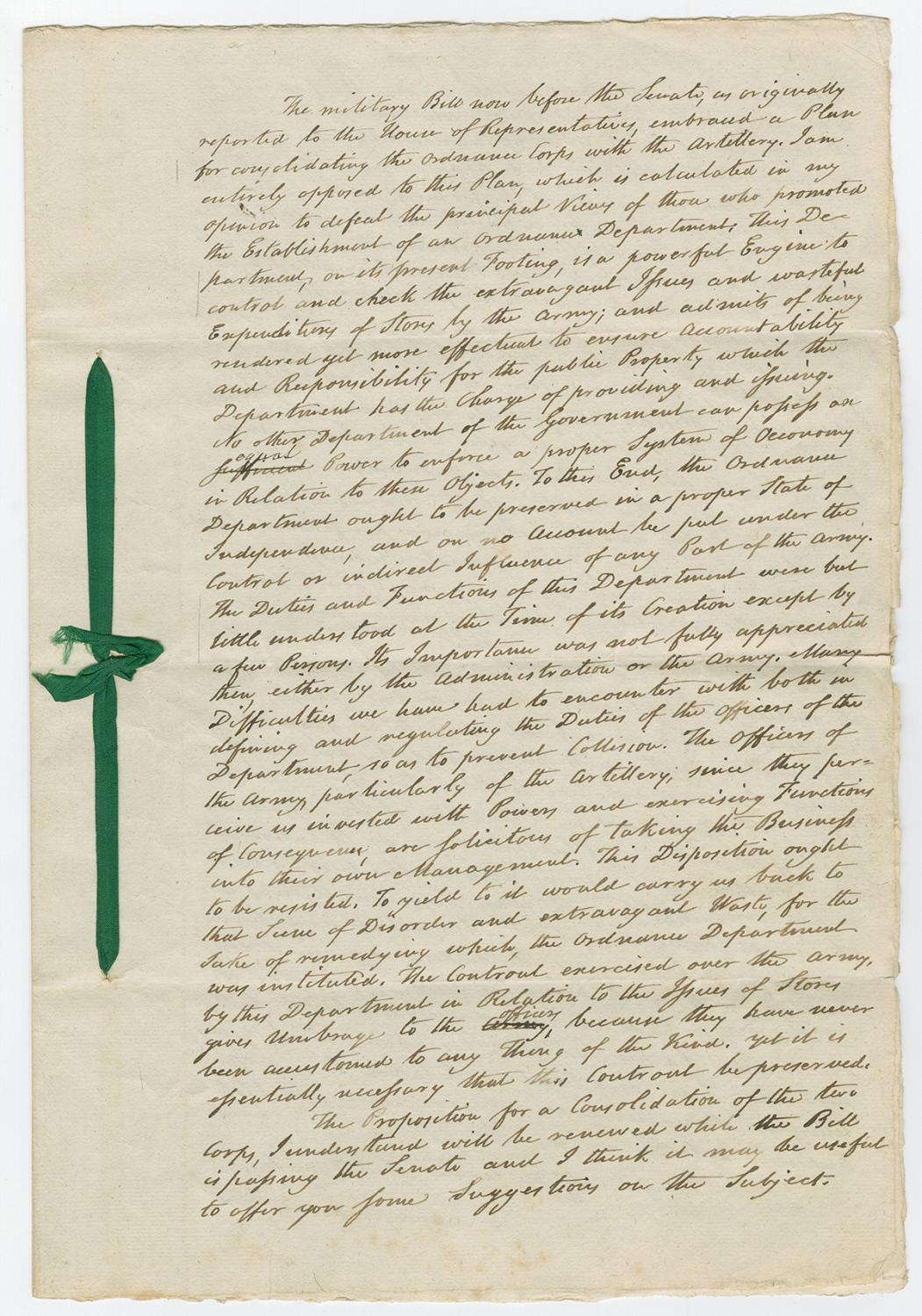 First Army Chief of Ordnance Defends Separate Ordnance Department in a Very Modern Essay against Military Waste, with two related documents
1821. Autograph Document Signed, critique of Senate bill to combine Ordnance and Artillery departments, ca. 1821. 7 pp., 8 1/2 x 12 1/2 in. [with] DECIUS WADSWORTH, Autograph Document Signed, proposal regarding Ordnance Department, ca. 1821. 3 pp., 8 x 10 in. #23067.04 [with] [JAMES MADISON]. An act for the better regulation of the Ordnance Department, passed by Congress, February 8, 1815, signed in type by President James Madison, Speaker of the House Langdon Cheves, and Senate President pro tem John Gaillard. 2 pp., 7 7/8 x 9 5/8 in. "The Idea that an Army shall be entitled to receive whatever may be called for, is monstrous, and is what the Resources of no Nation can support."Colonel Wadsworth provides a lengthy critique of a Senate bill to combine the Ordnance and Artillery departments. He insists on the need to maintain uniformity in arms manufacture and the necessity to control the flow of supplies. Many of his arguments about the tendency to waste in military expenditures resonate with modern critiques. Excerpts from Wadsworth's 1821 Critique of Senate Bill:"I am entirely opposed to this Plan . This Department, on its present Footing, is a powerful Engine to control and check the extravagant Issues and wasteful Expenditures of Stores by the Army. The Controul exercised over the Army by this Department. gives umbrage to the officers, because they have never been accustomed to any thing of the kind, yet it is essentially necessary that this Controul be preserved." (p1)"Each succeeding Secretary of War, entered into Office with new Plans in view in Relation to the artil … [Click Below for Full Description]
Bookseller:
Seth Kaller Inc.
[White Plains, NY, U.S.A.]