Displayed below are some selected recent viaLibri matches for books published in 1817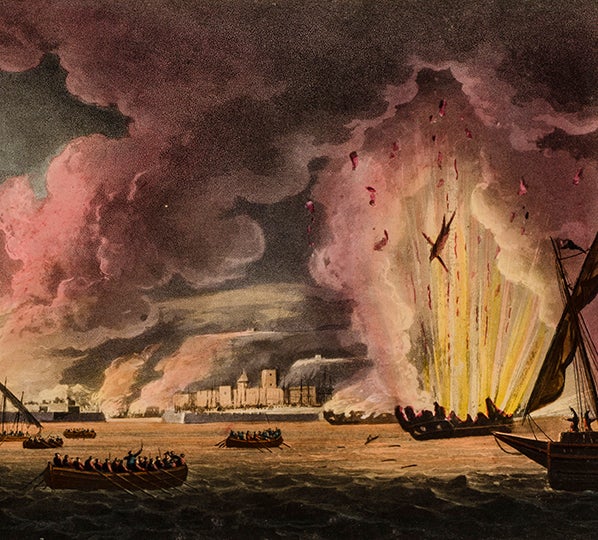 Naval Achievements of Great Britain from the Year 1793 to 1817, The
London: Printed for J. Jenkins? by L. Harrison, 1817 - First Edition, First Issue With Pre Publication WatermarksFifty-Five Superb Hand-Colored Aquatint Plates JENKINS, James. The Naval Achievements of Great Britain from the Year 1793 to 1817. London: Printed for J. Jenkins? by L. Harrison, [1817]. First edition, First Issue With Pre Publication WatermarksLarge quarto (13 7/8 x 11 5/16 inches; 352 x 287 mm.). xii, pp. (including dedication, introduction, list of plates and list of subscribers) and [74] leaves of descriptive text. Engraved title with hand-colored vignette and fifty-five hand-colored aquatint plates by T. Sutherland, J. Baily, and J. Jeakes after T. Whitcombe and Pocock. One uncolored plate with plan of the Bombardment of Algiers and plan of the Battle of Trafalgar. Text watermarked J. Whatman 1812; twelve plates watermarked J. Whatman 1811 and two plates watermarked J. Whatman 1816. Bound without the list of subscribers. Contemporary half red roan over marbled boards. Spine with five double raised bands, ruled in blind and lettered in gilt in compartments. Armorial bookplate of William Hutton on front paste-down.A large and tall example (Abbey's copy measured 13 1/8 x 10 5/8 inches). In this copy, which is a first issue with pre-publication watermarks throughout, the engraved-title vignette is colored. This is quite unusual with early issues as all the literature states that only later issues had the title vignette colored."As in the "Martial Achievements" there are late issues of the plates which must be examined to see that the watermarks are pre-publication. Some copies of this work have one or two additional plates, namely portraits of Nelson and Lord St Vincent. The work is complete without them. Copies were issued with the plates on India paper and also in etched outline. Some large-paper copies have the plates in three states. More sought after than the Martial Achievements, it is becoming uncommon". (Tooley p. 234-5). "Collectors should note that evidence of early state in this book can be found in the title-page vignette, originally issued uncoloured, and coloured only in later issues. The book was reprinted as late at 1840, copies having been seen with watermarks of the date." (Abbey, Life. p. 287). Abbey's copy measured 13 1/8 x 10 5/8 inches.Abbey, Life, 337; Bobins II, 360; Tooley 282. [Attributes: First Edition]
[Bookseller:
David Brass Rare Books, Inc.
]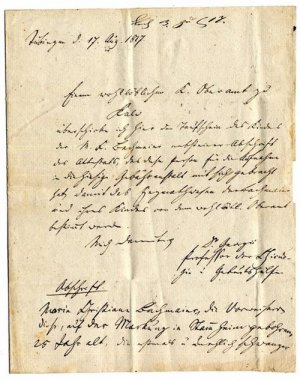 ALS - Eigenhändiger Brief mit Unterschrift.
Tübingen 17, August 1817, 4 . 3 Seiten mit Adresse öffnungsbedingter Randfehlstelle. An das königliche Oberamt zu Calw, dem er den Taufschein des Kindes der Maria Christiane Bachmaier aus Stammheim sowie die Abschrift des Attests überschickt, mit dem diese in die "hiesige Gebähranstalt" eingewiesen wurde. Auf der zweiten und dritten Seite finden sich die eigenhändigen Notizen des Oberamtmanns Friedrich Braun, der dem Calwer Oberamt von 1808 bis 1827 vorstand, zum vorliegenden Fall.Georgii, Wilhelm August (1789-1819), schwäbischer Mediziner und Revoluzzer. Georgii, Sohn eines Pfarrers aus Degerloch, studierte zunächst Theologie in Tübingen und seit 1808 Medizin. 1816 wurde Georgii ordentlicher Professor der Chirurgie und Geburtshülfe und damit zugleich Direktor der "Chirurgischen und geburtshülflichen Klinik an der Universität zu Tübingen". Als Antrittsvorlesung hielt er "Zwey Vorträge, über den Begriff von Chirurgie und Geburtshülfe und die Bedingungen ihrer Ausübung", in denen er sich u.a. mit der Frage befasste, ob "die Geburtshülfe den Weibern anvertraut werden" solle. Neben seinen medizinischen und wissenschaftlichen Leistungen ist Georgii v.a. als studentischer Sozial-Revoluzzer und Insasse des Hohenasperg bekannt geworden. Als Student gründete Georgii 1806 gemeinsam mit dem Naturforscher und Industriellen Karl Ludwig Freiherr von Reichenbach und dem Botaniker Christian Ferdinand Friedrich Hochstetter die "Otaheiti-Gesellschaft", einen von Cooks Reisebeschreibungen inspirierten Geheimbund, der, die Verhältnisse in Europa anprangernd, die Auswanderung und Errichtung einer Kolonie auf Tahiti anvisierte. Nachdem der Bund bei den Autoritäten denunziert worden war, wurden die Gründer und einige der Mitglieder der Gesellschaft gefangengesetzt: Georgii erhielt wegen "lebhaft geäusserter Abneigung gegen die politische Verfassung Europas" vier Wochen Festungshaft (cf. Horst Brandstätter, Asperg: Ein Deutsches Gefängnis, Berlin 1978, 52)Briefe von Wilhelm August Georgii (1789-1819) sind im Autographenhandel äußerst selten!
[Bookseller:
MedicusBooks.Com
]
LOSS OF THE AMERICAN BRIG COMMERCE,WRECKED ON THE WESTERN COAST OF AFRICA,IN THE MONTH OF AUGUST,1815.WITH AN ACCOUNT OF TOMBUCTOO,AND THE HITHERTO UNDISCOVERED GREAT CITY OF WASSANAH. [G]
London: John Murray,(1817). Disasters; Africa; Shipwreck; We fit archival quality clear acrylic covers for additional protection whenever possible. ; Map; 4to 11" - 13" tall; xvi, 618 pages; Loss of the American Brig Commerce, wrecked on the Western Coast of Africa, in the Month of August,1815. With an Account of Tombuctoo, and the Hitherto Undiscovered Great City of Wassanah. 4to, contemp. Marbled boards. & calf corners, 20th-Century tan calf spine & black morocco spine label; hinges reinforced. Folding Map. Scattered, generally light, foxing, light to occasionally moderate foxing to map. But internally generally crisp copy. Sabin 71398. Adt'l graphics of map and frontis available. ; 6, Very Good with no dust jacket
[Bookseller:
Poor Man's Books
]
Travels in the interior of America, in the years 1809, 1810, 1811.
Liverpool: Printed for the Author by Smith and Galway, 1817. Liverpool:: Printed for the Author by Smith and Galway, 1817., 1817. 8vo. xii, [9]-364 pp. With appendix of the Osage language; Oration Delivered by the Big Elk ...; Narrative ... of the Expedition of Mr. Hunt...; Description of the Missouri Territory; Remarks on the States of Ohio, Kentucky, and Indiana, with the Illinois and Western Territory...; Catalogue of some of the more Rare or Valuable Plants ... on the Missouri; [Letters]; Observations on the Nature of Animalcules, and Principles of Vegetable Physiology, with Errata slip; former rubber-stamps on title and rear diminished or erased. Modern half antique-style calf, marbled boards, extra-gilt spine, red leather gilt-stamped label, original paste-downs and end sheets preserved. Early ownership inscription, â€
[Bookseller:
Jeff Weber Rare Books
]
Rosa centifolia bullata
Paris 1817 - This beautiful stipple engraving is from Pierre Joseph Redoute's Les Roses. The work was published in Paris by Firmin Didot between 1817 and 1824. The text was written by Claude Antoine Thory.Redoute's name is synonymous with beauty and in the world of botanical art he is known as the best. The work proved to be not only outstanding in terms of its beauty but also for its scientific merits. Many of the images were after Thory's personal collection as well as the rose garden of the Empress Josephine's garden at Malmaison. Redoute and Thory described almost all of the important roses that were known in their time. Lawalree describes the text as being 'of outstanding importance to both botanists and horticulturalists.Redoute's fame is due in large part to his diligent effort to perfect the use of stipple engraving. This labor intensive, and therefore expensive, technique creates subtle yet stunning variations of color making it superior to the engraving alone. Each plate was created using the 'a la poupee' process in which the color was applied before the printing. Hand-finished coloring was painstakingly applied after printing.Redoute was renowned for his artistic ability and tutored such people as Queen Marie-Antoinette, Empress Josephine, Marie-Louise, and Queen Marie-Amelie. Redoute influenced a breadth of artists that followed him including Turpin, Poiteau, Bessa, and Prevost. Redoute is widely considered the finest botanical illustrator of the early 19th century, if not throughout history.The process of stipple engraving and color printing give the Redoute Rose prints their luminous quality. Stippling is an etching process that employs dots instead of lines to form the image, which is then color printed by applying colored inks directly to the copper plate for each impression. The use of colored inks, greens and browns to print the stems and leaves, and reds and pinks to print the flowers, create a more luminous print by eliminating the necessity to paint watercolor over a back inked image. --- The work is in very good to excellent condition. There is an occasional faint fox mark or imperfection to be expected with age. Please review the image carefully for condition and contact us with any questions.
[Bookseller:
Trillium Antique Prints & Rare Books
]
Naval Achievements of Great Britain from the Year 1793 to 1817, The
London: Printed for J. Jenkins... by L. Harrison, 1817. First Edition, First Issue With Pre Publication WatermarksFifty-Five Superb Hand-Colored Aquatint Plates JENKINS, James. The Naval Achievements of Great Britain from the Year 1793 to 1817. London: Printed for J. Jenkins… by L. Harrison, [1817]. First edition, First Issue With Pre Publication WatermarksLarge quarto (13 7/8 x 11 5/16 inches; 352 x 287 mm.). xii, pp. (including dedication, introduction, list of plates and list of subscribers) and [74] leaves of descriptive text. Engraved title with hand-colored vignette and fifty-five hand-colored aquatint plates by T. Sutherland, J. Baily, and J. Jeakes after T. Whitcombe and Pocock. One uncolored plate with plan of the Bombardment of Algiers and plan of the Battle of Trafalgar. Text watermarked J. Whatman 1812; twelve plates watermarked J. Whatman 1811 and two plates watermarked J. Whatman 1816. Bound without the list of subscribers. Contemporary half red roan over marbled boards. Spine with five double raised bands, ruled in blind and lettered in gilt in compartments. Armorial bookplate of William Hutton on front paste-down.A large and tall example (Abbey's copy measured 13 1/8 x 10 5/8 inches). In this copy, which is a first issue with pre-publication watermarks throughout, the engraved-title vignette is colored. This is quite unusual with early issues as all the literature states that only later issues had the title vignette colored."As in the "Martial Achievements" there are late issues of the plates which must be examined to see that the watermarks are pre-publication. Some copies of this work have one or two additional plates, namely portraits of Nelson and Lord St Vincent. The work is complete without them. Copies were issued with the plates on India paper and also in etched outline. Some large-paper copies have the plates in three states. More sought after than the Martial Achievements, it is becoming uncommon". (Tooley p. 234-5). "Collectors should note that evidence of early state in this book can be found in the title-page vignette, originally issued uncoloured, and coloured only in later issues. The book was reprinted as late at 1840, copies having been seen with watermarks of the date." (Abbey, Life. p. 287). Abbey's copy measured 13 1/8 x 10 5/8 inches.Abbey, Life, 337; Bobins II, 360; Tooley 282.
[Bookseller:
David Brass Rare Books, Inc.
]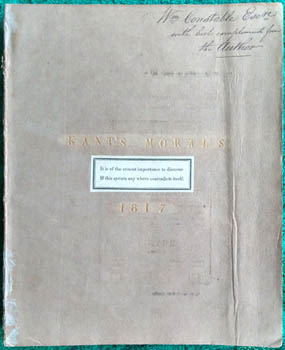 A Complete and Permanent Science of Morals, Founded on Transcendental Philosopy. [or, drop title: Moral philosophy reduced to a complete and permanent science on the principles of transcendental philosophy, as contained in Kant's "Critic of Practical Reason."]
- n.p. [London 1817] Quarto original wrapper titled in gilt with printed label; printed on the back; title leaf, pp763-784 and separately printed index leaf numbered 785, four hand coloured plates. A presentation from Wirgman inscribed to Wm Constable Esqre on the front wrapper and annotated throughout as a guide to the reader. This a separate printing of Wirgman's article on Kant's moral philosophy in Encyclopaedia Londinensis - a perfect example of enthusiasm on it's way to being mania. Wirgman did four articles altogether covering the array of Kant and these could be bought from him coloured or uncoloured. He then went on to write and publish a formidable line of Kantesian solutions to everything. Along the way he spent the fortune he had made as a goldsmith. As John Timbs - retailer of dusty gossip - described him, "the eccentric Thomas Wirgman, the Kantesian, as a goldsmith and jeweller, made a considerable fortune, which he squandered as a regenerating philosopher." Wirgman was introduced to Kant by Friedrich Nitsch in the 1790s along with Godwin, Henry Richter and Coleridge. Unlike fellow traveller Coleridge, Wirgman didn't run for cover confronted with the indifference or hostility to German philosophy in England. It may have been exactly Wirgman that made Coleridge write "I am no Zealot or Bigot for German Philosophy" to a friend at the same time he wanted to found a German library - just not called German - in London. As said, Wirgman, advertised these for sale but this is a special presentation copy exhaustively made easy to navigate by numerous captions and pointers. William Constable is a too common name to place but there was a Scottish goldsmith William Constable at work around that time.
[Bookseller:
Richard Neylon
]
Ledger Book-United Female African Society
United Female African Society 1817 - Published in Philadelphia Pennsylvania, November 18, 1817. "At a meeting held at the house of John Green Esq. in Adams, by a number of Females on the first day of October - in the year of our Lord one thousand eight hundred & seventeen - the following was agreed to. We whose names are underwritten being sensible of the blessings we enjoy of living in a land of light & liberty where we enjoy.privileges while many of our fellow mortals.a miserable existence in slavery & heathenish darkness - do agree to form our selves into a body to contribute our nites for the Education of the People of color." Hand-written ledger-Green decorated wallpaper bind. Paper, ink 20x 17.5 cm [Attributes: First Edition; Soft Cover]
[Bookseller:
Rebecca Hankins
]
AMERICAN MEDICAL BOTANY, BEING A COLLECTION OF THE NATIVE MEDICINAL PLANTS OF THE UNITED STATES
Boston: R. Bowyer(1817 - 1820). First Edition, Three octavo (6-5/8" x 9-7/8") volumes bound in 19th century black half-morocco leather with matching corners and marbled boards. Illustrated with 60 engraved color plates, the first 10 hand-colored and the others color-printed. FIRST EDITION OF THE FIRST AMERICAN BOTANICAL BOOK as well as the first book with color-printed plates produced in America. Bigelow received his medical degree from the University of Pennsylvania and was professor of medicine and botany at Harvard College., Hardcover, Scattered toning, some offsetting and mild foxing, wormhole to upper margin at the front few pages of the first volume; small library blind-stamps to titles and to all plates; mild rubbing and repairs to the binding. Very Good
[Bookseller:
Charles Agvent, ABAA
]
William Lambert - 1816/7 - 3rd Edition
Hi, This lot is a paperback copy of the Third Edition of William Lamberts ""Instructions and Rules for playing the Nobel Game of Cricket as practised by the most eminent players"" Published in the Spring of 1817 (before May) so nearly 200 years old. This paperback does not have the original covers or the frontispiece but other than that it is complete and checked against Roger Hancocks guide. The front cover (title page) has tape to the left but the book is badly shaken and could do with new tape or to be rebound as it is very loose indeed, hence the tiny price.
[Bookseller:
Wisdenshop.com
]
Lettre a un Électeur de Paris; par M. de Pradt.
Paris, Bechet, 1817. 8°. 141 S. Interimsbroschur der Zeit (Kleisterpapier). EA. In franz. Sprache. Mit eighd. Signatur Bechets. - Angestaubt, leicht stockfleckig, leichte Gbrsp. - Pradt (1759 - 1837) war Generalvikar des Erzbischof von Rouen, bevor er nach Paris in die Generalversammlung der Stände ging. Zuerst Gegener der Revolution, wurde er 1804 von Napoleon zum Bischof von Poitiers ernannt, daneben wurde er mit einige diplomatischen Missionen betraut. Sein schriftstellerisches Werk kreiste denn auch um diesen Schwerpunkt. (Zitat) - Selten. Versand D: 7,00 EUR Franz. Literatur; Geschichte
[Bookseller:
Antiquariat Weinek
]