Displayed below are some selected recent viaLibri matches for books published in 1711
Stockholm, literis Wernerianis, 1711. 8:o. 56 s. Fläckigt titelblad. Sammanbunden med: SCHEFFERUS, Johannes (utg). Incerti scriptoris sveci qvi vixit circa ann. Christi MCCCXLIV. Breve chronicon de archiepiscopis et sacerdotib. cæteris ecclesiæ Upsaliensis nunquam antea publicatum. Primus edidit, notisque ac indice necessarius adornavit Johannes Schefferus. Uppsala, Henricus Curio, 1673. 8:o. (10),+ 256, (22) s. Något nött nära samtida hfrbd med guldornerad rygg och beige ryggtiteletikett. Namnteckningar av Brolin och C. H. Ekstrand (1803-66), amanuens vid Uppsala Universitetsbibliotek. Ur Gustaf Bernströms bibliotek. Warmholtz 1872. Engström 168. Zethrin var conrector vid trivialskolan i Stockholm och katalogen avslutas med honom själv. Collijn 164. Warmholtz 1883. Engström 153.
Bookseller:
Centralantikvariatet
[Sweden]
Published by Oxoniae, E. Theatro Sheldoniano First Edition . 1711. Full leather volume in original boards, neatly re-backed with raised bands and one title label to the spine, original end papers and paste downs. 8vo. 9'' x 6''. Contains [viii] 92 + index printed pages of Latin text with four fold-out plates to the rear and three vignettes. One of the plates is a folding map showing the Isle of Tanatis [Thanet] separated by the River Wantsumu [Wantsum]. Age toning to the edges of the end papers and paste downs, modern bookplate to the front paste down. Member of the P.B.F.A. KENT [Sandwich] [Attributes: Hard Cover]
Bookseller:
Little Stour Books PBFA Member
[Canterbury, United Kingdom]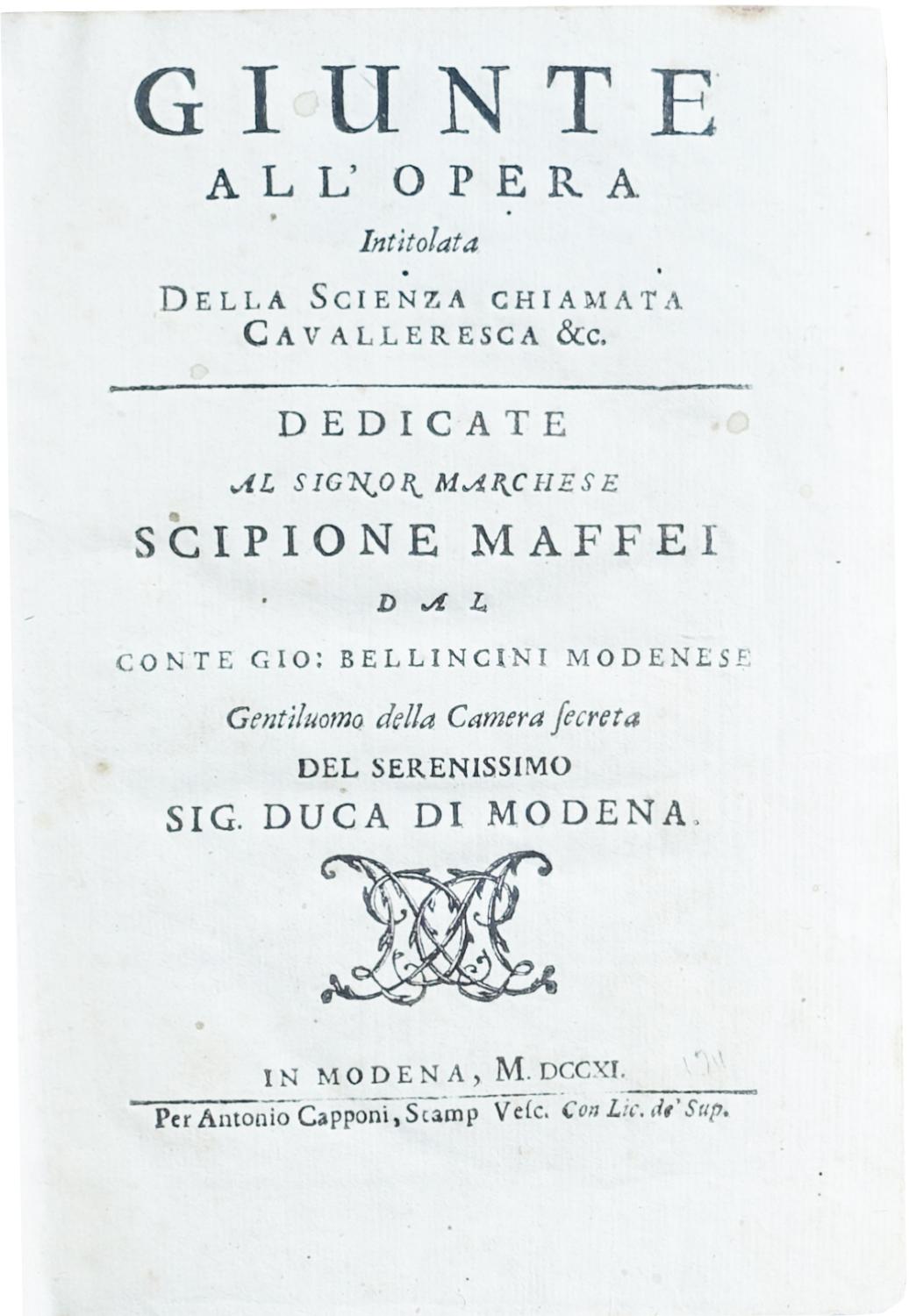 Modena, Antonio Capponi, 1711. 4°, old (contemporary?) stiff vellum, short-author-title in manuscript at head of spine. Typographical monogram on title page. Woodcut initial on p. 3. Crisp and clean. In fine condition. Ex libris Jack Gorlin on front pastedown endleaf. 146 pp., (1 l. imprimatur). *** FIRST EDITION of this work on duelling, commenting on the Marchese Francesco Scipione Maffei's Della scienza chiamata cavaleresca. It was reprinted several times with later editions of Maffei's work.*** Levi & Gelli pp. 111-2. Not in Thimm. Copac repeats British Library and National Library of Scotland only. NUC: Not located in NUC.@which has an edition of Parma, 1713 at CoU and NcD. [Attributes: First Edition]
Bookseller:
Richard C. Ramer Old and Rare Books
[New York, NY, U.S.A.]
London. Printed for Jacob Tonson. 1711.. 1711. Hardcover. Book 8vo, 20cm lxxxii,[vi],423p., with copper engraved frontis portrait and 9 plates (8 being portrait plates; inc. one of Ben Johnson), in contemporary full brown calf, gilt decorated real raised bands, gilt center decorations and borders in the panels, crushed crimson morocco gilt spine label, blind ruled and decorated paneled boards, two early (one armorial) bookplates, some slight wear at the edges but a very good to fine sound copy in attractive period binding (s11.1) .
Bookseller:
Patrick McGahern Books, Inc. (ABAC)
[Canada]
Sthlm, J. H. Werner, 1711. 8:o. (2),62 s. Bra men lätt solkigt pergamentsartat pappbd med röd titeletikett i skinn på främre pärmen. Ett samtida marmorerat omslag medbundet. Genomgående med mycket svag fuktrand nedtill. Med L. Wallins överstrukna namnteckning på titelbladet. Waller 5839. Johan Linder (1678-1724, adlad Lindestolpe 1719) kom från ett fattigt hem men hans fallenhet för studier gjorde honom snart bemärkt och han steg i graderna. Internationell ryktbarhet vann han genom sin doktorsavhandling i Harderwijk i Holland 1707, vilken behandlar veneriska sjukdomar. Linder var bl.a. medicus i svenska flottan och brunnsläkare vid Viksbergs brunn i Salem men utgav även arbeten om textilfärgning och en del tillfällighetsverser. Under sin tjänstgöring i flottan gjorde han praktiska erfarenheter av den grasserande pestepidemien vilket kom att resultera i föreliggande arbete. Linder diskuterar vädrets betydelse för sjukdomens uppkomst men hävdar frankt att det "har altijd warit och ännu är min tancka/ at mer än hälfften af de menniskior/ som genom pestfebrer döö/ döö af bara inbillning och räddhoga för pesten."
Bookseller:
Mats Rehnström
[SE]
T. Norris,A. Bettesworth, London 1711 - 2 vols. 20x13. Frontis grab. de M.V. Gucht, port. (signatura a pluma), 7h, 476p (saltos y errores de paginación, pero completo), 3h = port, 2h, 477p, 1h. Plena piel (restaurado vol. I), planos gofrados, nervios y dorados en lomo, forro de millard. "- Primera edición. Suñé 340. Edward Ward (1667-1731) hizo esta traducción humorística, a veces grosera y no siempre citable, en pareados octosilábicos, inspirándose en el "Hudibras" de Butler, una sátira moral y social escrita a imitación de Cervantes." 1711-1712
Bookseller:
Escalinata, librería

LAFAILLE. ( OU LA FAILLE, GERMAIN DE. 1616-1711). TRAITE DE LA NOBLESSE DES CAPITOULS DE TOULOUSE, AVEC DES ADDITIONS ET REMARQUES DE L'AUTEUR SUR CE TRAITE, QUATRIÈME ÉDITION. REVUE, CORRIGÉE & AUGMENTÉE DE PLUSIEURS ÉDITS, CHARTRES, DÉCLARATIONS & ARRÊTS DU CONSEIL, &. TOULOUSE. JEAN-FRANÇOIS FOREST. SANS DATE. (1711). IN-4 (20 X 26 CENTIMÈTRES ENVIRON) DE (4) + 204 ET (6) PAGES, RELIURE D'ÉPOQUE PLEIN VEAU MARBRE, DOS A CINQ NERFS ORNE DE CAISSONS A FLEURONS DORES, TITRE DORE SUR ÉTIQUETTE MAROQUIN HAVANE, TRANCHES ROUGES. «OUVRAGE COMPOSE LORS DES RECHERCHES DE 1656 ET 1666 AFIN QUE LES COMMISSAIRES NE PUISSENT PORTER ATTEINTE AUX PRIVILÈGES DES CAPITOULS. LA FAILLE PARVINT A REMPLIR PARFAITEMENT CE BUT». (SAFFROY. II. 25824-25827). PETITS DÉFAUTS EXTÉRIEURS, DONT COINS ÉMOUSSÉS ET MORS SUPÉRIEUR UN PEU FAIBLE, SINON BON EXEMPLAIRE. (RÉFÉRENCE : 1928).
Bookseller:
Librairie du Château de Capens
[Capens, France]
Leipzig, bey Johann Friedrich Braun, 1711, 8, schwarz/rotes Titelblatt, (12), 747, (18) pp., feiner Halbpergamenteinband. Sehr seltene erste deutsche Auflage des "De morbis mulierum tractatus" (1709): "Von denen Weiber Krankheiten worinnen die Erzeigung des Menschen auf das genaueste untersuchet, auch noch zwey curieuse Fragen beygefüget, deren die eine der Semine der Männer und Weiber , die andere aber von dem Menstro handelt Alles nach denen Principiis der neuesten Doctorum Medicinae abgefasset. Aus dem Lateinischen übersetzet". "Unter den der ganzen Gynäkologie gewidmeten Werken sei zunächst dasjenige von Carlo Musitano (geb. in Castro-Villari (Calabria citeriore) 3.Jan. 1635 - starb 1714 in Neapel) erwähnt. Er war von Beruf Priester, übte (mit päpstlicher Erlaubniss) aber gleichzeitig die ärztliche Thätigkeit in Neapel (mit grossem Erfolg), und zwar unentgeltlich aus. Er war ein eifriger Verfechter der Harvey'schen Kreislauflehre und Iatrochemiker. Dementsprechend spielt die Fermentation und die Evacuation der angeblich aus flüchtigen Salzen bestehenden Unreinlichkeiten des Blutes eine grosse Rolle in seinen Schriften. Das Kapitel über die Unfruchtbarkeit ist ungeachtet der Versicherung des Verfassers, keusche Ohren nicht verletzen zu wollen, und seines Hinweises auf sein eigenes Cölibat vielleicht das ausführlichste und raffinierteste, was wir an Ratschlägen zur Anregung der Wollust in medizinischen Schriften finden. Er rät im Falle der Unfruchtbarkeit nicht nur obscöne Unterhaltungen der Eheleute miteinander und die Betrachtung sich gattender Tieren, sondern giebt s … [Click Below for Full Description]
Bookseller:
Antiq. F.-D. Söhn - Medicusbooks.Com
[Marburg, Germany]
Edinburgh: A Symfon, 1711 Hardcover. Good. First Edition. 4to - over 9¾" - 12" tall. 1.Introduction to the History of North Briton,1711,folding map, plate,vii 62 pp. 2. Agricola Expedition 1711 map of Scotland,folding of Orkne y,index,folding plates, 62 - 122 pp 3 Various Antiquities relating to North Britain,1710,appendix, 112 pp.,folding plates 4 Natural History of Scotland 1710,plates,30 pp.,Sinclair bookplate,original full calf raised bands gilt,boards detached. Good.
Bookseller:
Brian Annesley Books of Scottish Interes
London: Printed for John Baker, 1711. 1st edition (Goldsmith 4832). Author name from Halkett & Laing III, p. 88. Period full paneled calf. Front board professionally reattached. Engraved bookplate of the Earl of Roseberry. A VG+ copy.. [8], 368 pp. 8vo: A4 B - Z8 2A - 2B4. 7-5/8" x 4-3/8"
Bookseller:
Tavistock Books, ABAA
[US]