Displayed below are some selected recent viaLibri matches for books published in 1701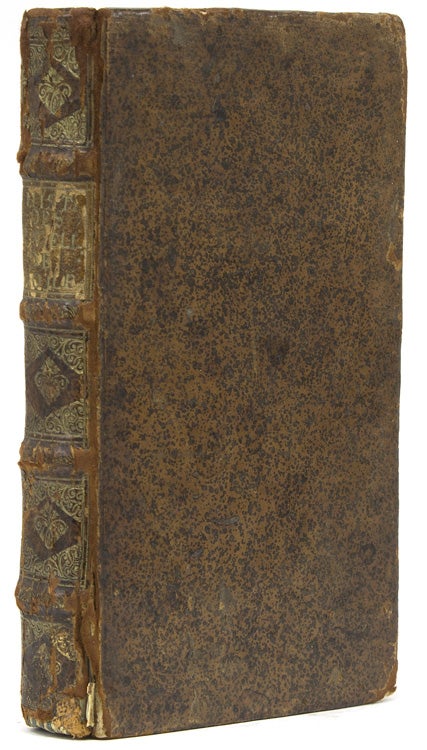 Amsterdam: Chez François vander Plaats, 1701. First edition in French. [xvi], 319, [320-330, Table] pp. Title in red and black. Error in pagination, omitting page numbers 50-59. 1 vols. 12mo. Contemporary sprinkled calf, gilt spine. Joints starting but sound, otherwise very good. First edition in French. [xvi], 319, [320-330, Table] pp. Title in red and black. Error in pagination, omitting page numbers 50-59. 1 vols. 12mo. The Ecstasy of Pain. A historical resumé of and an attack on the practice of self-flagellation, written by Abbé Jacques Boileau (1635-1716), translated from his own Historia Flagellantium which appeared in the preceding year. An abridged version appeared in Cologne the same year as this Amsterdam (possibly fictitious imprint). Boileau was the brother of the poet, Nicolas Boileau. [Attributes: First Edition]
Bookseller:
James Cummins Bookseller, ABAA
[New York, NY, U.S.A.]
J. L. Delorme, Amsterdam 1701 - In-12, 12 fnch., 352 pp., demi chagrin citron, dos à faux-nerfs, reliure postérieure. Traduite du portugais par Mgr l'abbé Legrand. Illustré de 7 gravures en taille douce : Le cannelier, talagaija, plan de Colombo, plan de Ponta de Galle, baie de Triguinimale et de Cotiari, Isle de Manar, plan de la ville et du château de Kandi. Les gravures sont signées Berey, à l'exception de la première qui n'est pas signée. Comme souvent, il manque la carte dépliante de Ceylan. Rare. . (Catégories : Asie Ceylan ) 300 g [Attributes: Hard Cover]
Bookseller:
Christophe Hüe - Livres anciens
à Paris: chez Charles Saugrain, 1701. Fine. chez Charles Saugrain, à Paris 1701, in 8 (19,5x12,5cm), (20) 475 pp. (1) et 8, 4, 12, 8 pp., relié. - First Edition. It was added at the end of volume 4 edicts separate pagination, last January 20, 1706 A copy of 1714 in Rennes, we have surprisingly found nothing in the BN of France and England, apart from the re-release of 1714 Full-time calf, spine tooled raised. Part of title in red morocco with a missing part. Top cap partially torn. Lower cap with rugged gaps. Wormholes on the back. The edicts trace the history of Protestantism in a particular way, as prohibited, bullying and spoliation, the collection contains obviously the king's edict of the month of October 1685 ""On revocation of him Nantes & defenses of make any public exercise of RPR in his kingdom. ""In the end there is volume 4 new edicts, the last which prohibits protesting sell their personal property for 3 years. While the edicts of the XVI led to the Edict of Nantes and are made mostly of permissions and protections, those of this contemporary consist mainly of prohibitions and exclusions. --- Please note that the translation in english is done automatically, we apologize if the formulas are inaccurate. Contact us for any information! - [FRENCH VERSION FOLLOWS] Edition originale. Il a été ajouté en fin de volume 4 édits à paginations séparées, le dernier du 20 janvier 1706. Un exemplaire de 1714 à Rennes, nous n'avons curieusement rien trouvé à la BN de France et en Angleterre, mise à part la réédition de 1714. Reliure en plein veau d'époque, dos à nerfs orn … [Click Below for Full Description]
Bookseller:
Librairie Le Feu Follet
[France]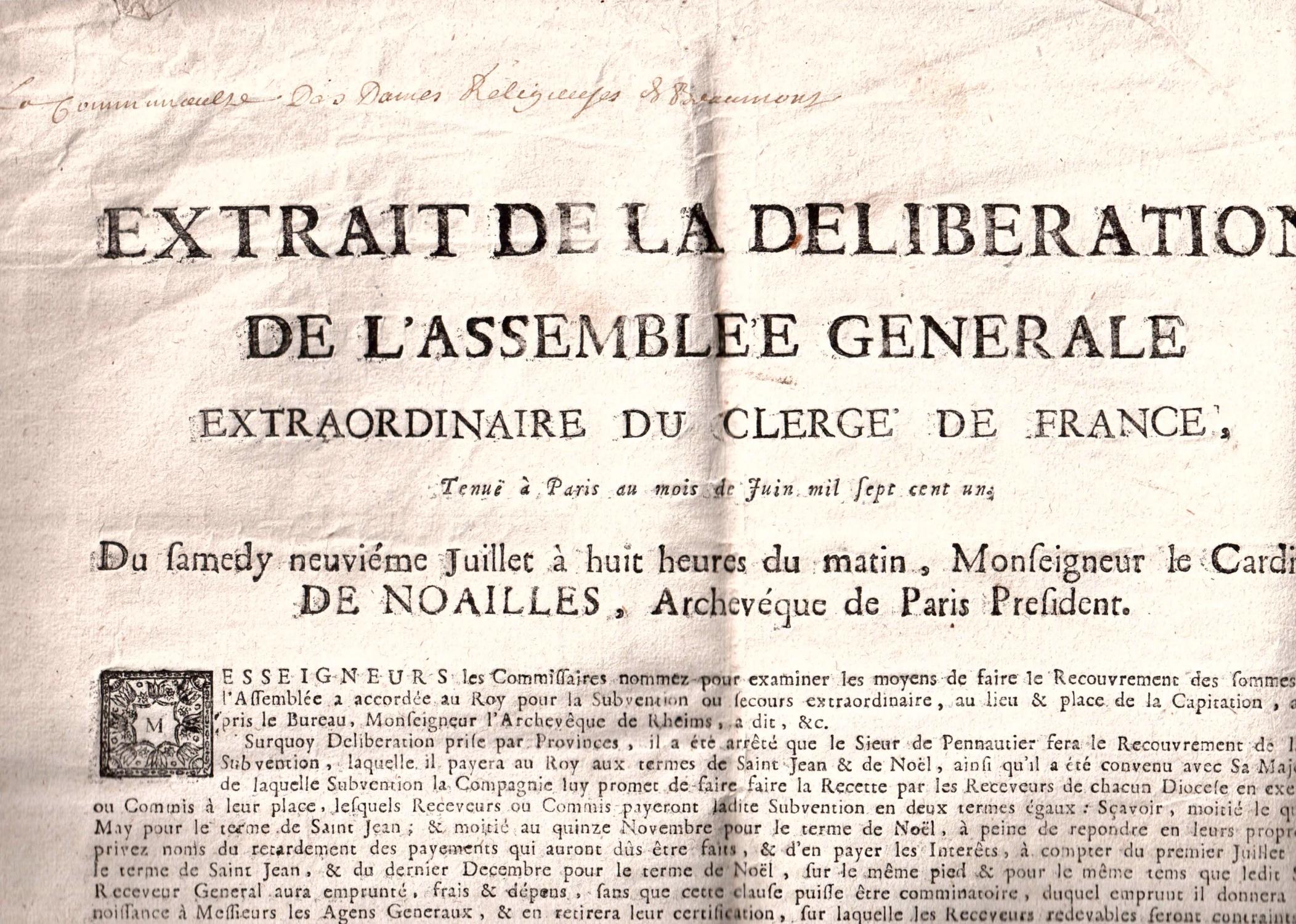 S.l., (1701). Placard de 49 x 38 cm. Rare placard concernant "le recouvrement des quatres millions de livres, accordez à Sa Majesté par le clergé de France, pour secours extraordinaire, au lieu & place de la capitation." Avec la mention manuscrite à la plume : La communauté des dames religieuses de Beaumont.
Bookseller:
Librairie Historique F. Teissèdre
[PARIS, France]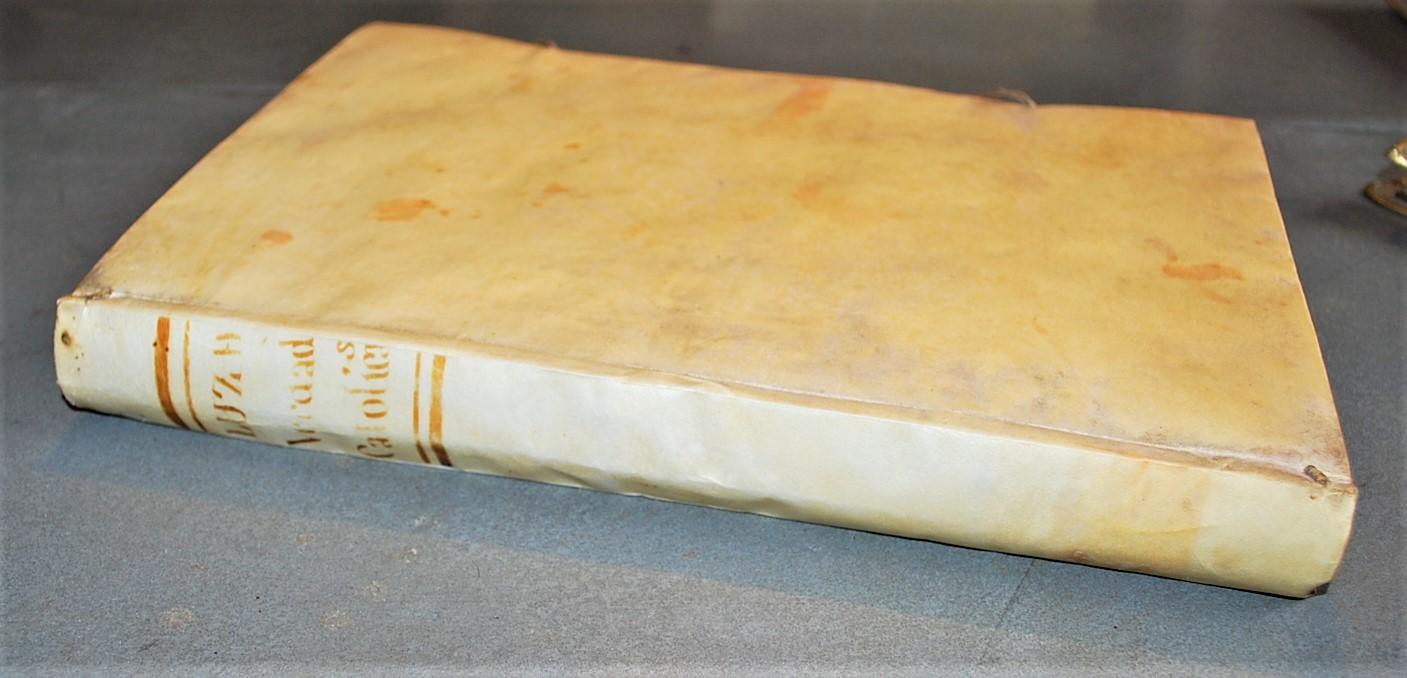 Juan Jolis Impressor, Barcelona 1701 - Portada - 7 h. - 455 págs. y 10 h. Completo ejemplar encuadernado de época en pergamino. Papel oscurecido. Size: 31 x 21 Cm. [Attributes: First Edition; Hard Cover]
Bookseller:
BALAGUÉ LLIBRERÍA ANTIQUÀRIA
London: Printed by T. Ilive, for Edward Brewster, 1701. Early English Edition of the Reynard Fables [REYNARD THE FOX]. The Most Delectable History of Reynard the Fox. Newly Corrected and Purged, from all grossness in Phrase and Matter. Augmented and Enlarged with sundry Excellent Morals and Expositions upon every several Chapter. To which may now be added a Second Part of the said History: As also the Shifts of Reynardine the Son of Reynard the Fox, Together with his Life and Death, &c. London: Printed by T. Ilive, for Edward Brewster, 1701. [Bound together with:] [REYNARD THE FOX]. The Most Pleasant and Delightful History of Reynard the Fox. The Second Part. Containing Much Matter of Pleasure and Content. Written For the Delight of young Men, Pleasure of the Aged, and Profit of all. To which is added many Excellent Morals. London: Printed by A.M. and R.R. for Edward Brewster, 1681. [And:] [REYNARD THE FOX]. The Shifts of Reynardine The Son of Reynard the Fox, Or a Pleasant History of His Life and Death. Full of Variety, &c. And may fitly be applied to the Late Times. Now Published for the Reformation of Mens Manners. London: Printed by T.J. for Edward Brewster, and Thomas Passenger, 1684. Three parts in one small quarto volume (7 5/16 x 5 9/16 inches; 186 x 141 mm.). [156], [2, table of contents], [2, publisher's advertisements]; [111], [1, publisher's advertisements]; [8], 160 pp. Mostly black letter, with titles and side notes in roman letter. Sixty-two woodcuts in the first part, printed from thirty-nine blocks, and fifteen woodcuts in the second part, five repeated, al … [Click Below for Full Description]
Bookseller:
David Brass Rare Books, Inc.
[United States]
London: N.p., 1701. Later boards, title dusty, else a wide-margined, untrimmed copy Only edition of the detailed response to Lord Somers' classic argument in support of the fundamental right of the people to petition the King and Parliament, premised on natural law and Magna Carta; uncommon, four copies in this country in RLIN
Bookseller:
Meyer Boswell Books, Inc.
Trajecti ad Rhenum: Apud Guilielmum vande Water, Academiæ, 1701. Editio postrema, ab innumerabilibus erroribus repurgata. Contemporary vellum [professionally repaired front joint] with embossed amorial design [castle] on front & rear board. VG (bit of splay to boards/lacking ties/contemporary presentation inscription on blank front fly/early po annotations on Ll1 - Ll3, Tt4 - Vv1).. [16], [1] - 792, [2], 815 - 956, [32] pp. Index last 16 leaves. Engraved title. Illustrated with 7 inserted copperplate engravings (after M1, R2, Bb4, Ff4, Kk1, Xx3 [folding], Zz2 [folding]). Tailpieces on Gg1b, Yyy4b, Nnnn4b, Vvvv3a, Ppppp4b, Vvvvv1b, Aaaaaa1a, & Ccccc4b. 4to: * - ** A - 5F Ggggg & Hhhhh, Iiiii - Gggggg (Gggggg4 a blank).
Bookseller:
Tavistock Books, ABAA
Paris: Chez l'Auteur Sur le Quai de l'Horloge, 1701. Engraved Simmoneau with period outline colour. Minor soiling and discolouration in top margin and top of centerfold of the map. Skilfully repaired tears at the top of the centerfold, otherwise good condition. 18 1/2 x 23 1/4 inches. 20 1/2 x 26 3/4 inches. This handsome, topographical map of Spain and Portugal is from Atlas de Géographie, De l'Isle's great atlas. Guillaume de l'Isle (1675-1726) was son of a cartographer and a pupil of Jean Dominique Cassini, who among other important contributions, aligned the study of astronomy to the study of geography. Under Cassini's direction, observations were made from locations all over the world that enabled longitudinal calculations to be made with much greater accuracy. De l'Isle carried on this exacting work with remarkable dedication and integrity, constantly revising and improving his maps. While precision was his primary goal, his maps are invariably elegant and attractive. He was probably the most influential mapmaker of the 18th century. Koeman, C & M 7, #66
Bookseller:
Donald Heald Rare Books
A Valenciennes: chez Gabriel François Henry., 1701. Fine. chez Gabriel François Henry., A Valenciennes 1701, in 4 (17x23cm), de (10) 282pp. (28)., relié. - First Edition. A beautiful portrait frontispiece Bouflers Louis François Hyacinthe Rigaud engraved by Thomassin. Full contemporary calf. Back to nerves ornate. Part of title in red morocco. 2 corners bare. A pale yellow wetness at the beginning of work on the first 3 pages, bottom margin, in the middle. The day after the campaign of 1667, which rallied Flanders to France, Louis XIV hurried to send orders and create Parliaments in the conquered cities, especially as this is the date that parliaments were obliged to register the royal edicts. In addition a procedure code was sent to all courts of the kingdom. The book collects the royal edicts and until 1701, composing the story of a city and a territory that became French. Turned back to Austria in 1713, and then suffer the same fate as the Austrian Netherlands. The city will once again conquered by the Revolution and the Empire, and then part of the Kingdom of the Netherlands in 1815. Finally in 1830, it was integrated into the independent Belgium. --- Please note that the translation in english is done automatically, we apologize if the formulas are inaccurate. Contact us for any information! - [FRENCH VERSION FOLLOWS] Edition originale. Un beau portrait au frontispice de Louis François de Boufflers de Hyacinthe Rigaud gravé par Thomassin. Reliure en plein veau d'époque. Dos à nerfs richement orné. Pièce de titre en maroquin rouge. 2 coins dénudés. Une mouillure jaune p … [Click Below for Full Description]
Bookseller:
Librairie Le Feu Follet
Paris or Amsterdam: n.d, maps dated: 1701-1739]. 2 volumes, folio. (21 1/2 x 16 1/2 inches). 1p. manuscript list of contents in French in each volume. 98 engraved maps, charts or town plans (3 folding, 95 double-page, 96 hand-coloured in outline). Contemporary calf gilt, covers panelled in gilt with fillets, a decorative roll and dog-tooth rolls, decorative cornerpieces made up from various small tools, spines gilt in eight compartments with raised bands, red morocco lettering-piece in the second compartment, the other compartments with repeat decoration in gilt. A very fine example of a composite atlas of the highest quality, made up entirely of maps by Guillaume de L'Isle: one of the greatest cartographers of his age. De L'Isle was the son of a cartographer and pupil of Jean Dominique Cassini, who, among other important contributions, aligned the study of astronomy with the study of geography. Under Cassini's direction, observations were made from locations all over the world that enabled longitudinal calculations to be made with much greater accuracy. De L'Isle carried on this exacting work with remarkable dedication and integrity, constantly revising and improving his maps. While precision was his primary goal, his maps are invariably elegant and attractive. He has often been cited as the first truly scientific cartographer, and his maps were widely copied by the commercial ateliers of Paris, Amsterdam, and the rest of Europe. He was elected to the French Academy of Science in 1702 and in 1718 was named "Premier Geographe du Roi," a title created especia … [Click Below for Full Description]
Bookseller:
Donald Heald Rare Books