Displayed below are some selected recent viaLibri matches for books published in 1661
, Paris, Louis Billaine 1661, in-4, pl. veau brun jaspé de l'époque, dos à nerfs ornés, tit. doré, tr. jaspées, roulette sur les coupes, vignettes, bandeaux, lettrines et culs-de-lampe, (qq. taches sur les plats, manques à deux coins, petite tache d'encre sur la tranche), bon exemplaire, (10)-472-(8)p.
Bookseller:
La Memoire du Droit
[PARIS, France]
Paris, chez E. Loyson, 1661. 12:o. (8),312,213-252 s. Trevligt samtida ngt nött skinnbd med upphöjda bind och rikt guldornerad rygg. Marmorerade snitt. Fläck i inre marginalen på s. (1-8) och ett av preliminärbladen loss. Delvis ngt lagerfläckig. Reva upptill på försättsbladet. Med L. F. Rääfs exlibris. Brunet I:1105, noten. Graesse I:489, noten. Utkom första gången i Paris 1646 med titeln "La gallerie des curieux". Denna upplaga är utökad med några stycken av Bruscambille.
Bookseller:
Mats Rehnström
[SE]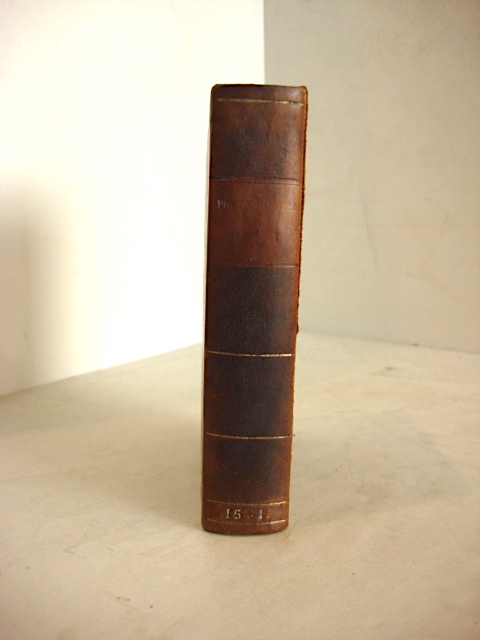 Cambridge: Joann. Field, 1661. 8vo. (8), 534, (92)pp. Index. Facing pages of Latin & Greek verse. Title within type ornament border. 19th century calf over marbled boards, front hinge cracked but holding. Spine label lacking. Wing P2730. [Attributes: Hard Cover]
Bookseller:
Kenneth Karmiole, Bookseller, Inc. ABAA
[Santa Monica, CA, U.S.A.]
- Guillaume de Luynes, à Paris 1661, In 12 (8,5X15,5cm), (13) 173pp., relié. - First Edition. Rare. Tempo di vitello maculato pieno. Torna lavorato in rilievo. Strappato caps. Bagnare pallida marginale sulle prime 50 pagine. La nostra copia manca il foglio A1, che è un sottotitolo, non mancano di testo (vedi tabella dei contenuti). Gabriel Gilbert (1610-1680) è stato considerato prima come précuseur Racine data la sua produzione drammatica. Prima di diventare segretario alla regina Cristina di Svezia, fu la duchessa de Rohan. Il libro contiene sette odi rivolte a grandi personaggi (re di Svezia, Mazarin ...) e poesie cristiane. - [FRENCH VERSION FOLLOWS] Edition originale. Rare. Reliure en plein veau moucheté d'époque. Dos à nerfs orné. Coiffes arrachées. Mouillure marginale pâle sur les 50 premières pages. Il manque à notre exemplaire le feuillet A1 qui est un faux-titre, il n'y a pas de manque de texte. Gabriel Gilbert (1610-1680) fut tout d'abord considéré comme le précuseur de Racine eu égard à sa production dramatique. Avant de devenir le secrétaire de la reine Christine de Suède, il le fut de la duchesse de Rohan. L'ouvrage contient 7 odes adressées à de grands personnages (roi de Suède, Mazarin...) et les poésies chrétiennes. NB : Cet ouvrage est disponible à la librairie sur demande sous 48 heures.
Bookseller:
Librairie Feu Follet
[FR]
Göteborg, A. Nilsson Grefwe, 1661. 4:o. (8),806,(2 blanka) s. Titelsidan med ett typografiskt ramverk. Nött och solkigt samtida pergamentbd. Främre falsen sprucken och delvis loss. Genomgående ngt solkig och fläckig samt med fuktränder. Delvis med gamla anteckningar och understrykningar. Första arket nött och loss i bindningen. Minimalt hål i marginalen på s. 230 som berör en bokstav. Obetydlig reva överst i s. 399. Collijn Sveriges bibliografi 1600-talet 928. Engström s. 106. Varken Engström eller Collijn nämner det sista blanka bladet. Med Grefwes tryckta dedikation till Göteborgs stads magistrat.
Bookseller:
Mats Rehnström
[SE]
Cambridge: Printed by John Field Printer to ye Universitie, 1661. Old Testament only. With Apocrypha in separate volume. With elaborate engraved title page by Vaughan. 2 vols. 8vo. Herbert 674 (?). Bound in contemporary black calf in the 'somber" mode. Bookplate of Daniel M. Friedenberg.
Bookseller:
James Cummins Bookseller
[USA]