Displayed below are some selected recent viaLibri matches for books published in 1656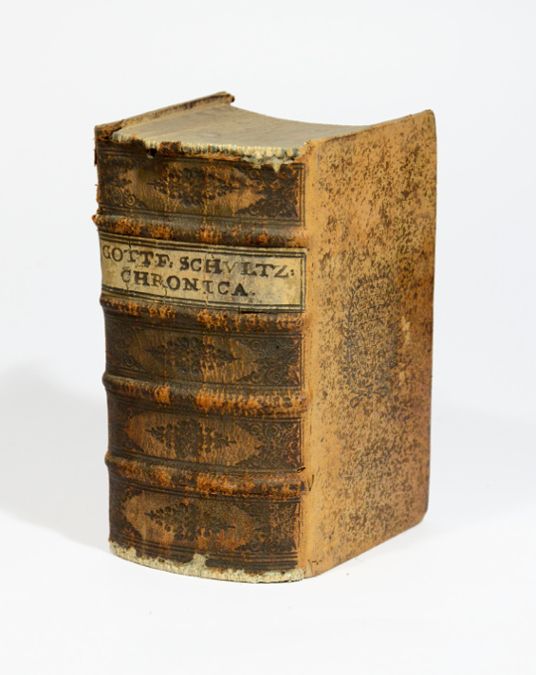 Lübeck, Jakob Hinderling für August Johann Becker, 1656. Ad 1) Frühe Ausgabe dieser historischen Weltchronik, die sich an M. Merians "Theatrum Europaeum" orientiert und überwiegend das 17. Jahrhundert behandelt. - Ad 2) Behandelt ausführlich Europa, aber in eigenen Kapiteln auch die Türkei, Asien, Afrika, Persien, China, Indien usw., das letzte Kapitel ist Malta und den "Johannitern, oder Maltheser-Rittern" gewidmet". - Einband etw. berieben u. bestoßen. Beide Kapitale m. Fehlstelle. Innen nur ganz vereinzelt min. stockfleckig. - Ad 1) VD17, 14:083179R; Ad 2) VD17, 3:654883X. ge Gewicht in Gramm: 1000 Kl.-8°. Mit gest. illustr. Titel (u.a. mit einer kleinen Stadtansicht von Lübeck). Titel in Rot u. Schwarz m. Holzschn.-Vignette. 7 Bll., 1001 (1) S., 1 Bl. Druckvermerk. - Angeb. - Ders. Neu augirte Welt-Beschreibung, Darin Aller Kayserthumber, Königreichen, Republiquen, und der gantzen Welt, Religion, Sitten, und Gebräuche, Auch aller Päbste, Kayser, Könige, und Fürsten auff einander ergangenen Succesion sein ordentlich und kürtzlich begriffen. Ebda., Gottfried Jäger für August Johann Becker, 1658. Mit 3 gefalt. Stammtafeln. 4 Bll., 279 (1) S., Ldr. d. Zt. a. 4 Bünden m. gepr. Rückenschild u. Wappensupralibros a. beiden Deckeln. [Attributes: Hard Cover]
Bookseller:
Antiquariat Wolfgang Friebes
[Graz, Austria]
1656. (14), 469, (5) SS., l. w. Bl. Drucktitel in rot und schwarz. Mit separatem Kupfertitel. Blindgepr. Lederband der Zeit mit Deckelsupralibros und Schließbändern (oben nur Reste). Verblaßter dreiseitiger Farbschnitt. 12mo. Erste Ausgabe dieser juristischen Abhandlung über die Robot (Frondienst) im deutschen Reich. Eine von zwei Druckvarianten im selben Jahr; erst 1709 nachgedruckt. Der Münchner Jurist Johann Franz Balthasar (gest. 1663), dessen Jöcher (I, 748) nur knapp gedenkt, wurde 1654 ordentlicher Professor der Pandekten in Salzburg, "bekleidete aber dieses Lehramt nicht länger, als zwey Jahre, da er selbes 1657 niederlegte, und zu Freysing fürstlicher Rath, Kanzler, und Lehenpropst wurde" (Kobolt). Mit Abhandlungen zu den Pflichten der Untertanen und Leibeigenen. - Einband für den Mainzer Rat Johann Wilhelm von Dalberg mit seinem blindgepr. Supralibros am Vorderdeckel; blindgepr. Deckelbordüre und Eckfleurons. Am Titel hs. Besitzvermerk "Liber Eccl[esi]ae B[eatae] M[ariae] V[irginis] Plaga 1670". Später in der Bibliothek des böhmischen Adligen Franz Graf Thun-Hohenstein (1809-70) auf Tetschen (sein herald. Exlibris am vorderen Innendeckel). Am vorderen Vorsatz gedr. Exlibris Kurt Winberg (20. Jh.). Sauberes, gutes Exemplar. VD 17, 1:015628P. Kobolt (Baierisches Gelehrten-Lexikon) und Zauner (Salzburgische Rechtslehrer), beide in DBA I 53, 30f.).
Bookseller:
Antiquariat Inlibris
[Austria]
Lübeck, Jakob Hinderling für August Johann Becker, 1656.. Kl.-8°. Mit gest. illustr. Titel (u.a. mit einer kleinen Stadtansicht von Lübeck). Titel in Rot u. Schwarz m. Holzschn.-Vignette. 7 Bll., 1001 (1) S., 1 Bl. Druckvermerk. - Angeb. - Ders. Neu augirte Welt-Beschreibung, Darin Aller Kayserthumber, Königreichen, Republiquen, und der gantzen Welt, Religion, Sitten, und Gebräuche, Auch aller Päbste, Kayser, Könige, und Fürsten auff einander ergangenen Succesion sein ordentlich und kürtzlich begriffen. Ebda., Gottfried Jäger für August Johann Becker, 1658. Mit 3 gefalt. Stammtafeln. 4 Bll., 279 (1) S., Ldr. d. Zt. a. 4 Bünden m. gepr. Rückenschild u. Wappensupralibros a. beiden Deckeln.. Ad 1) Frühe Ausgabe dieser historischen Weltchronik, die sich an M. Merians "Theatrum Europaeum" orientiert und überwiegend das 17. Jahrhundert behandelt. - Ad 2) Behandelt ausführlich Europa, aber in eigenen Kapiteln auch die Türkei, Asien, Afrika, Persien, China, Indien usw., das letzte Kapitel ist Malta und den "Johannitern, oder Maltheser-Rittern" gewidmet". - Einband etw. berieben u. bestoßen. Beide Kapitale m. Fehlstelle. Innen nur ganz vereinzelt min. stockfleckig. - Ad 1) VD17, 14:083179R; Ad 2) VD17, 3:654883X.
Bookseller:
Antiquariat Wolfgang Friebes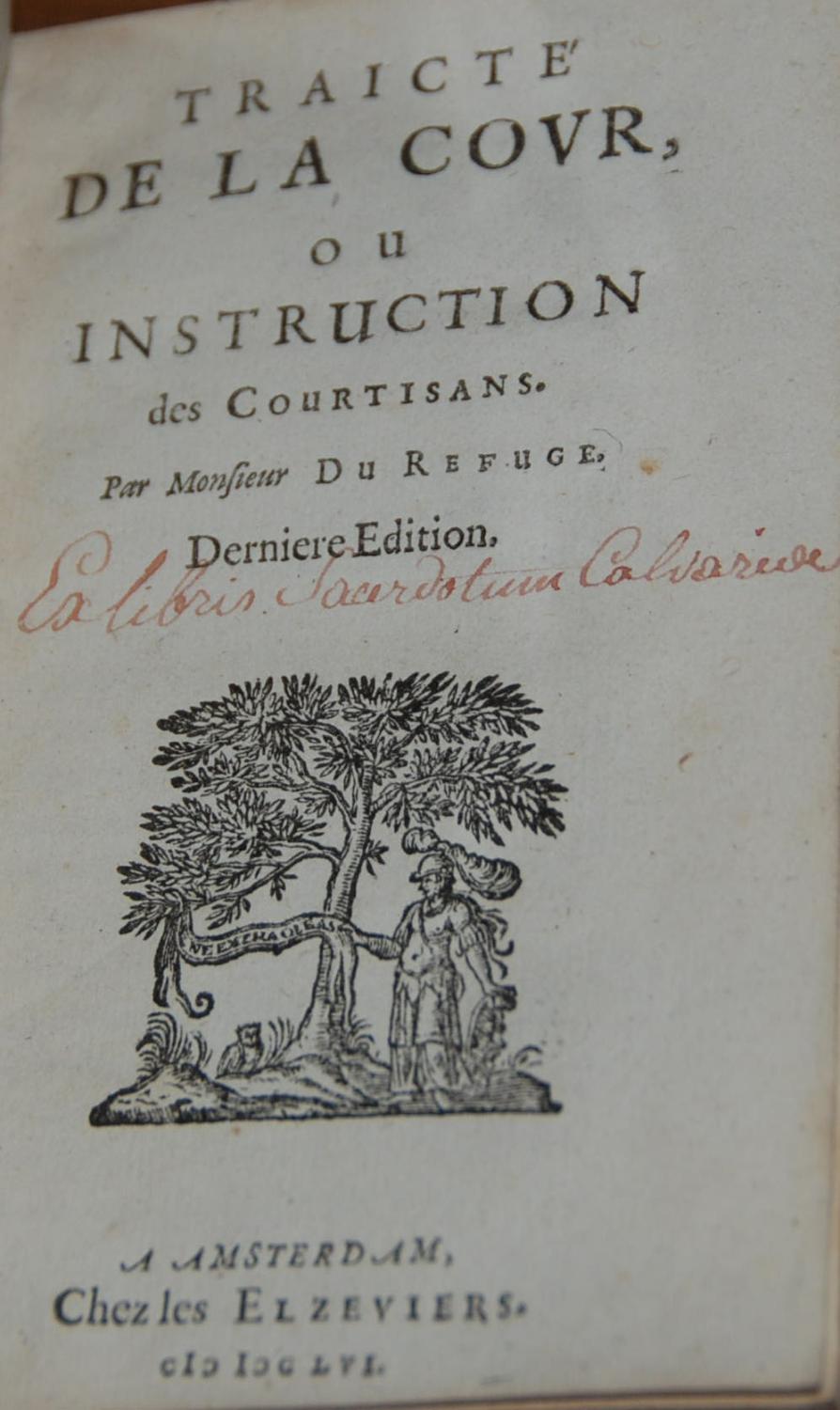 Amsterdam: chez les Elzeviers, 1656. 12mo, pp. [viii], 305 (ie 350), [xxvi]. Contemporary name on title-page and later ownership signature on e.p. Bound in contemporary vellum, a nice clean copy. Heltzel 493 (1622 edn); see Aresty p. 98ff. Originally issued in 1616, this work "resembled Castiglione's book in only one respect: it too was written to guide a courtier. [However] a courtier named Du Refuge, wrote in the spirit of Machiavelli, and while he favored the cultivation of the social graces, he constantly adopted the realistic 17th century approach to getting ahead amidst fierce competition, stripping away the idealistic pretense that courtesy books and chivalric writings had so long maintained. While it did not make attractive reading, it was sound advice for the courtier who sought success in a system somewhat similar to that in which the organization man moves today"[Aresty, The Best Behavior, p. 98]. Refuge's work continued to be popular well in the 18th century. This was reprinted under slightly different titles in 1664 and 1665. [Attributes: Hard Cover]
Bookseller:
Second Life Books, Inc.
[Lanesborough, MA, U.S.A.]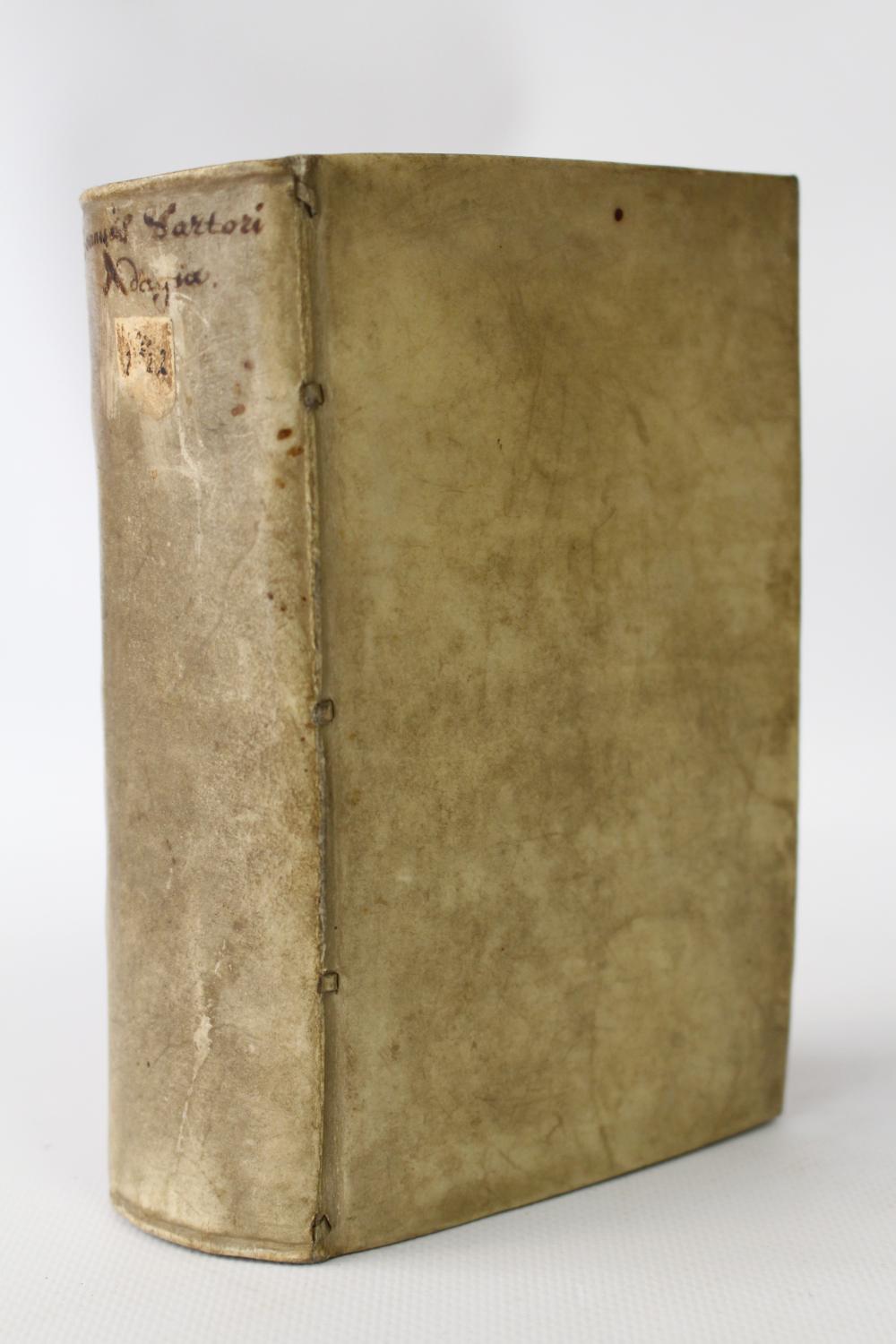 - ex typographia Nicolai Herculis, Leyde 1656, fort in-12 (9x15,5cm), (4) 696pp. (42)., relié. - Edition elzévirienne portant la marque de l'imprimeur (Hercule le pied sur un dragon terrassé). Pas de trace dans les catalogues de la Bibliothèque Nationale. Reliure en plein vélin d'époque, titre à la plume, lacets apparents. Dos Sali, pages de garde décollées, bon état intérieur. Shrevel (1615-1664) est un grammairien hollandais, surtout connu pour être l'auteur d'un lexique latin-grec et grec-latin qui fut adopté par de nombreux pays et maintes fois réédité, il s'occupa en outre de nombreuses éditions d'auteurs latins. Ce livre est l'édition donnée par Shrevel de l'adagiorum de Sartori, collecte de proverbes latins avec une traduction grecque et hollandaise, suivis de remarques. Ex-libris à la plume illisible. [AUTOMATIC ENGLISH TRANSLATION FOLLOWS] Elzévirienne Edition branded printer (Hercules foot on a dragon floored). No trace in the catalogs of the National Library. Bound in full vellum contemporary, under the pen laces apparent. Sali back, endpapers detached, good condition inside. Shrevel (1615-1664) is a Dutch grammarian, best known for being the author of a Latin-Greek and Greek-Latin lexicon which was adopted by many countries and many times reprinted, he also held numerous editions Latin authors. This book is given by the Shrevel adagiorum Sartori, collection of Latin proverbs with Greek and Dutch translation, followed by remarks edition. Bookplate to illegible pen. --- Please note that the translation in english is done automatically, we apologize if the formulas … [Click Below for Full Description]
Bookseller:
Librairie Le Feu Follet
[Paris, France]
S.n., 1656. Fine. S.n. Ca 1656, petit in 4, un frontispice et 60 planches., relié. - ROSA Salvatore Figurine. Varia et concinna delineamenta N. n., n. p. n. d. [circa 1656], small in-4 (15,5 x 22 cm), one frontispice et 60 plates, restoration-period binding 62 etchings on thick paper. Very rare. Salvatore Rosa made these etchings around 1656 in a collection originally entitled Figurine. This collection has a different title in the cartouche on the frontispiece, just as another copy in the Soares dos reis Portuguese National Museum bears the title: Has ludentis oty Carolo Rubeo singularis amititiae pignantes. D. D. D. The copy in the Portuguese museum is cataloged as a posthumous edition from the 18th century. Most of the engravings in this set can be seen separately at the Fine Art Museum of San Francisco (the Achenbach Foundation for Graphic Art, the biggest collection of engravings in America). The Los Angeles County Museum has 8, while the Museum of Fine Art in Boston has 4. The engravings are described as having the same format as our set (13.6 x 8.9 cm), some engraved after anonymous artists, others drawn by Salvatore Rosa himself; the stylistic differences are clearly visible. The frontispiece of the copy held in the San Francisco museum is blank. The museum has only 52 engravings, all reversed. All the engravings in the present set have a monogram with the two letters, S and R interlaced. Some of the monograms are reversed, which leads one to think that the plates themselves are also reversed. Plate 29 has been repaired, the lower margin under the engraving has … [Click Below for Full Description]
Bookseller:
Librairie Le Feu Follet
[France]
1656. [OSBORNE, Francis.] ADVICE TO A SON; OR, DIRECTIONS FOR YOUR BETTER CONDUCT THROUGH THE VARIOUS AND MOST IMPORTANT ENCOUNTERS OF THIS LIFE. UNDER THESE GENERALL HEADS. I. STUDIES. II. LOVE AND MARRIAGE. III. TRAVELL. IV. GOVERNMENT. V. RELIGION. CONCLUSION. Oxford: Hen. Hall for Thomas Robinson, 1656. [14] pp. + 151 pp. 8vo., Rebound in brown cloth with gilt red leather spine label. Advice intended for Osborne's son John, who became, among other achievements, prime serjeant-at-law in Ireland from 1680-1686. The book was popular and well-known in its day, and also quite controversial, as Osborne (1593-1659) argued in it against marriage and women, large libraries, and the monarchy. The book was suppressed in 1658 by the Vice-Chancellor, and was brought before the House of Lords after the Restoration as treasonous. Wing O508; Madan III, 2278. Quite scarce in the first edition.
Bookseller:
Boston Book Company
[U.S.A.]
Uppsala, Johannes Pauli, (1656). Folio. (40) s. Sammanbunden med: ROSENHANE, Axel & Bengt. Actus publicus in inclyta suecorum academia quæ ad salam est habitus, cum Axelius et Benedictus Rosenhaner l. barones in Ikalaborg. Iter ad exteros suscepturi. Musis partiis valedicerent. Uppsala, Johannes Pauli, 1658. Folio. (44) s. Hfrbd från mitten av 1700-talet, med guldornerad rygg och upphöjda bind, något skadad titeletikett. Ur Ericsbergs bibliotek. Warmholtz 4845. Hyllningtal till den nyfödde prins Carl, den blivande Karl XI, av bröderna Axel, Bengt och Johan Rosenhane och av Johannes Tungel. Samt med en hyllningsepistel till talarna av Johannes Schefferus och dito dikt av Edmund Figrelius. Det andra arbetet innehåller bröderna Axel och Bengt Rosenhanes akademiska tal om sina förestående utrikes resor, då deras studier avslutades. Det innehåller även motsvarande tal av deras bror Johan, trots att endast Axel och Bengt nämns i titeln. Det innehåller även alla handlingar rörande tillfället då de tre högättade ynglingarna höll sina tal: Kungens tack, pappa Scherings brev till rektor, rektors svar, professor Johannes Schefferus inbjudningar till talen "Valedicturi cras..." och "Peregrinatione hodie...", samt densammes hyllning till talarna, tillsammans med hyllningar av A. Lilliehök, Laurentius Stigzelius, Johannes Loccenius, S. Franc och en hyllningsdikt av någon Folcherus. Av Schefferus inbjudningar finns det första separat tryckt (Meyer 375), men troligen ej det senare. Bröderna Rosenhane var söner till Schering Rosenhane och studerade alla i Uppsala, och var elever till Johan … [Click Below for Full Description]
Bookseller:
Centralantikvariatet
[Stockholm, Sweden]
Chez Adrian Vlacq, A La Haye, 1656. In-16° (148x93mm), pp. (8), 363, (19) di indici ed errata, legatura coeva p. pelle marrone marmorizzata con dorso a nervetti adorno di tassello rosso con titolo in oro e di fregi floreali e vegetali in oro entro scomparti. Tagli rossi. Una testatina ornata. Bell'esemplare leggermente brunito e fiorito. Cerniere rinforzate. Un minimale restauro all'angolo inferiore dell'ultima c. bianca. Edizione parzialmente originale (nel 1653 ne era apparsa un'impressione molto meno ampia con il titolo Premiers essais de Proverbes) di questa rara opera secentesca di paremiologia francese ingegnosamente strutturata in forma dialogica. Così Isaac D'Israeli (1766-1848), padre di Benjamin Disraeli e anche studioso di paremiologia, riassumeva il contenuto dell'opera nel suo studio The Philosophy of Proverbs, compreso nel volume Curiosities of Literature: Fleury de Bellingen's Explication de Proverbes François, on comparing it with Les Illustres Proverbes Historiques, a subsequent publication, I discovered to be the same work. It is the first attempt to render the study of proverbs somewhat amusing. The plan consists of a dialogue between a philosopher and a Sancho Pança, who blurts out his proverbs with more delight than understanding. The philosopher takes that opportunity of explaining them by the events in which they originated, which, however, are not always to be depended on. Duplessis, Bibliographie parémiologique, pp. 174 e sgg. Brunet, I, 757: Édition recherchée. Graesse, I, 329. Nodier, Mélanges tirés d'une petite bibliothèque, p. 128. Nodier, Roux … [Click Below for Full Description]
Bookseller:
Gilibert Libreria Antiquaria (ILAB-LILA)
[Torino, ><, Italy]
[Moscow, ca. 1656 (?)] Text in Church Slavonic. Folio (12-1/2" x 8") contemporary full-leather binding over wooden boards (missing the clasps). Beautifully printed in red and black on strong paper. With two full-page woodcuts portraying St. Marc and St. Lucas. In pretty good condition for its age. Title-page might be missing but pagination does not confirm the loss? From the property of Very Rare. Please see the picture. For more images please visit our website.. HB.
Bookseller:
Books You Want