Displayed below are some selected recent viaLibri matches for books published in 1623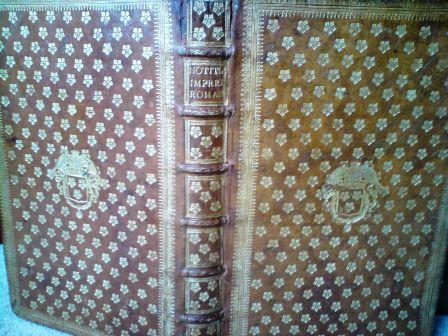 Stéphane Gamonet, Genève, 1623. Panciroli Guido (1523-1599) ~ Notitia Dignitatum Utriusque Imperii Orientis Scilicet et Occidentis Ultra Arcadii Honoriique Tempora ~A Genève, Stéphane Gamonet, 1623 In-fol., 7 ff., 271 pp., 6 ff. [index], 196 pp., 39 pp, 1 f., reliure constellée de fleurs de néflier encadrés dans une riche dentelle dorée, avec au centre de chacun des plats les armes de la maison d'Arenberg: trois feuilles de néflier de cinq feuilles d'or, le dos est couvert de fleurs, les nerfs sont décorés et le titre doré. Notitia dignitatum utriusque imperii est un manuscrit latin illustré écrit au Ve siècle et qui est une référence essentielle pour connaître la constitution de l'empire romano-grec de cette époque. C'est un tableau du territoire que comprenait alors l'empire, et des emplois civils et militaires dont se composait son administration. C'est dans cet ouvrage que l'on découvre des informations importantes sur le maillage des manufactures (les boucliers sont fabriqués essentiellement à Crémone, les armures à Mantoue, les épées, les haches et des lances à Vérone.), sur les costumes, notamment de l'empereur, sur la topographie et la géographie des peuples, les distinctions et les emplois, les cérémonies, les armes et machines de guerre, les symboles et les insignes, Rome, Constantinople, l'Afrique, Chypre, etc. Rares sont les ouvrages d'une telle richesse archéologique. De plus, cette belle édition est illustrée d'un grand nombre de gravures sur bois dans le texte qui font de cet ouvrage une source iconographique remarquable. L'élégante mise en page sur deux colo … [Click Below for Full Description]
Bookseller:
Incunable
[LUXEMBOURG, Luxembourg]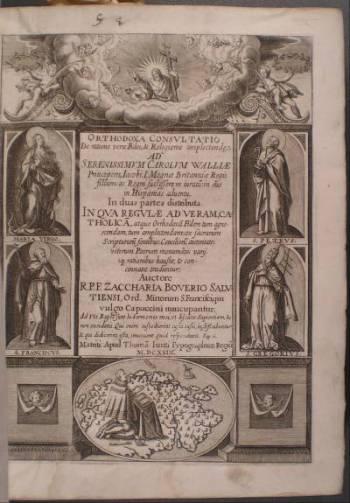 Thoma Iunti Typ., Matriti, 1623. 4º, 1b, frontis grab, 9h, 318p, 12h, 1b (últ. hojas rastro hum. esq. inf, págs. 182 y 183 algo sucias). Pergamino.
Bookseller:
Escalinata, librería
[Navalcarnero, Madrid, Spain]
1623. Ex Inductione omnium exemplorum Novi Testamenti Syriaci adornatum; Adjecta singulorum vocabulorum significatione latina & germanica, cum Indice triplici. Cothenis Anhaltinorum 1623. Prostat Lipsiae in Officina Cotheniana. 4:o. (8) + 724 pages (numbered total 722 as four pages, 478 and 479, are numbered twice, but with the text in consecutive order). Newly bound with boards covered in blue paper. Soiled edges. Damage ( by mouse) upper edge, extended 1/2 - 1 cm. right at the end near the spine, with hardly visible loss of paper in the upper margins of the leaves. Similar damage outer end of lower edge, 2 cm. in length with minimal loss of paper. Extensive waterstain, almost covering half the leaves, from page 621 to the end and a miscoloration in the lower outer margin from page 353, getting larger to the end. 20 x 16 cm.[#\66438] [Attributes: Hard Cover]
Bookseller:
Antiquaria Bok & Bildantikvariat AB
[Göteborg, Sweden]
Cothenis: Anhaltinorum, 1623. First and apparently only edition, small 4to, pp. [8], 725, [1]; text browned throughout, minor worming, small hole in the margin of the first several leaves not touching text; all else very good in full contemporary vellum titled in ink a contemporary hand on spine. The most comprehensive Syriac dictionary to date. Trost also edited a polyglot bible, a Syriac New Testament (published a year earlier and which this lexicon was mean to serve), and a Hebrew grammar. Graesse VII, 103; Zaunmuller, p. 372; Vancil, p. 237. [Attributes: Hard Cover]
Bookseller:
Rulon-Miller Books (ABAA / ILAB)
[St. Paul, MN, U.S.A.]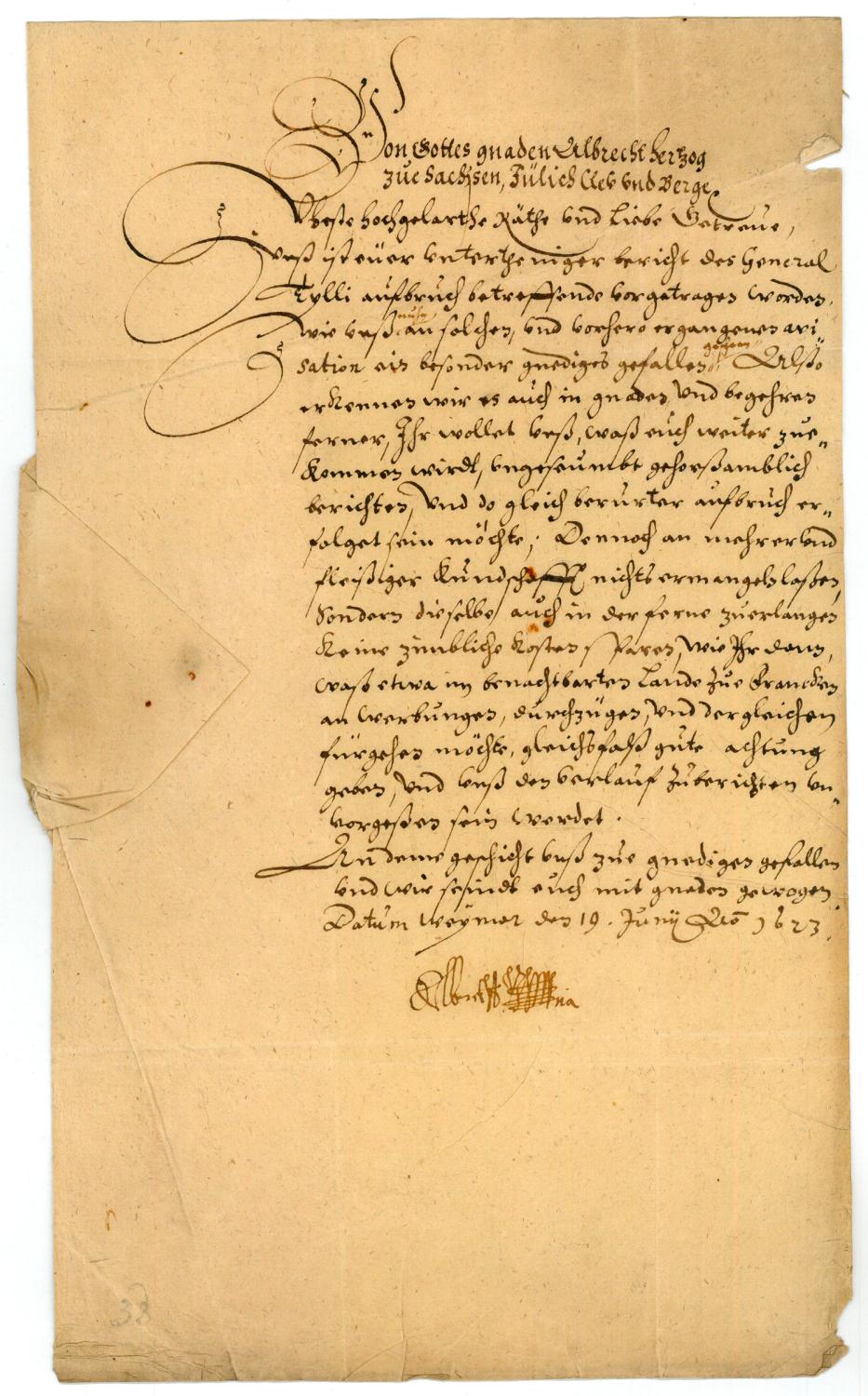 Weimar, 19. VI. 1623. ¾ S. auf Doppelblatt. Folio. An seine Untertanen: "Uns ist euer untertheniger bericht des General Tylli aufbruch betreffende vorgetragen worden. Wir [haben] an solcher, und vorhero ergangener avisation ein besonder gnediges gefallen [gefunden]. Alßo erkennen wir es auch in gnaden und begehren ferner, Ihr wollet [das], was euch weiter zuekommen wirdt, ungesäumbt gehorsamblich berichten, Und do gleich berürter aufbruch erfolget sein möchte; Dennoch an mehrer und fleißiger Kundschafft nichts ermangeln laßen, sondern dieselbe auch in der ferne zuerlangen [.]". - Der Sohn Herzog Johanns von Sachsen-Weimar und der Herzogin Dorothea Maria, einer geborenen Fürstin von Anhalt, bereiste von 1619 bis 1621 Frankreich "und übernahm nach seiner Zurückkunft für seine älteren abwesenden Brüder die gemeinschaftliche Regierung des weimarischen Landes [.] [Er] galt als ein edler und weiser Fürst, der zwar das Verbrechen streng bestrafte, aber immer mit Gerechtigkeit und kluger Sorgfalt sein Land regierte. Schmeichler und Verleumder haßte er. Die Drangsale, welche seine armen Unterthanen in Folge des dreißigjährigen Krieges auszustehen hatten, verbitterten die letzten Jahre seines Lebens [.]" (ADB I, 319). - Mit papiergedecktem Siegel und kl. Randläsuren; das leere Bl. 2 etwa zur Hälfte ausgeschnitten.
Bookseller:
Antiquariat INLIBRIS Gilhofer Nfg. GmbH
[Vienna, A, Austria]
S.l.: S.n., 1623. Fine. S.n., S.l. 1623, pet. in 4 (18,5x14,5cm), 7 f., relié. - First Edition. Half Vellum fart. nineteenth corners. Part of title sheepskin red. Friction. Copy browned. The book discusses how the Jesuits have rally across Germany to the Catholic faith, and what action they will take against the Protestant heresy. --- Please note that the translation in english is done automatically, we apologize if the formulas are inaccurate. Contact us for any information! - [FRENCH VERSION FOLLOWS] Edition originale. Reliure en demi vélin à petits coins XIXe. Pièce de titre basane rouge. Frottements. Exemplaire bruni. L'ouvrage traite de comment les Jésuites comptent rallier toute l'Allemagne à la foi catholique, et quel combat ils devront mener contre l'hérésie protestante.
Bookseller:
Librairie Le Feu Follet
Frankfurt am Main, Daniel & David Aubry & Clemens Schleich, 1623. - 665, (1) SS. Mit Holzschnittdruckermarke am Titel. Pergamentband um 1700 mit hs. Rückenschildchen in rot und schwarz und dreifachen blindgepr. Deckelfileten. 8vo. Zweite in Deutschland erschienene Ausgabe des berühmten Romans des katholischen englischen Satirikers John Barclay (1582-1621). Zuvor 1622 in Straßburg gedruckt. "The Argenis is a political romance; actual figures of Barclay's time play a role in it, such as Queen Elizabeth (Hyanisbe)" (Faber du F. I, 62). Das Werk entfaltete seine außerordentliche Wirkung seit seinem ersten Erscheinen in Barclays Todesjahr (in Paris) bis weit ins 18. Jahrhundert. "Richelieu kannte das Werk, und es scheint, daß er sich in Einzelzügen seiner Politik davon leiten ließ, Crashaw übersetzte Verse daraus, Leibniz soll den Roman auf dem Sterbebett noch gelesen haben, Rousseau schätzte, Cowper und Coleridge priesen die Argenis" (KLL IV, 1155). - Titel gelockert und mit hs. Besitzvermerk "Ex Libris Antonii Biderman[ni] Ao. 1631" (bei der Neubindung Ende des 17. Jhs. minimal angeschnitten); von derselben Hand zahlr. zeitgenöss. Anstrichungen und Marginalien. Später in der Bibliothek der Wiener Kapuziner (hs. Besitzvermerk um 1700 am 1. Widmungsblatt). Vordergelenk angeplatzt. Durchgehend leicht gebräunt, sonst gutes, sauberes Exemplar dieser frühen Ausgabe. VD 17, 23:331104P. Vgl. Graesse I, 291.
Bookseller:
Antiquariat INLIBRIS Gilhofer Nfg. GmbH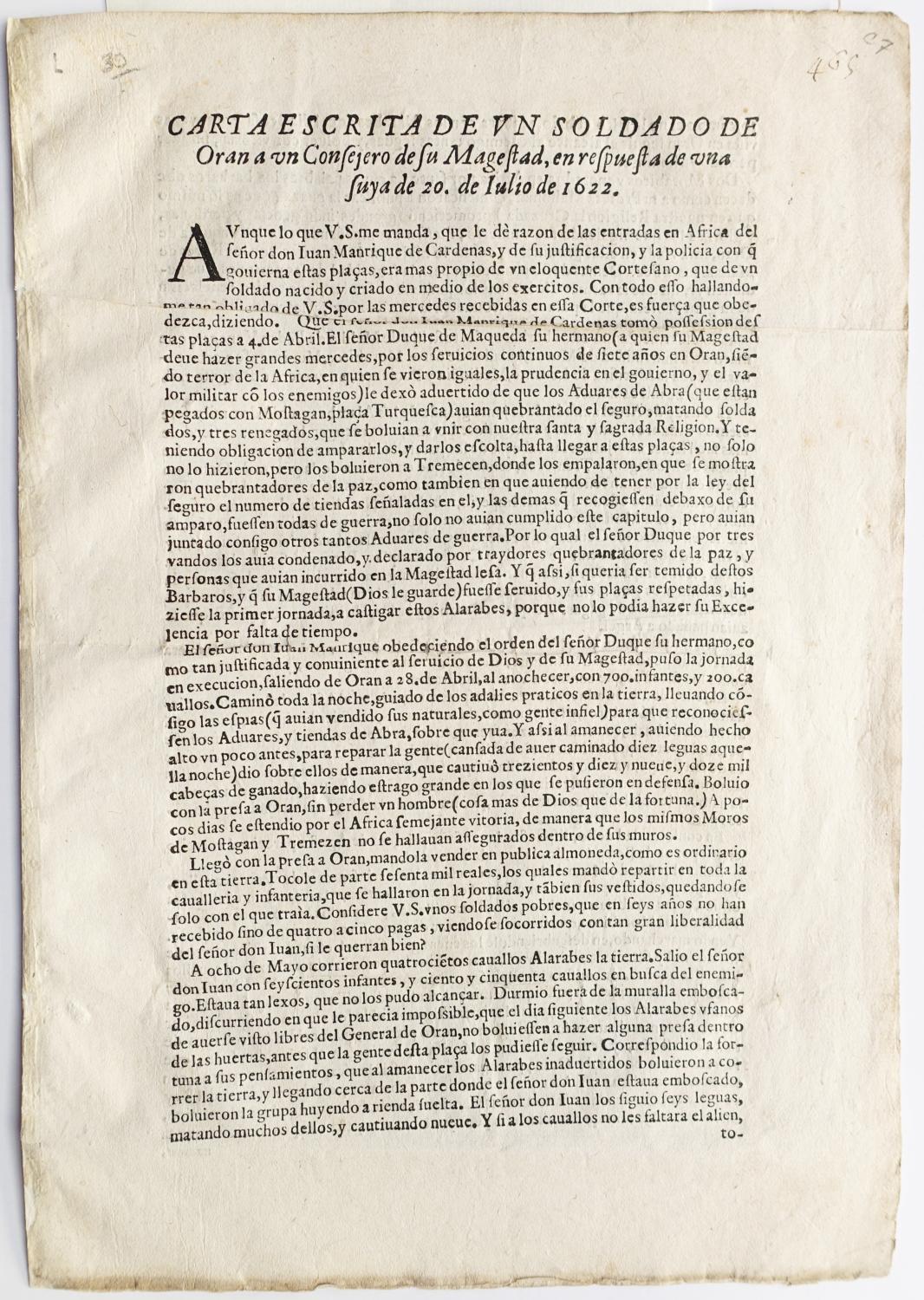 [Colophon] Madrid, Por la Viuda de Alonso Martin, (1623? Text dated at the end 30 August 1622). Folio (30 x 21 cm.), unbound. Skillful tissue repair along fold. Minor soiling. In very good condition. (2 ll.). *** FIRST EDITION? Another appeared in the same year at Barcelona. This is the detailed eyewitness account of a soldier who served under D. Juan Manrique de Cardenas in Oran (modern Algeria). After Manrique de Cardenas won two minor engagements with the Arabs, Muslim leaders declared the capture of Oran a crusade, and 1,700 men marched against it, but Manrique de Cardenas turned a treacherous attack from his rear into another victory. The anonymous soldier also briefly mentions his commander's actions regarding civil government in Oran: the sale of wheat to the poor, hospital treatment of soldiers, etc.*** Palau 45714. Pérez Pastor 1816. HSA p. 95. CCPBE cites a single copy only at the Seminario Mayor o Conciliar de San Julián, Cuenca, and no copies of the Barcelona edition. REBIUN locates only a photocopy at the Universidad de Alcalá, Colegio de Trinitários, and no copy of the Barcelona edition. Copac cites the Madrid edition at the British Library only. Not located in Hollis, Orbis, Catnyp or Melvyl. Not located in NUC. [Attributes: First Edition]
Bookseller:
Richard C. Ramer Old and Rare Books
[New York, NY, U.S.A.]