Displayed below are some selected recent viaLibri matches for books published in 1618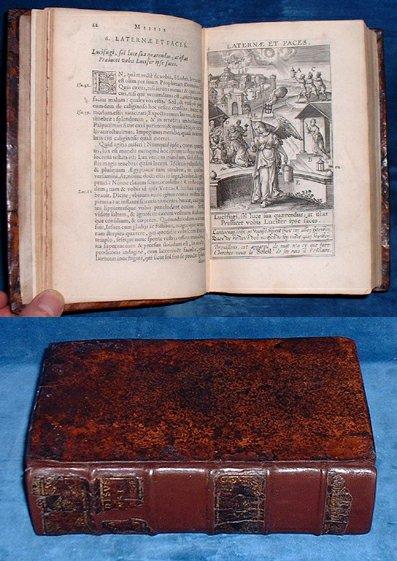 Antwerp: ex Officina Plantiniana, Apud Balthasarem et Ioannem Moretos fratres, 1618. Hardcover. Very Good. Two engraved titlepages & 102 full-page engraved emblem plates, the first in each part signed by by Theodor. Galle. Two Parts in one Volume, octavo contemporary calf (repaired and rebacked with fragments of original gilt spine laid on) ink and pencil ownership names on front endpapers and another small inked out at foot of title. Engraved titlepage +[14] +212pp +[4]pp (last blank) with 1 preliminary + 50 numbered full page engraved plates; 2nd engraved titlepage +[14] +213pp +[4]pp (last blank) again with 1 preliminary + 50 numbered full page engraved plates. All plates with captions in Latin, Dutch & French. Endpapers browned, 1st engraved title very slightly chipped at fore-edge, a few small marginal tears without loss, otherwise beautifully clean throughout with the two complete sets of 51 plates interleaved in the text following each engraved titlepage. *Rare complete edition (the 2 parts are often found separately) of this emblem book by the Jesuit Jan David (De Backer/Sommervogel II 1847-48 nr.10, BCNI 6514).
Bookseller:
Abbey Antiquarian Books
[Blockley, GLOS, United Kingdom]
Cologne: 1572-1618 - A detailed hand colored engraved map by Braun and Hogenberg. Overall fair condition with dimensions of 22"x16". Foxing and staining throughout, severe creasing and evidence of many repairs.
Bookseller:
Arader Galleries San Francisco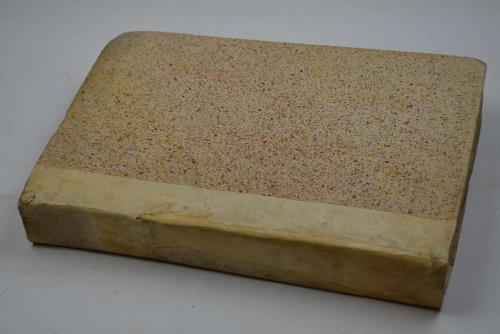 apud Bertolottum,, Venetiis, 1618. Cm. 32, pp. (28) 51 (5); 499 (1); 48. Grandi marchi tipografici ai frontespizi. Legatura settecentesca in mezza pergamena e piatti in carta dipinta. Parte del dorso ben reintegrata e un tarletto alle ultime carte, peraltro ottima copia. Edizione che segue di pochi anni l'originale (1601) ed al quale è aggiunto per la prima volta (con autonomo frontespizio) il testo "Responsorum." apparso separatamente nel 1613. Ampio trattato, diviso in undici capitoli, in cui il celebre vicentino espone tutte le sue teorie in tema di pratica medica. Traspare il grande rispetto verso la dottrina di Galeno che il Massaria non abbandonò mai tanto da fargli affermare ".si che stimava aver torto con lui, che aver ragione coi moderni". Nel volume è curiosamente legata anche un'edizione senza note tipografiche della celebre opera del Massaria: "De peste". Cfr. De Renzi III, 506-7. [Attributes: Hard Cover]
Bookseller:
Studio Bibliografico Benacense
[riva del garda, Italy]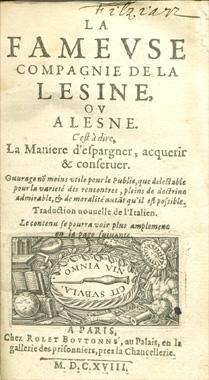 Paris, Robert Boutonné, 1618. Petit in-12, plein vélin de l'époque, [40]-374 pp. (pagination des rectos seuls; autrement dit, l'ouvrage comporte plus de 700 pp.) Seconde et dernière édition (la 1ère date de 1604) de la traduction française de ce recueil facétieux paru en Italie en 1603. Il y est question de la meilleure "manière d'espargner", autrement dit de pratiquer l'avarice, y compris en ce qui concerne le boire et le manger: ne pas trop manger, réfréner son appétit, manger de l'ail, acheter du poisson pas frais afin qu'il soit moins cher, etc. La Compagnie avait choisi comme symbole l'alêne (outil de coordonnier), en italien "lesina" Page de titre ornée d'une vignette gravée sur cuivre par L.Gaultier Vicaire 197 Ex-libris manuscrit ancien. Bel exemplaire
Bookseller:
Librairie Gastéréa
[Lausanne, Switzerland]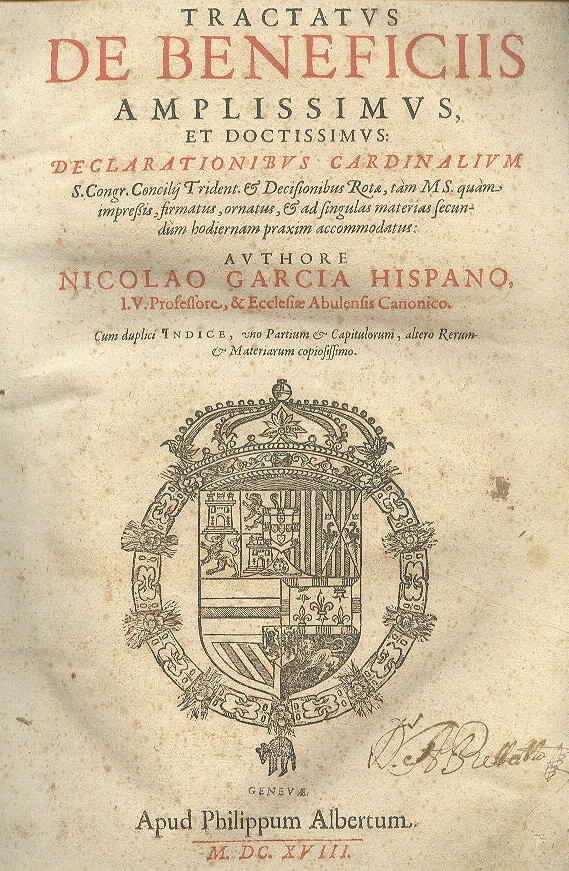 Genevae: Apud Philippum Albertum, 1618.- 2 Vols. (4 h., 679 p.; 56 h., 441 p.); in Folio; portada del tomo 1º a 2 tintas y con escudo grabado en madera; Pergamino flexible época.- En general muy buen estado, solamente algunas mínimas faltas de papel en los márgenes de la portada del tomo 1º y 2 pequeñas perforacionesen el ángulo superior externo de 2 hojas (647-48 y 649-50) que tocan un poco al texto. Tambien tiene alguna mínima perforación de polilla casi inapreciable en algunas hojas, pero siempre en los mágenes sin que afecte al texto. En algunas hojas las tintas han oscurecido un poca el papel. A PESAR DE LO DESCRITO, LA OBRA SE ENCUENTRA EN MUY BUEN ESTADO. Palau nº 98131. Libro en español DERECHO ESPAÑOL DE LOS SIGLOS XVI Y XVII [Attributes: Soft Cover]
Bookseller:
Librería Miguel Miranda, AILA ILAB
[Lope de Vega n.º XIX, Madrid, M, Spain]
Antwerpiae, Ex Officina Gerardi Wolsschati Sumptibus Iacobi Biaei [Antwerp, Gerard Wolsschat for Jacob Bij (Jacob de Bie], 1618.. Royal quarto (322 x 214mm). Pp. (vi), 158 (verso blank). Set in double columns and paginated 1-314, skipping one page. Handsome engraved device to title-page; two decorative initials, corner-tip of one leaf neatly restored, minute blemishes elsewhere. Hardcover, bound in contemporary full laced case vellum, spine gilt, small paper restoration to first paste-down, all edges dyed aquamarine. Uniformly browned due to stock quality, else a very good copy. ~ Goltzius (Venlo 1526 - Bruges 1583) sketched the contents of over a thousand collections of coins, developing his drawings into a series of thematic and biographical studies in ancient history. His work laid the groundwork for the systematic study of numismatics. His publishing career began in 1557, with the publication of Vivae Imagines, and ended in 1579, when he published the first edition of the "Thesaurus rei antiquariae Huberrimus". Much of his work, however, was left unpublished, and it was Jacob de Bie of Antwerp who gathered and published it, including the present edition of the "Thesaurus..." Lipsius 152. Brunet II, p. 1653. Not in Simoni..
Bookseller:
Librarium of The Hague
Leiden 1618. Folio. Modern full calf with brown leather label, raised bands. Engraved title. Illustrated with numerous woodcuts.. .
Bookseller:
Ruuds Antikvariat
[NO]
Paris: Chez M. Gobert, 1618.. [13],232pp. plus four folding maps and four folding plates. Contemporary vellum, manuscript title on backstrip. "E" signature supplied from another copy. Quite clean and neat internally. A lovely, near fine copy. In a half morocco and cloth box. Famed philosopher John Locke's copy, with his ink ownership inscription on the front pastedown. In front of his signature Locke has made the notation "b" which, according to THE LIBRARY OF JOHN LOCKE by Harrison and Laslett, was an inventory mark put into books in or about 1697 and not to be found in any books acquired after that date. Locke has noted at the foot of the titlepage that this is a duplicate copy. The rare first Paris edition. Undertaken in 1615 and lasting until 1617, this important expedition was the third complete circumnavigation, after Magellan in 1519 and Drake in 1577. The expedition was the first to round Cape Horn from the east, naming the Cape after the Dutch town of Hoorn, whose aggressive traders sponsored the voyage. In addition, the expedition explored the Pacific coast of South America, pursued the search for Terra Australis, and proved that Tierra del Fuego was not an island. Principle among the merchant benefactors of Hoorn was Isaac Le Maire, whose son, Jacob Le Maire, was charged as the director of the enterprise, and for whom the Le Maire strait is named. "Partly inspired by Quiros and motivated by Dutch trading zeal, this [voyage] was the essential precursor to Tasman's voyage; indeed Tasman made great use of Le Maire's mapping of the ocean. The Le Maire voy … [Click Below for Full Description]
Bookseller:
William Reese Company - Americana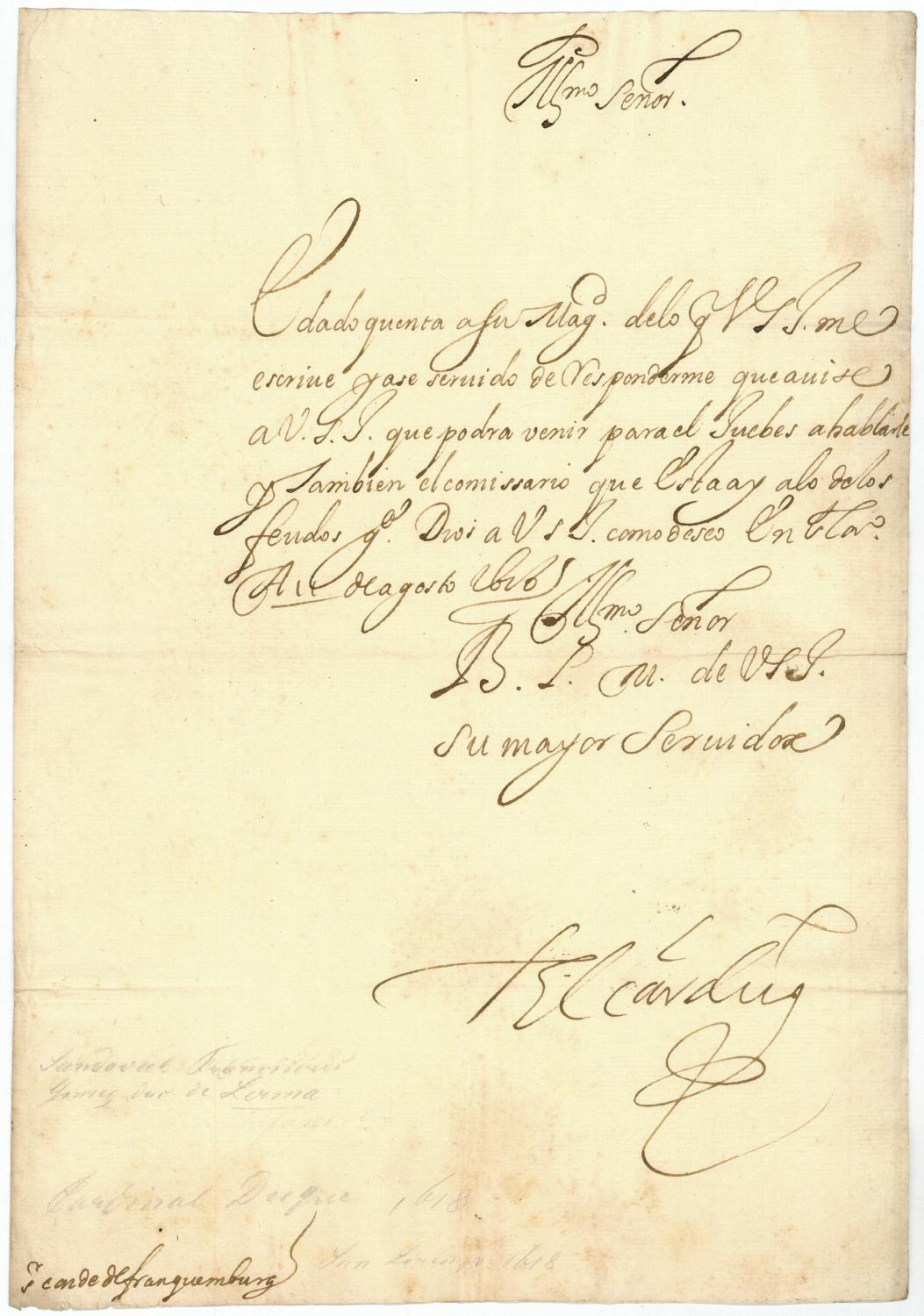 O. O., 11. VIII. 1616 oder 1618. 1 S. auf Doppelblatt. Folio. Lt. alter Antiquariatsbeschreibung an Graf Khevenhüller. - Der Enkel des Jesuitengenerals Francisco de Borja diente Philipp III. von Spanien als Minister und galt am spanischen Hof als "Kardinalmacher". "Bis auf eine Ausnahme waren alle in dieser Zeit ernannten spanische Kardinäle mit dem Duque de Lerma entweder verwandt oder waren ihm auf andere Weise eng verbunden" (Wikipedia). 1618 wurde er selbst Kardinal. Nach Jahren der nahezu unbeschränkten Macht über den König - so hatte er diesem u. a. verboten mit seiner Gattin Margarethe über Staatsangelegenheiten zu reden - seiner Stellung schließlich beraubt, zog er sich auf seine Güter zurück, wurde von den neuen Machthabern zur Rückzahlung einer hohen Geldsumme verurteilt und verstarb wenig später. - Sehr selten.
Bookseller:
Antiquariat INLIBRIS Gilhofer Nfg. GmbH
[Vienna, A, Austria]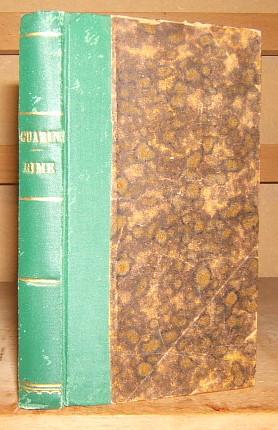 Appresso Gio Battista Bidelli, Milano, 1618. Collation,two volumes bound in one, 69+69pp. Bound in later quarter linen, with marble boards, gilt title lettering and lines. Boards lightly rubbed on edges, binding in very good clean solid condition. Internally, pages in very good clean condition throughout. A very good copy.A45 Size: 12mo - over 6¾" - 7¾" tall
Bookseller:
George Jeffery Books
[HERTFORDSHIRE, United Kingdom]