Displayed below are some selected recent viaLibri matches for books published in 1584
1584. London: Tottel, 1584. Beale T97. 1584 Tottel Edition of the Old Natura Brevium [Natura Brevium]. La Vieux Natura Brevium, Dernierment Corrigee et Amend', &c. Nouelment Imprimee. London: In Aedibus Richardi Tottelli, 1584. 180, [4] ff. Collates complete. 12mo. (5-3/4" x 4"). Contemporary calf, blind-stamped insignia and monogram "WC," and later blind stamp "SC" to upper corner, raised bands. Moderate rubbing to extremities with wear to spine ends and corners, front hinge starting. Occasional light dampstaining. Despite these minor impediments, a well-preserved, highly desirable copy in its original state. $1,500. A cornerstone of the common law, the Natura Brevium is a selection of writs, with commentary, based on the Registrum Brevium dating from the reign of Edward III. The first printed edition of this work was published in 1494 by Richard Pynson. English Short-Title Catalogue S113106. Beale, A Bibliography of Early English Law Books T97.
Bookseller:
The Lawbook Exchange, Ltd.
[USA]
Ortelius, A., 1584. "Belgii veteris typus". Kol. Kupf.-Kte von A. Ortelius (aus Parergon, lat. Ausg.), dat. 1594. Mit 4 ausgem. Rollwerkskart. 38:49 cm.. V. d. Broecke Nr. 198; Koeman III, map 3000H:31B, ed. 31:051 (1595 Latin) - Map of ancient Low Countries.
Bookseller:
Antikvariat Karel Krenek
Ortelius, A., 1584. "Leodiensis Dioecesis typus". Altkol. Kupf.-Kte. aus A. Ortelius, um 1585. Mit gr. ausgem. Kart. im Oberrand. 38:49,5 cm.. V. d. Broecke Nr. 64.1; Koeman III, map 3360:31; ed. 31:042 (1592 Latin) - The map is centered on Liege and extends to Weert and Ruremond in the west, Chastelets, Loeven and Philippe Ville in the south and Sedain in the east. Namur and Dinant are also shown.
Bookseller:
Antikvariat Karel Krenek
Antverpiae (Anvers): Ex officina Christophori Plantini,, 1584. relié. in Folio (33x22,5cm). Edition originale de cette histoire des Pays-Bas et des ducs de Bourgogne. Brunet, 24969. Absent à Graesse. Plein Vélin d'époque. Dos à nerfs janséniste. Filets d'encadrement à froid sur les plats. Traces de lacets. Une fente de 2,5cm au mors supérieur en coiffe. Quelques tâches sur les plats. Une tâche brune en marge supérieure sur les premiers feuillets (1,5cm). 9 tableaux généalogiques se présentant sur une double page ont été renforcés d'une bande de papier , sans doute étaient-ils détachés ou fragiles. La restauration est scrupuleuse et ancienne. De la page 44 à 89 du sixième livre, pages brunies avec une auréole blanche en marge basse. Manque les pages de garde. Pontus Heuter (Heuterus) de Delft (1535-1602), fut le premier à écrire une histoire des Pays-bas en tant que nation, et non plus seulement une histoire des provinces qui forment les Pays-Bas. Ce sont les ducs de Bourgogne, qui progressivement et originellement rassemblèrent, par achat, mariage ou contrats, les provinces formant les Pays-Bas. Le premier livre s'intéresse donc à l'origine des ducs de Bourgogne, le second à Philippe Le Hardi (1364-1404) , le troisième à Jean Sans Peur (1404-1419) , le quatrième à Philippe Le Bon (1419-1467) , le cinquième à Charles le Témeraire (1467-1477). Le sixième livre, bien que possédant sa propre page de titre, était vendu avec les cinq premiers. Il a pour sujet la généalogie des familles de France et des Pays-Bas (nombreuses planches généalogiques). L' … [Click Below for Full Description]
Bookseller:
Librairie Le Feu Follet
Domingo de Portonariis, Zaragoza 1584 - 20x27. 7h. 604pp. 2h.+4h. 229pp. (Falta la portada de la primera parte, la portada de la independiente quinta parte sí está.) Hermosos iniciales xilográficos. Pergamino. La falta de portada siempre complica la tarea del librero a la hora de establecer precisamente a qué edición pertenece el ejemplar, sobre todo en un caso como este, de un libro tan sumamente popular que pasó por nada menos de 6 ediciones en 2 años. Palau cita 2 ediciones de Domingo de Portonariis de 1583, pero algunas de las licencias de este ejemplar están fechadas en 1884; en todo caso la paginación no coincide, ya que va seguida en las primeras 4 partes. La quinta parte Hieronymo Margarit, Barcelona 1614, Palau 108168. Una haja mal colocada, algunos errores de paginación, faltas marginales en las últimas hojas, estrecho de márgenes, con algunas ntoas marginales afeitados, un par de sellos. En total, un ejemplar algo manoseado, pero completo aparte de la falta de la portada del primer libro. Envíos para España: el pago contra reembolso conlleva un recargo de 2 Euros.
Bookseller:
Carmichael Alonso libros
Lyon: Jean Stratius, 1584. Lyon: Jean Stratius. G : in good condition. Later rebind. Some leather to coners missing. Rubbed and scufffed. Gilt tooling still bright. 1584. Second Edition. Leather cover. 170mm x 110mm (7" x 4"). 367pp. title page wood cut engraving; begining of each 'book' has engraved header. Woodcut full page plate of 'La Figure du Duc L'Albe'. Divise en cinq livres. [History of the Disturbances and Civil War of the Country of Flanders Containing the origins and progress the Stratagy of the wars: sieges and expugnation of the Cities and Fortresses: The state of religion since 1559 to the present]. Some pages missing from table content at front from letter A-F with others mis-bound and wrongly paginated at front and back. Pages 353 - 358 missing - begining of book 5. Notes and pen inscriptions from previous owners on eps and title page. .
Bookseller:
Barter Books
[United Kingdom]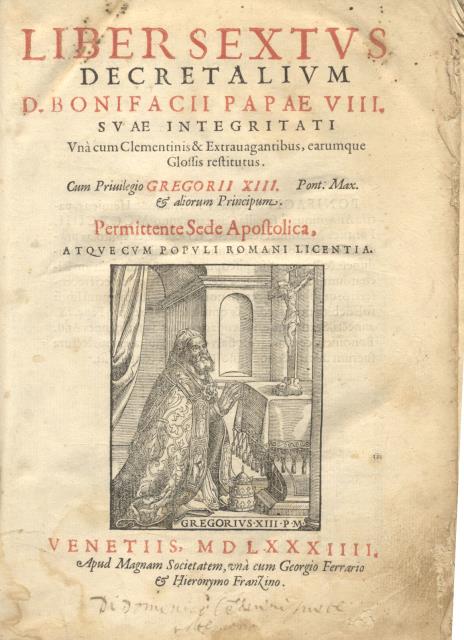 Apud Magnam Societatem, unà cum Georgio Ferrario & Hieronymo Franzino, Venetiis, 1584. "Hæc omnia cum suis glossis suæ integritati restituta, & ad exemplar Romanum diligenter recognita". Tre parti raccolte in unico volume, tutte con permesso della sede Apostolica ed il privilegio di Papa Gregorio XIII. Testi latini. Cm.23,8x17,1. Pg.(4),436,(8); (4),176; 184,(28). Tutte le pagine numerate con doppia numerazione per pagina. Modesta legatura in cartone marmorizzato coevo. Testi a due colonne, impresso in rosso e nero. I tre frontespizi decorati con nitido ritratto inciso di Gregorio XIII in formato cm.11,3x9. Capilettera incisi. Quattro belle incisioni xilografiche raffiguranti l'"Arbor Consanguinitatis" (carta * della prima parte), l'"Arbor Affinitatis" (carta *3 della prima parte), l'incontro tra Gregorio e Ambrogio (al verso della seconda carta della seconda parte), l'"Arbor seu figura declarativa tituli de iure patronatus" (carta L6 della seconda parte). Esemplare in barbe. > ICCU\BVEE\004407, "Con il commento di Giovanni Francesco Pavini alla Extravagantes XX di Giovanni XXII, una prefazione di Girolamo Chiari ed il commento di Jean Le Moine, Guillaume de Montlauzun e dello stesso Pavini alle Extravagantes communes e gli Arbores Consanguinitatis ed Affinitatis, abitualmente inseriti nelle Decretali di Gregorio IX". 2050 gr. [Attributes: Hard Cover]
Bookseller:
studio bibliografico pera s.a.s.
[LUCCA, Italy]