Displayed below are some selected recent viaLibri matches for books published in 1572
1572. Cologne: Braun & Hogenberg. unbound. very good. View. Uncolored engraving. Image measures 12.75" x 18.5". Beautiful diptych of Lake Averno, the ancient city in Campania Italy and of Lake Agnano. In front of Lake Averno the artist and Ortelius are discussing if it is the entrance to the underworld. From the city atlas "Civitates Orbis Terrarum", a collection of city views and plans created as a companion to Ortelius' "Theatrum Orbis Terrarum". The volumes were published between 1572-1617 Latin edition. Chipping along edges and expert repair to tear at bottom left margin. Georg Braun (1541-1622) was a Catholic cleric who edited the "Civitates orbis terrarum," a collection of 546 prospects, bird's-eye views and maps of international cities. Hogenberg created the tables for the first 4 volumes. Together, these two geographers created a work that set new standard for cartography for the next century. This view of Lake Averno demonstrates the high quality of their work.
Bookseller:
Argosy Book Store, ABAA, ILAB
[New York, NY, U.S.A.]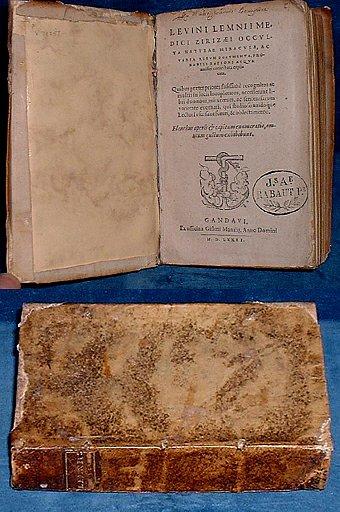 Gandavi (ie Ghent), Gislenus Manilius 1572 Printer's mark of crowned snake and anchor device to titlepage. . Octavo contemporary laced through vellum yapp foredge with gilt leather spine label (some edge damage to vellum repaired) Titlepage +(7pp Dedications) +(1p blank) +(6pp Preface) +473pp +(23pp Index). *A volume of treatises on so called scientific aspects of miracles, monsters, dreams as well as medicine, proverbs etc. Handsome italic typography with printed side notes with minor signs of use and paper clean and crisp. Early name to top margin of title page as well as ownership stamp of Js.Ae.Rabaut Pr. In oval cartouche with olive branches. No other writing in the book. A scarce Ghent edition which was translated into Italian, French and German but seemingly not into English until the mid 1600's and the Latin was still in print well into the 17th century (Durling 2771).Lemnius was a student of Vesal and friend of Dodoens and Gesner among others.
Bookseller:
Abbey Antiquarian Books
[Blockley, GLOS, United Kingdom]
Apud Franciscum Gasparem Bindonum & fratres, Venetiis, 1572. Buon esemplare leggermente rifilato in testa Interessante dissertazione del famoso medico Nicola Rorario sulle contraddizioni ed i paradossi che emergono dalla lettura dei trattati medici degli Autori pi importanti dell'antichitˆ con i suoi commenti e correzioni. Genuino esemplare ed in buone condizioni generali. Molto raro (22) + 727 p. - in-16
Bookseller:
Libreria Antiquaria Giulio Cesare
[roma, ROMA, Italy]
Löwen, Petrus Zangrius, 1572 u. 1571.. 20 Bll., 231(1) S., Titel, S, 232-479, 1 Bl., 271(1) S., Titel, S. 275-650. Folio. Kalbslederband der Zeit über Holzdeckeln, auf 5 Bünden, mit reicher Rollenstempelprägung und einigen kleinen Einzelstempeln, Messingschliessenbeschlägen, 6 (von 8) Messing-Kantenbeschlägen und dreiseitigem Rotschnitt.. Lederschließenbänder und 2 Kantenbeschläge fehlen; 1 Kantenbeschlag nur noch zur Hälfte vorhanden; 1 Kantenbeschlag teils lose und mit Fehlstelle (ca. 1/4); Einband etwas berieben und mit einigen kleinen Bezugsfehlstellen an den Bünden; Vorderdeckel mit größerer länglicher Bezugsfehlstelle (ca. 9 x 1 cm); Fehlstellen an den Kapitalen mit Lederstreifen überdeckt (ca. 2 u. ca. 1,5 cm); 1 Ecke mit kleiner Fehlstelle; hinterer Deckel mit kleiner Fehlstelle am Fuß; Kanten mit einigen winzigen Fehlstellen; Rückengelenke geringfügig angeplatzt; einige kleinere Schabspuren; das erste Titelblatt etwas tintenfleckig; Bll. geringfügig stockfleckig und gebräunt; die letzten Bll.mit winziger Brandspur im weißen Rand; vereinzelt Unterstreichungen von alter Hand; die ersten Bll. mit kleinem Wasserfleck im Bundstegund schmalem Wasserrand am Kopf. Das erste Titelblatt mit handschriftlichem (teilweise übermaltem) Besitzvermerk des Jesuitenkollegs Emmerich, datiert 1592 (dem Gründungsjahr dieser bedeutenden Jesuitenschule). Die Titelauflage des ersten Drucks des Kommentars von Cornelius Jansenius d. Älteren zu seinem Hauptwerk, der "Concordia evangelica" (zuerst Löwen 1549); beim vorliegenden Kommentar trägt nur das erste Titelblatt das Datum 1572, die ander … [Click Below for Full Description]
Bookseller:
Antiquariat am Moritzberg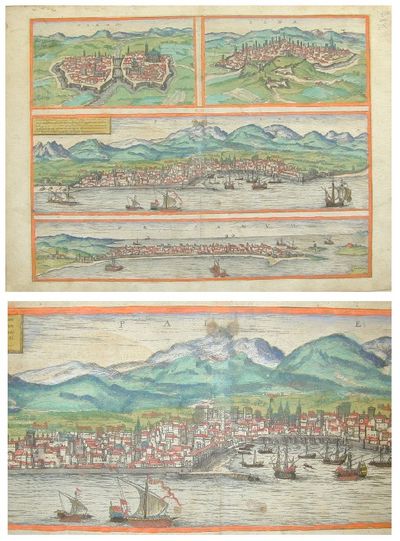 Cologne, c. 1572. Copper engraving, 37 x 47.5 cms. fine original hand colour, a couple of trivial spots and stains, German text to verso. Views of four towns on one sheet: Parma and Siena, and Palermo and Trapini in Sicily. The Civitates Orbis Terrarum was one of the most significant cartographic works of the late sixteenth-century, printed over 45 year period between 1572 and 1617. It was the first systematic city atlas (containing the first accurate surveys of many towns) and was inspired in part by the scope of Abraham Ortelius' Theatrum Orbis Terarrum which gathered together the best available geographical sources. Town views and plans were all taken from direct observation rather than improvised in the manner of some earlier geographical works - it had not been unknown for the same view to appear in more than one guise. Georg Braun wrote the text and Ortelius himself - who travelled through Italy with the artist Joris Hoefnagel - supplied a significant proportion of the material, which was then engraved by Simon Novellanus and Frans Hogenburg. Later contributors included Abraham Hogenberg and Jacob Hoefnagel, who continued their fathers' work. There were a number of editions, mostly with Latin text, but it is extremely difficult (and, according to Koeman 'of secondary importance') to differentiate between them, as the state of the plates and their number and order does not vary. Koeman B&H I Map
Bookseller:
Bryars and Bryars
[United Kingdom]
Leipzig, Johannes Rhamba, 1572.. 8° 11 nn. Bll., 888 S. Gest. Titelvign. Schweinleder d. Zeit. Blindgepr. Deckelverzierung. 2 Schließen. Neu gebunden, alter Einbd. aufgezogen. L. gebr. u. tls. wasserrandig, Randbemerkungen u. Textmarkierungen, einige S. hinterlegt, hs. Eintragungen a. Vorsatzbl. Insgesamt guter Zustand.. Auf Wunsch senden wir gerne ein Foto des Buches via E-mail
Bookseller:
Neusser Buch-& Kunst-Antiquariat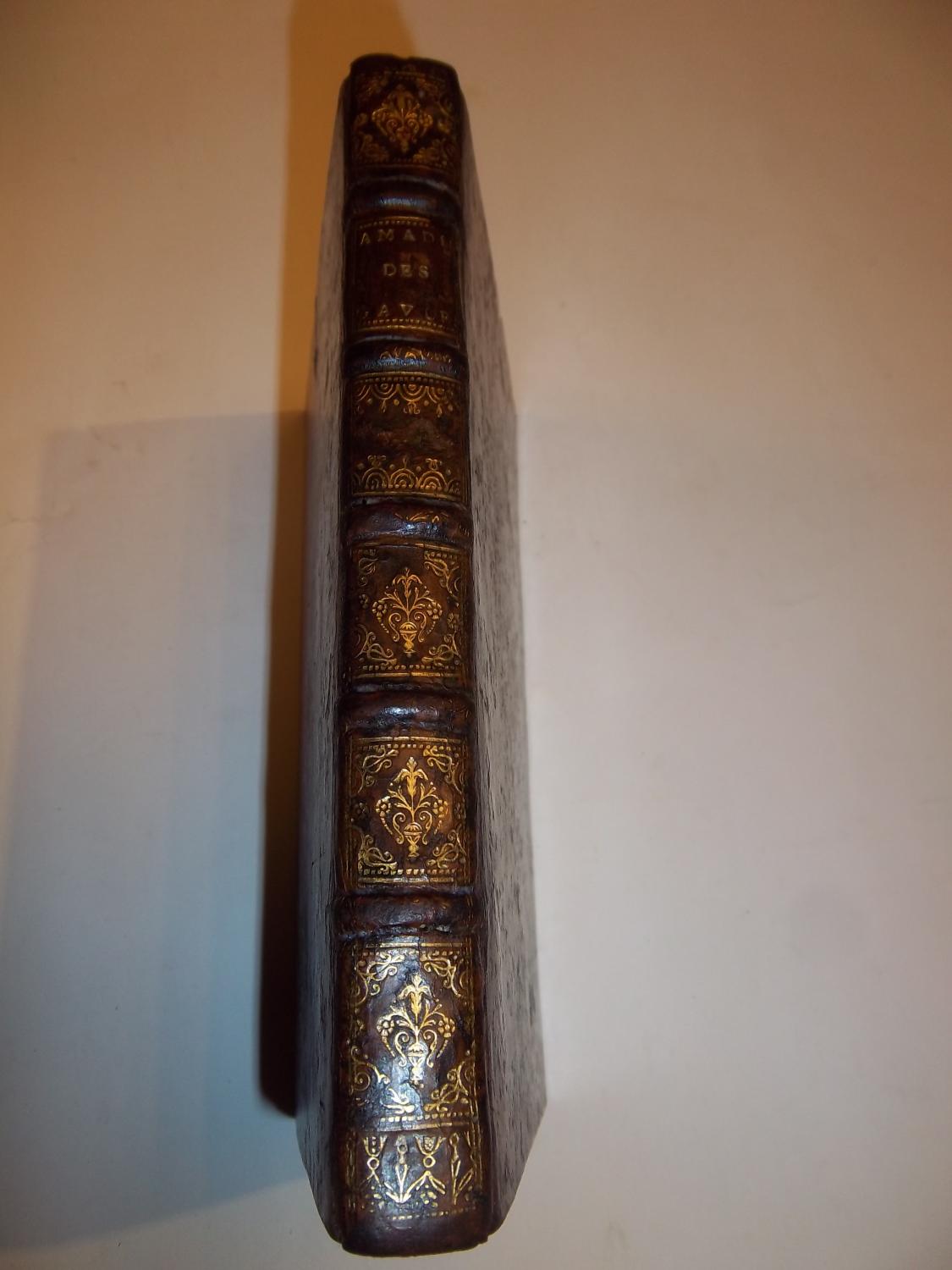 1572. un volume, reliure d'époque plein veau havane raciné(binding full calfskin) grand in-octavo, dos à nerfs (spine with raised bands) décoré or (gilt decoration) filets or (gilt line) et filets à froid (blind-stamping line decoration) - entre-nerfs - compartiments à fleuron au fer plein (floweret with full blocking stamp), fers spéciaux (specials blocking stamps) - titre frappé or (gilt title) pièce de titre sur fond havane foncé (label of title) avec filet or (label of title with gilt line), reliure en trés bon état et très fraiche, toutes tranches peignées (painting edges), orné d'un encadrement "aux rinceaux" gravé sur bois (engraving-wood) en noir sur la page de titre (engraved title page) avec une marque d'imprimeur gravée sur bois (engraving-wood) au centre "Nec Sorte Nec Morte Scrutamini" + 25 superbes gravures sur bois (engraving-wood) in-texte en noir (de 9,5x5,5 centimètres) représentant diverses scènes de bataille sur terre ou sur mer, (8)+285 Pages, 1572 Anvers Guillaume Sylvius Imprimeur du Roi Editeur, ".auquel sont contenus les gestes de Dom Florigel de Niquee, surnommée le Chevalier de la Bergère, qui fut filz d'Amadis de Grèce et de la belle Niquee. Ensemble de deux autres filz et fille engendrez insciemment par iceluy Amadis, en l'excellente Royne Zahara de Caucase, et rendu meilleur Françoys que par cy devant par C. Colet Champenois (poète et romancier seigneur des essarts) .".Book Nine was translated by Claude Colet.", Brunet 217. Baudrier V, 39. Une Rareté.superbement illustré.en superbe état (fine condition). [Attributes: Hard Cover]
Bookseller:
Librairie Guimard
[Nantes, France]
Venice: Apud Jacobum Simbenium, 1572. Small 12mo. Publisher's device on title and 26 woodcut illustrations (some repeats). Contemporary vellum. Some soiling, light browning of text. There are marginal tears, signatures and notations on the title page. [Attributes: Hard Cover]
Bookseller:
Alan Wofsy Fine Arts
[U.S.A.]
A Lyon: Par Benoist Rigaud, 1572. Fine. Par Benoist Rigaud, A Lyon 1572, In 12 (11x17cm), 38ff. (10f), broché. - New edition after the first published in 1561, Paris, Jean Dallier. These orders were published several times, even after the king's death, the last one has the BN France date of 1585. Pinout contemporary reuse for leaves of a Latin incunabula. 5 notebooks are interconnected (and slips hold), leather laces, the first three books no longer standing together by a seam. A clear wetting down right on the first 5 pages, pale foxing on the title page. A table of contents, endnotes, allows you to find various ordinances that affect all trades, the king's officers and clergy. Charles IX of only ten years old when he ascended the throne in 1560, is the regency of Catherine de Medici, who appoints Antoine de Bourbon Lieutenant General of the kingdom. It was during the meeting of the States General at Orleans From 13 December 1560 to 31 January 1561, that will be proclaimed and published these orders. --- Please note that the translation in english is done automatically, we apologize if the formulas are inaccurate. Contact us for any information! - [FRENCH VERSION FOLLOWS] Nouvelle édition après la première parue en 1561, Paris, pour Jean Dallier. Ces ordonnances furent publiées à plusieurs reprises, même après la mort du roi, la dernière que possède la BN de France date de 1585. Brochage d'époque avec réemploi de feuillets d'un incunable latin. 5 cahiers sont reliés entre eux (et aux feuillets de garde) par des lacets de cuir, les trois premiers cahiers ne tenant plus ense … [Click Below for Full Description]
Bookseller:
Librairie Le Feu Follet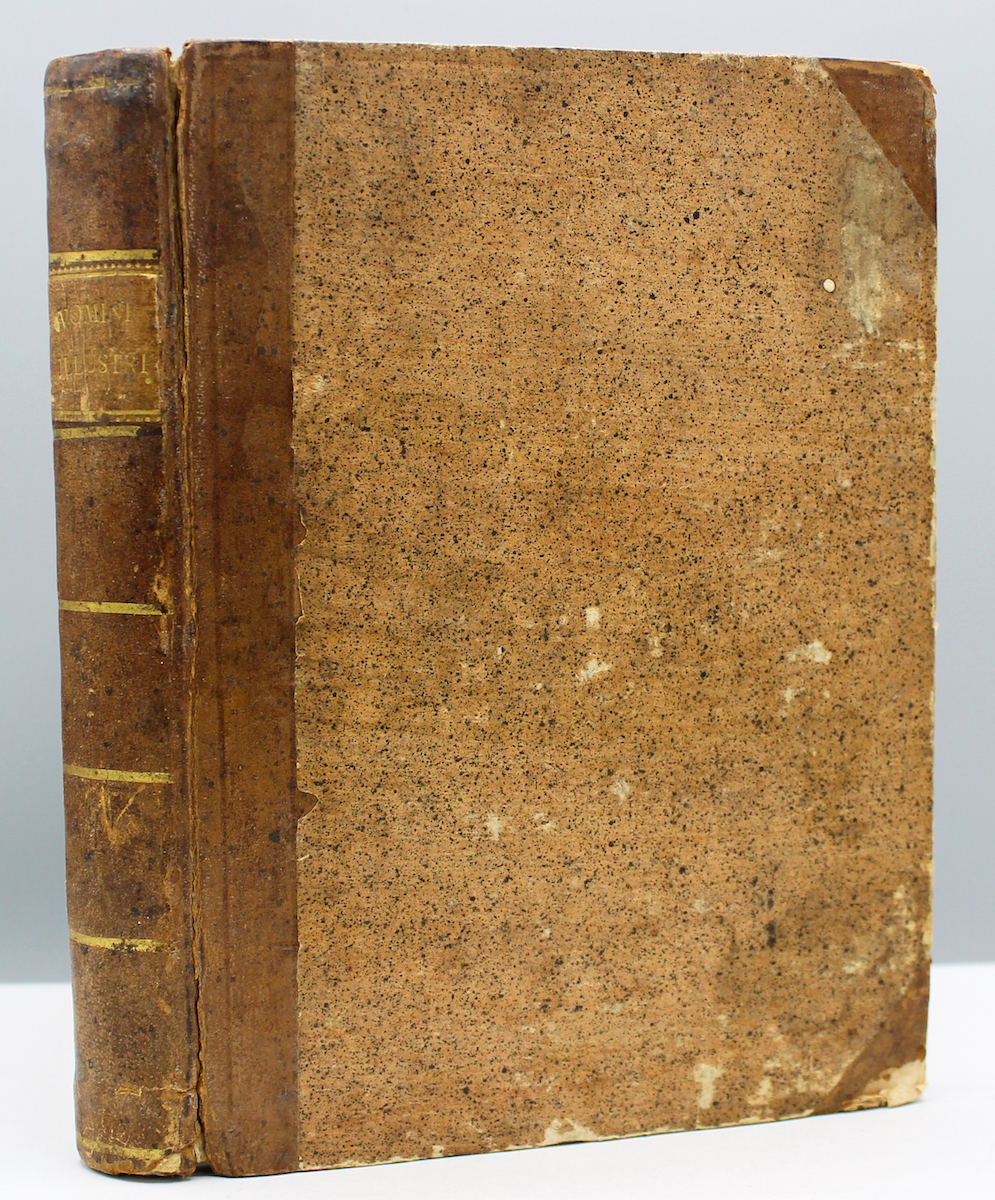 Venetia: Appresso Comin da Trino di Monferrato, 1572. Ruscelli (d. 1566), a prolific scholar and writer, was born in Viterbo. He is also known as Alessio Piedmontese or Alexis of Piedmont. His best-known works include Del modo di comporre in versi (1559), Commentari della lingua italiana (1576), and the wonderful illustrated book, Le imprese illustri, containing 135 copper-engravings of emblems and devices (Mortimer, Harvard Italian, 449). He was also the first commentator of his friend, Ariosto. The present posthumously-published work is a biographical dictionary, identifying hundreds of men and women and their contributions. Small quarto. [4], 172 leaves. Woodcut printer's device on title, woodcut headband and decorative initial letters. Eighteenth-century half calf over speckled boards, gilt spine with brown morocco label, decorative pastedown endpapers. Edges of covers rubbed, light dampstain in bottom margin of first twenty or so leaves. Late nineteenth-century armorial bookplate on front pastedown, ink inscription of the grandson of the owner of the bookplate. A very good copy. First edition. BM STC Italian, p. 593. Not in Adams. [Attributes: First Edition; Hard Cover]
Bookseller:
Michael R. Thompson Books, A.B.A.A.
[Los Angeles, CA, U.S.A.]