Displayed below are some selected recent viaLibri matches for books published in 1556
Rome: Valerio & Luigi Dorici, 1556.. [2],211,[1] leaves, including two woodcuts. Quarto. Later vellum, yapp edges. Vellum dust soiled. Old bookseller's label adhered to front pastedown. Internally clean and bright. Very good. The first Italian edition of one of the most important early chronicles of the Spanish conquest of the New World, and one of the two chief accounts of Cortes' conquest of Mexico, the other being provided by Bernal Diaz. Lopez de Gomara was Cortes' secretary for a number of years, and made use of his unparalleled opportunity to gather information from the primary source relating to the extraordinary exploits surrounding the overthrow of the Aztec empire. The work was first published in Zaragosa in 1552, and quickly went through a number of editions in Spain, Italy, and the Low Countries. Dedicated to Cosmo de Medici, this edition is enhanced by two woodcuts, the first of what appears to represent a buffalo, and the second being an elaborate printer's device on the verso of the last leaf. A rare account of the Mexican conquest. WAGNER SPANISH SOUTHWEST 2N. EUROPEAN AMERICANA 556/22. SABIN 27736. MEDINA (BHA) 159N.
Bookseller:
William Reese Company - Americana
Lutetiae (Paris), Aegidium Gourbinum, 1556. 4to. (24x17 cm.). Later limp vellum with ms. title on spine. Title with printers device in woodcut. Initials in woodcut. Ff (4),56 (=(8),102 pp.). 1 full-page woodcut illustration of the quadrant and many diagrams and illustrations in the text. Upper right corner of titlepage repaired with paperpulp, and a tear to corner on F 2 repaired, not affecting the text. Light scattered brownspots, but a good broad-margined copy.. First edition as a separate text published posthumously by Fine's son the year after his father's death. The work was originally issued as part two of Finé's "Protomathesis" from 1532. In this work Finé shows the varied use of the quadrant in measuring distances, proportions, solids etc. as a derivation of the trigonometric quadrant from the eleventh century "quadrans vetustissimus", as also described by Appian in his "Instrumentum...primi mobilis" 1534. - "Finé dealt only with the strictly trigonometric use of the quadrant, determination of the right and versed sines of a given arc - or vice versa - and the products or ratios of two sines. Virtually ignoring the application of its properties to astronomical calculations..."(DSB). "Fine apparently built very large instruments of four or five feet in size and thus was able to graduate them in finer detail than their simpler hand-held cousins. An illustration shows a geometric square with 120 divisions in the quadrant-a significant improvement over the usual dozen or so on the shadow scales of the smaller instruments. One illustration shows a mechanism for finding t … [Click Below for Full Description]
Bookseller:
Lynge & Søn A/S
Paris, Andreas Wechel, 1556.. 70, (2) SS. Mit Holzschnittdruckermarke am Titel und kleinerer Druckermarke am letzten Bl. verso. Mod. Pappband. 4to.. Zweite, erweiterte Ausgabe des seltenen, erstmals 1548 erschienenen Werks zur griechischen Prosodie und Metrik. Das neue Druckprivileg ist datiert mit 13. September 1555. Rene Guillonius (1500-70) war Schüler der großen Gräzisten Guillaume Bude (1467-1540) gewesen. - Am Titel zeitgenöss. hs. Besitz- und Kaufvermerk sowie darunter Persius-Motto "Sum Thomae [...] constat 1 fl. | Vive memor lethi fugit hora. Persius". Der Nachname des Besitzers kaum später getilgt und von einem wohl ebenfalls Thomas (Bauer) genannten Nachbesitzer des 16. Jhs. in roter Tinte ersetzt: "Agricola". Durchgehend mit kl. Wurmgang (etwas Textverlust). - Adams G 1581. BM-STC French 213. OCLC 65708718.
Bookseller:
Antiquariat Inlibris, Gilhofer Nfg. GmbH
Milan: G.A. Castiglione and C. Carron, 1556. - 4to., (8 4/8 x 6 2/8 inches). Folding woodcut world map (11 x 16 inches) (folds of map strengthened in one or two places on verso, some worming to upper margin of gatherings Y-2E, some pale dampstaining). 18th-century mottled sheep, spine in six panels with four raised bands, citron morocco lettering piece in one, the others decorated in gilt (extremities scuffed with some minor loss to one corner); modern quarter morocco slipcase and chemise. Provenance: 17th-century inscription of Augustinian Hermits partially obscured at the foot of the title-page; inscription on front pastedown of "T. Norton. Pte. de Lima 13 Dec. 1841. Affe. de Fornellos" and ink stamp on title-page; Frank Sherwin Streeter (1918-2006) (Collection of Important Navigation, Pacific Voyages, Cartography and Science). AN IDENTICAL COPY SOLD AT CHRISTIE'S IN JULY 2016 FOR $138,776. First edition, with the rare world map: "Girava's woodcut map is uncommon, and it is often missing from the volume in which it first appeared. The author, cosmographer to the Emperor Charles V, has drawn a much simplified version of the large world map by Casper Vopel, the contemporary German cartographer from Cologne. All Vopel's world maps--supposedly of 1545, 1549 and 1552 - have perished and only derivatives by Vavassore (1558) and Van den Putte (1570) have survived. Balboa's discovery of the Pacific Ocean in 1513 is noted, and there is an interesting inscription across the southern continent saying that it was sighted in 1499: this has given rise to considerable speculation" (Shir … [Click Below for Full Description]
Bookseller:
Arader Galleries - Aradernyc
[U.S.A.]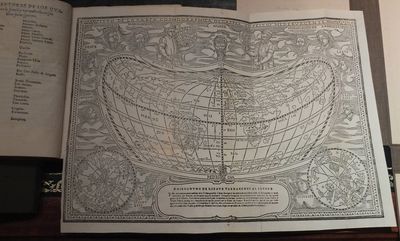 Milan: G.A. Castiglione and C. Carron, 1556. 4to., (8 4/8 x 6 2/8 inches). Folding woodcut world map (11 x 16 inches) (folds of map strengthened in one or two places on verso, some worming to upper margin of gatherings Y-2E, some pale dampstaining). 18th-century mottled sheep, spine in six panels with four raised bands, citron morocco lettering piece in one, the others decorated in gilt (extremities scuffed with some minor loss to one corner); modern quarter morocco slipcase and chemise. Provenance: 17th-century inscription of Augustinian Hermits partially obscured at the foot of the title-page; inscription on front pastedown of "T. Norton. Pte. de Lima 13 Dec. 1841. Affe. de Fornellos" and ink stamp on title-page; Frank Sherwin Streeter (1918-2006) (Collection of Important Navigation, Pacific Voyages, Cartography and Science). AN IDENTICAL COPY SOLD AT CHRISTIE'S IN JULY 2016 FOR $138,776. First edition, with the rare world map: "Girava's woodcut map is uncommon, and it is often missing from the volume in which it first appeared. The author, cosmographer to the Emperor Charles V, has drawn a much simplified version of the large world map by Casper Vopel, the contemporary German cartographer from Cologne. All Vopel's world maps--supposedly of 1545, 1549 and 1552 - have perished and only derivatives by Vavassore (1558) and Van den Putte (1570) have survived... Balboa's discovery of the Pacific Ocean in 1513 is noted, and there is an interesting inscription across the southern continent saying that it was sighted in 1499: this has given rise to considerable speculation … [Click Below for Full Description]
Bookseller:
Arader Galleries
[U.S.A.]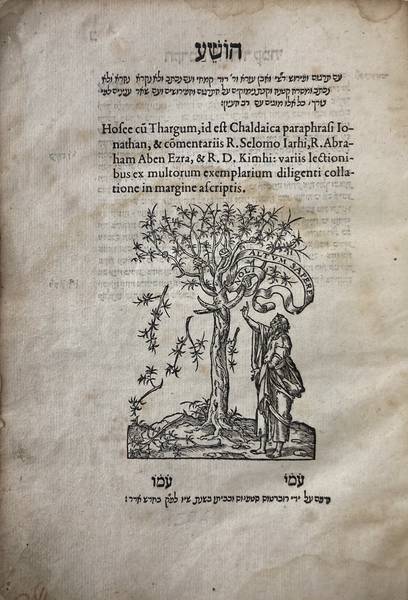 (Geneva), R. Stefius = R. Estienne, (1556). With large woodcut printer's mark on title, 4 section-titles surrounded by a woodcut border; title printed in Hebrew and Latin, the rest of the book completely printed in Hebrew and Aramaic. 243 pp. 4to. Contemporary vellum, probably made from the binding of a slightly smaller book (new end-papers, ties gone, somewhat stained).*Renouard, 86 (did not see a copy). Chaix, Dufour & Moeckli 28 (microfilm). Roest 195. Zedner 123. Vinograd, Paris, 32 (wrongly mentions Paris as the printing-place). Cf. Vinograd, Geneva, 2 (edition with other collation). Steinschneider No. 146 (Paris as printing-place) and No. 9529. Very rare Hebrew Geneva imprint by Robert Estienne (I). First edition of this compilation of the Minor Prophets, with the Aramaic translation of Jonathan ben Uzziel (first century B.C.E.-first century C.E.), together with the commentaries of the three great Jewish commentators, Solomon ben Isaac Rashi (1040-1105), Abraham ibn Ezra (1089-1164), and David Kimhi (1160?-1235?). Contains apart from Hosea, also Joel, Amos, Obadia and Jona. - Waterstain mainly at beginning and towards the end; occasionally wormholes in blank margins, touching only a few letters; slightly foxed.[(5602)] [Attributes: First Edition]
Bookseller:
Ludwig Rosenthal's Antiquariaat
[Leidschendam, Netherlands]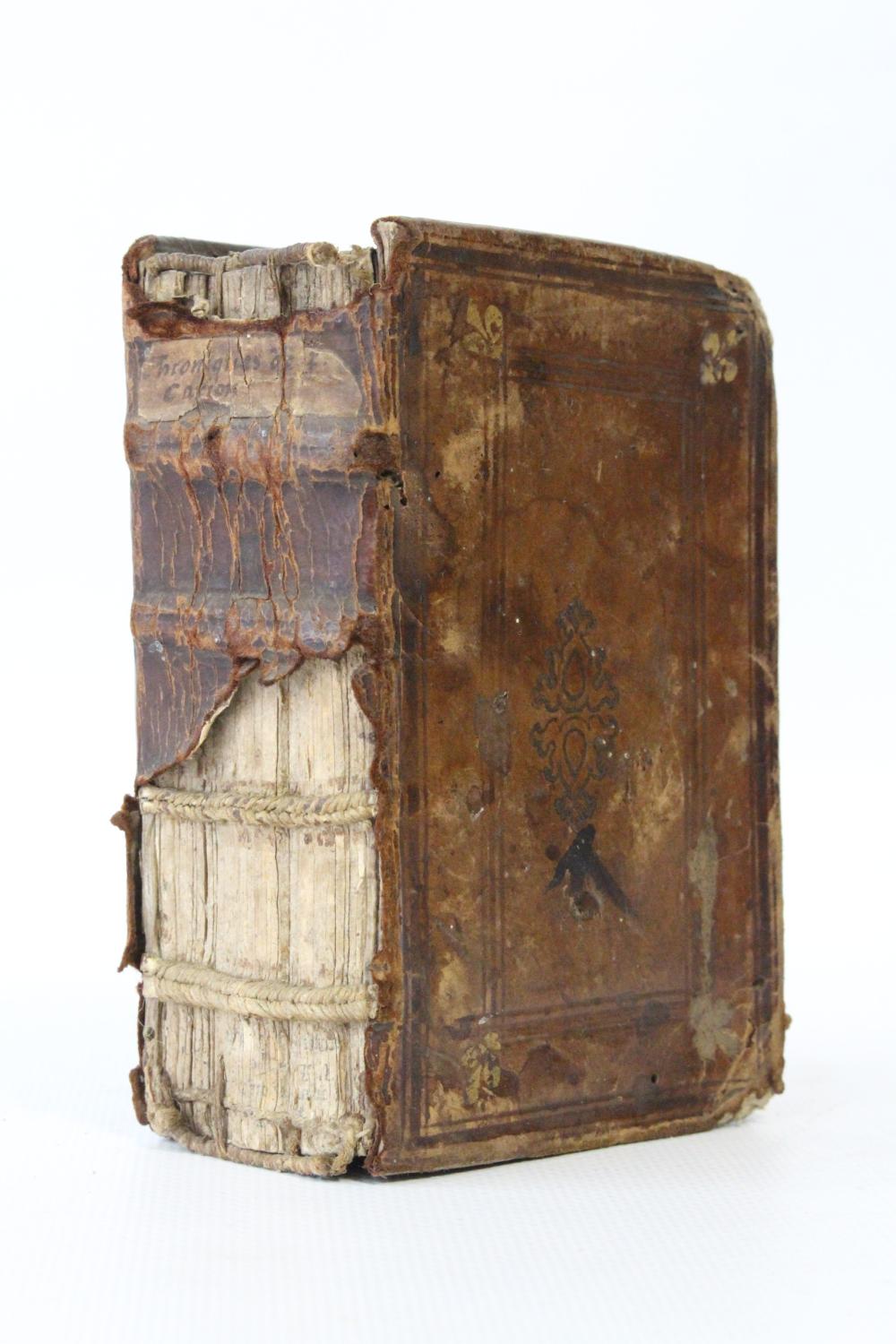 - Par Iean Ruelle, à Paris 1556, fort in-16 (12x8cm), (32) ff., 374 ff., (2) ff. [-]8 [A-Z]8 [Aa-Zz]8 Aaa8., relié. - Das Original der Französisch Übersetzung scheint zum ersten Mal im Jahr 1549 erschienen sind, zusammen mit der lateinischen Übersetzung der deutschen. Rare. Ohne die BN von Frankreich und Englisch Kataloge, ein Exemplar an die Bibliothek von Lunel. Kalb Vollzeit, wieder mit den Nerven, die ein Titel-Tag Papier. Gerichte mit Frühbeet und Lilien in den Zwickeln, bügeln kalt zentrale Rechteck. Top Kappe zog zwei Boxen und die Hälfte der anderen fehlt. Eine Lilie fehlt. Ecken bestoßen. Eine Galerie auf p. 12-32 geringe Marge. Einige leichte Stockflecken auf einem Dutzend Seiten. Handschriftliche Notizen auf der Titelseite. Das Buch ist eine universelle Chronik vom Beginn der ersten Königreiche und Imperien zu Charles IX, ein großer Teil wird von Frankreich und England besetzt. Die ersten beiden Kapitel bieten eine interessante politische Lesart der Geschichte. Diese Übersetzung von J. Le Blond wurde, bis der Regierungszeit von Charles IX fortgesetzt. Chronik Carion (1499-1537) wurde zum ersten Mal in deutscher Sprache im Jahre 1532 veröffentlicht und von Melanchthon überarbeitet, es wurde schließlich ins Lateinische von Funk im Jahre 1547 umgerechnet. Dies ist die Version, die in der Übersetzung von Le Blond verwendet wurde. Es war sehr beliebt in der sechzehnten Jahrhundert, besonders in protestantischen Kreisen. Brunet I, 1579. - [FRENCH VERSION FOLLOWS] L'originale de la traduction française semble avoir paru pour la première fois en 1549, en même temps que l … [Click Below for Full Description]
Bookseller:
Librairie Le Feu Follet
[Paris, France]