Displayed below are some selected recent viaLibri matches for books published in 1555
Madrid: Testimonio. New. Hardcover. THE MOST BEAUTIFUL GOLD SEAL IN THE WORLD<p>The secret archives in the Vatican contain the most valuable and most famous collection of gold and silver seals in the world: 81 exceptional pieces dating from the 12th to the 19th centuries. 64 of them are in gold plate, 13 of them are wax seals with gold cases, and 4 are in solid gold. Among the latter is the seal that we have reproduced, which was affixed to a ceremonial document (A. A. , Arm. I-XVIII, 522) sent by Philip II to Pope Paul IV in 1555. Since that date, this work of art has been kept in the Pope's private archive, and is said to be the most beautiful seal conserved in the Vatican. </p><p>The document validated by this seal was written at a critical moment in relations between the Holy See and the Spanish monarchy, represented at that time by Emperor Charles V. The sending of this document and the gift to the Pontiff of an art work containing 800 grams of gold could be considered as an attempt to calm the political tensions between Spain and the Holy See, but it might equally have been intended as a veiled warning from the Spanish prince that the Pope's policies could lead to confrontation with the wealthiest and most powerful monarchy in Europe. In any case, the tensions were not eliminated and the ensuing war between Spain and the Pope and his ally the king of France ended with a Spanish victory at St. Quentin (1557). </p><p>The substance of the letter is in the tradition of the longstanding formal pledge which any new ruler of the Kingdom of the Two Sicilies (which inc … [Click Below for Full Description]
Bookseller:
New Boston Fine and Rare Books
Italy: Marco Marchetti, 1555. A SUPERLATIVE DRAWING BY ONE OF THE RENAISSANCE MASTERS OF DECORATION Pen and brown ink and wash over black chalk Paper size: 5 ½" x 11 ¾"; ca. 1555-1565 Provenance: bears drystamp of A. P. F. Robert-Dumesnil (?). . Book.
Bookseller:
Arader Galleries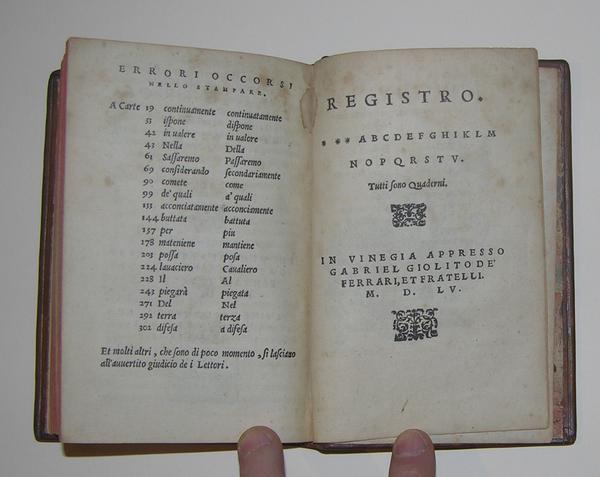 Venice: Gabriele Giolito de'Ferrari and brothers, 1555. Venice: Gabriele Giolito de'Ferrari and brothers,, 1555. 3 parts in one, 8o (141 x 94 mm). 6 double-page woodcut engravings of equipment and court plans inserted in signatures K and L with starred page numbers, text on the verso of the illustrations continuing the text of the regular signatures, woodcut grotesque and historiated initials, printer's device on title, larger version on verso of colophon leaf, V8 blank (a few plates slightly cropped at edges). (Some occasional pale spotting, a few leaves cropped close at headlines.) Fine modern calf binding to a 16th-century style, spine gilt, by Trevor Lloyd. FIRST EDITION OF THE THE FIRST BOOK ON THE GAME OF TENNIS, dedicated to Alfonso d'Este (1535-95), last Duke of Ferrara, grandson on his mother's side of Louis XII of France, and on his father's side of Lucrezia Borgia. Scaino, a priest and theologian, was apparently prompted to write his book after a dispute arose during a game of court tennis. In it he establishes rules and a scoring system for the game, sets the standard court sizes, and mentions some principles of etiquette to be practiced between players. It also covers many forms of tennis, his definition of "ball-game" in W.W. Kershaw's English translation (London, 1951) being: "a contest between at least two players who, placed one on one side and the other on the other as adversaries, do battle together with a solid and round instrument made from the skin of an animal and capable of bouncing, called a ball, each doing his utmost to obtain victory for himself … [Click Below for Full Description]
Bookseller:
Arader Galleries - Aradernyc
[New York, NY, U.S.A.]
s.n.d. (ma J. Oporinus?),, Basileae, 1555 - Cm. 28, pp. (28) 450 (18). Alcuni graziosi capolettera xilografici. Leg. recente in piena pelle maculata, dorso a 5 nervi con tit. in oro su tass. Ben conservato. Stimata edizione dell'Etica nicomachea, corredata dalle usuali esegesi antiche e versata in latino dal celebre letterato veneziano Giovanni Bernardino Feliciano. Cfr. Adams, A, 1830. [Attributes: Hard Cover]
Bookseller:
Studio Bibliografico Benacense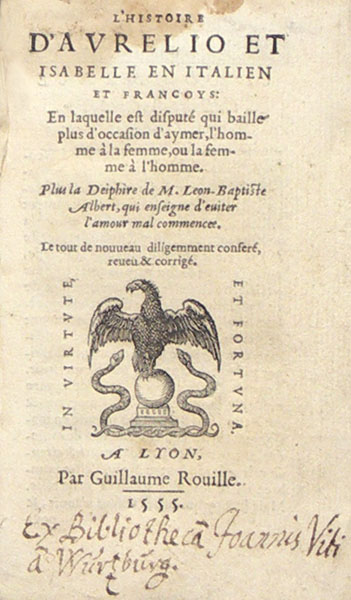 Lyon, Rouille, 1555. Barbier II, 655; KLL 6, 4492-93; vgl. Palau 93502 ff. - Edition rare de cette traduction francaise et italienne de l histoire d Aurelio & d Isabelle, fille du Roy d Escosse, en texte parallèle - Early French and Italian edition in parallel text of this popular romance in the tradition of Amadis, which was first published in Spanish under the title La Historia de Cerisel y Mirabella in 1524. It was quickly translated into Italian, French and later into English, and it is traditionally thought to have furnished the plot for Shakespeare s The Tempest. - Frühe seltene französische-italienische Paralleltext-Ausgabe der Geschichte von Aurelio und Isabella, der Tochter des schottischen Königs, zuerst publiziert in Spanisch unter: La Historia de Cerisel y Mirabella 1524. - Comp.: Hurtado Juan & Serna J. de la & Gonzalez Palencia Angel, Historia de la Literatura Espanola, Madrid, 19435, pp. 225 en 1037; Matulka B., The Novels of Juan de Flores and their European diffusion. A study in comparative Literature, New York, 1931. - Title with a contemporary prowners inscription. - Upper margin somewhat stained by damp, last leaves with a dampstain ; otherwise a clean copy. - Titel mit zeitgenöss. Besitzeintrag, am weißen Oberrand etwas braunfleckig, Text davon kaum berührt 287 pages inclus plusieurs en-têtes et initiales Contemp. parchemin/vellum/ Pergament der Zeit, Kl.8°
Bookseller:
Buch & Kunst Antiquariat Flotow GmbH
[Ottobrunn, Germany]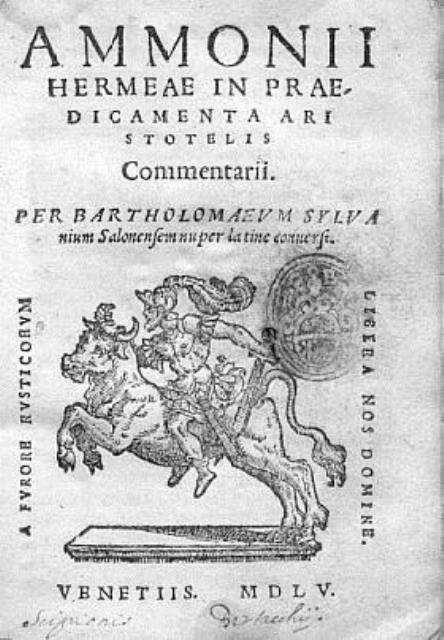 Ioan. Gryphi excudebat, Venetiis, 1555. Testo latino. Cm.10,9x7,5. Pg.396,(68). Legatura coeva in piena pergamena, con dorso rinforzato. Tassello con titoli manoscritti. Al frontespizio marca tipografica raffigurante un cavaliere su un toro. Figlio del filosofo Ermia, Ammonius Hermae nacque ad Alessandria d'Egitto nella seconda metà del VI secolo d.C. Difese il platonismo dagli Aristotelici, e fu avverso al manicheismo e allo stoicismo. . > Adams, I, 988. Brunet, I, 239. Graesse, I, 106, cita l'edizione 1546. 150 gr. [Attributes: Hard Cover]
Bookseller:
studio bibliografico pera s.a.s.
[LUCCA, Italy]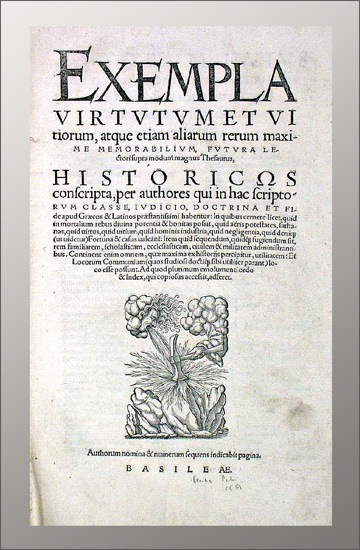 Basel, Henripetri, 1555. Folio. 48 n.n. Bl., 1499 (recte 1503) S., 1 S. Druckermarke. Schweinslederband der Zeit über Holzdeckeln mit handschriftlichem Rückentitel und Rollstempelverzierung. VD16 H 2542 (mit abweichender Kollation). - Adams E 1157. - Erste Ausgabe der von Herold zusammengetragenen Anthologie mit Texten von Nicolaus Hanapus. - Valerius Maximus. - Aelianus. - Marcus Antonius. - Aristoteles. - Baptista Fulgosus. - Parthenius. - Heraclid. - u.a. - Die Texte von Aelianus, Parthenius und Heraclid zweispaltig griechisch-lateinisch gedruckt. - Letzte Blätter etwas gebräunt und mit schwachem Wasserrand. Metallschliessen ausgerissen. Kleine Wurmspur im Vorderdeckel. Sprache: lateinisch / latin. [Attributes: First Edition; Hard Cover]
Bookseller:
EOS Buchantiquariat Benz
[Zürich, Switzerland]
Woodcut device on title-page.8vo. 106ff. Modern marbled boards.
Bookseller:
Maggs Bros. Ltd.
[U.K.]