Displayed below are some selected recent viaLibri matches for books published in 1520
Vienna: Johannes Singrenius for Lucas Alantse, 1520. THE FIRST AVAILABLE PRINTED MAP TO BEAR THE NAME AM ERICA Two works in one volume. Folio (11 6/8 x 8 2/8 inches). Cordiform woodcut world map, woodcut title-page borders, historiated initials, printer's mark, both works include the final blank leaf. Contemporary limp vellum (sewn on three pairs of pink tawed thongs, early manuscript liners, early ink title and traces of early manuscript paper label on spine, evidence of two fore-edge ties (some minor restoration to covers); modern cloth clamshell box. This volume, actually comprises two works within a single binding, in an instance of a common sixteenth-century book-collecting practice. Both are rare works of signal importance, with the present examples in extraordinary condition. The first is Joannes Camers' edition of the Polyhistor, an ancient treatise on natural history by Caius Julius Solinus (flourished ca. 250 AD). After Ptolemy, Solinus was the classical authority whose writings most strongly informed Renaissance geographical thought. Camers's version of the Polyhistor is quite desirable to collectors, for it contains the earliest obtainable map to name America: Peter Apian's splendid double-page map of the world, at the left of which the new continent appears prominently labeled. Apian, a professor of mathematics at Vienna and Ingolstadt, based his map on Martin Waldseemüller's 1507 rendering, the only surviving example of which is in the Library of Congress. Waldseemüller's map supported Amerigo Vespucci's revolutionary concept that the New World was a separate … [Click Below for Full Description]
Bookseller:
Arader Galleries - Aradernyc
[New York, NY, U.S.A.]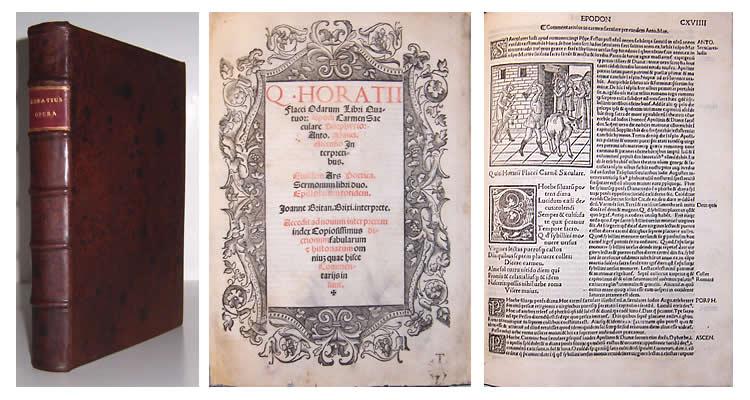 Gulielmum de Fontaneto de Monteferrato, Venice, 1520. Folio. ff. [6], CCXXXIIII. Title in red and black inside ornamental wood cut border. Printed in Roman type. Text contains 12 woodcuts and numerous decorative initials of various styles and sizes. Horace's verse is surrounded by commentary. Rebound in modern speckled calf. Leaves rinsed in distilled water (no chemicals used); mild spotting and staining remain - including areas in the first two signatures of transparent gray smudging (perhaps a printing / manufacturing error). Several marginal tears are neatly sealed; title page is a bit faded in areas; bottom inside corner of t.p. carefully repaired with contemporary paper; marginalia on leaf XCVIII written in a miniscule old hand; occasional lines of verse underlined. Outer edges of text-block left untrimmed after last re-sewing. Quintus Horatius Flaccus (65-8 bce) is considered one of the greatest Roman poets. This collection of his works includes the "Odes," the "Epodes," the "Carmen Saeculare," the "Ars Poetica," the "Epistles" and the "Satires" (Sermonum). Commentaries are included by the 3rd century c.e. Pomponius Porphyrio and by the 15th/16th century humanists Antonio Mancinelli, Giovanni Britannico and Josse Badius (Ascensius). [Adams H-866; Schweiger II, p. 392; BM-STC Italy, p.333; Edit16 CNCE 22688 (lists several copies); Panzer VIII, p.463; OCLC lists 1 copy]. [Attributes: Hard Cover]
Bookseller:
Robert McDowell Antiquarian Books
[Concord, MA, U.S.A.]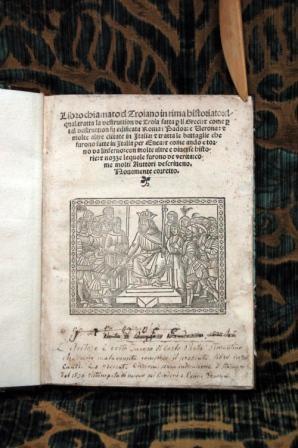 VENEZIA? Circa 1520-1530: (senza Note tipografiche)(). [Figurato Cavalleria-Rarissimo] (cm. 21,5) bella legatura recente in mz. marocchino scuro, angoli, nervi e titolo in oro al dorso.-- cc. 112 nn. Carattere rotondo testo a due colonne, grande xilografia al frontis e 41 vignette nel testo. L' opera termina con "il fine" a carta 112 bianca al verso. Edizione assolutamente rarissima e di difficile identificazione. secondo Iccu, nessuna copia nelle biblioteche italiane; è vagamente ricordata da Graesse, Brunet e Haym. Essling la descrive compiutamente e cita l' unico esemplare conosciuto della biblioteca Melziana, e la data dopo il 1528 mentre Radaeli la ritiene anteriore. La più antica è del 1483 e fino al 1536 si contano ben 14 edizioni, tutte rare o rarissime (Harris "Sanudo" III 34/5). La bella xilografia al frontis, che rappresenta Carlo Magno e i baroni, è tratta dal "Guerino" del 1522. Il poema di argomento cavalleresco, in dieci ottave per pagina, narra la guerra di Troia e da taluni è attribuito al fiorentino Jacopo Carlo. Vecchio piccolo restauro al margine bianco del frontis e all' angolo alto di 11 carte in fine, purtroppo con perdita di molte parole soprattutto alle ultime 5 carte. Antica annotazione manoscritta in basso al frontis intorno all' autore e alle varie edizioni; al verso bianco dell' ultima carta lunga nota manoscritta coeva in 14 righe con chiara grafia. Peraltro esemplare molto bello fresco e nitido di un libro di grande fascino e indiscussa rarità. assolutamente completo. Raccomandiamo una attenta analisi sulle referenze qui di seguito elencate: * … [Click Below for Full Description]
Bookseller:
LIBRI ANTICHI E RARI FRANCESCO&CLAUDIA
[AREZZO, Italy]
Venice: Impressum per Bernardinum de Lisona Vercellensis, 1520 Small octavo. 144ff. Historiated woodcut initials. In later boards..
Bookseller:
Sam Gatteno Books
[U.S.A.]
Venice: Impressum per Bernardinum de Lisona Vercellensis, 1520. Small octavo. 144ff. Historiated woodcut initials. In later boards.
Bookseller:
Sam Gatteno Books
[Grosse Pointe, MI, U.S.A.]
three vols a massive set - 4to. many unnumbered tipped in plates with 1928 numbered plates. back cover detached on first vol and some text is loose and minor wear to spines else a nearly fine set in original wrappers. [Attributes: Soft Cover]
Bookseller:
Riverrun Books & Manuscripts