Displayed below are some selected recent viaLibri matches for books published in 1515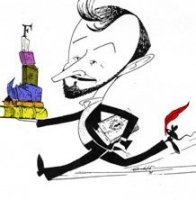 1515. cm. 16 x cm,10,5, elegante legatura settecentesca piena pergamena con titoli in oro su tassello al dorso, brillanti condizioni interne, pp. 316 + appendice titolata TABULAE IOHANNIS MURMELLII RV di XXXVIII (1 cc). che non risulta presente in nessuna delle poche edizioni di questo libro rintracciate in biblioteche italiane. L'autore principale CHISTOPHE DE LONGUEIL, fu tutore a Parigi del futuro Re Francesco (1515) e nello stesso periodo diede alle stampe questa orazione che sosteneva la superiorit? francese sulla civilt? romana. Nel 1517 strinse amicizia con Pietro Bembo e Iacopo Sadoleto ma questo non impedi' che nei suoi confronti si scatenasse una forte campagna diffamatoria tanto che fu costretto a trasferirsi a Padova dove si spense a soli 32 anni. Edizione cinquecentesca di ottimo livello.
Bookseller:
Ferraguti service s.a.s. - Rivisteria
[Parma, PARMA, Italy]
Venetiis: Aldus - in Aedibus Aldi, et Andreae Soceri, 1515. IN VERY GOOD CONDITION. Printed Septembri 1515. Printer's device on the title page and verso of last leaf. Edited by Ioannes Baptista Egnatius. "Duerniorem" on leaf V4r, includes indices, Latin and Greek on opposite pages, printed in clear Italic type. Signatures: AA-DD, with DD8 blank, A-V. Errors in foliation: leaf 222, 226, 228, 230, 232, 233, 235, 237, and 239 - misnumbered as 122, 126, 128, 130, 132, 133, 135, 137 and 139. [32 leaves], 289 leaves, [51 leaves]. Bound in vellum, marbled endpapers, lacks leather spine label for title, but does have lower leather spine label (chipped) reading "ALD. 1515", occasional marginalia, trimmed. 2 ARMORIAL BOOKPLATES, for LORD LOVAINE and WILLIAM LITTLETON. Binding and hinges tight. This is the author's only work, taking it's name from the long winter nights he spent in Attica, where he began this work. The "Attic Nights" is valuable for the insights it offers into the nature of the society at that time, and for its excerpts from works of lost ancient authors.. First Edition / First State. leather. Very Good. 16mo - over 5¾" - 6¾" tall.
Bookseller:
Monroe Bridge Books, MARIAB Member
Iohnnes Clein, Lyon. [c.1515]. 4to. pp. [280]. p.[280 blank]. Colophon dated "nono kale[n]das Octobris" (23 Sept.). Title page printed in red and black inside woodcut architectural border. Woodcut printer's device (Sylvestre 132). Printed in Roman font with the surrounding commentaries printed in Gothic. Text contains decorative initials. Bound in contemporary blind stamped paneled calf boards; re-backed preserving original spine. Later antique endpapers with inscription on front-free endpaper dated "1925"; front and rear blank fly-leaves worn. Pages are generally clean with occasional marginalia in an old hand (i.e. several small inscriptions written on the title page); minor spotting; lower corner of leaf c7 clipped in margin; The hinges and inner margins to the first gathering are neatly strengthened / repaired. The outer edges to this same gathering show some wear - i.e. a few marginal tears (sealed), and light soiling. The bottom margins on conjugate leaves a2 and a7 are trimmed about ½" (12 mm). Anicius Manlius Boethius (480-524) was a late Roman philosopher and statesman. He became embroiled in a plot against Theodoric, the Ostrogothic ruler of Rome, and was eventually executed. Boethius wrote his most famous work, the "Consolation of Philosophy," while awaiting his fate in prison. The five sections discuss the capriciousness of fortune, the influence of good and evil, and the nature of God's control over the universe (i.e. free will, providence and fate). The work employs the Platonic notion of an ascent of the soul to the Godhead through a process of contemplation … [Click Below for Full Description]
Bookseller:
Robert McDowell Antiquarian Books
[U.S.A.]
[?Rhineland, c.1515] 2 volumes. Folio (530 x 365 mm). COLLATION: Volume one: 371 leaves: 17 (i cancelled blank), 2-298, 306, 31-468, 476 (vii and viii cancelled blanks, catchwords, some signatures, intermittent contemporary foliation in red Roman numerals on versos; Volume 2: (530 x 365 mm), 388 leaves: 16(lacking i, cancelled blank, and ii), 2-278, 287(lacking viii), 29-478, 489(8 + ix), 502, 514, some signatures, original foliation in red Roman numerals on versos of alternate folios from iii-xxxvi, the alternate numbers added in black ii-xxxvii, first two gatherings with outer stitching guards cut from a manuscript vellum choirbook; both volumes written in black ink in a gothic bookhand in nine lines between two double verticals ruled in black and 18 horizontals ruled in plummet under nine four-line staves of music, each stave ruled in green, black, red and black, justification: 353 x 230 mm, ff.367-371 of Vol. I and ff.383-8 of Vol. II in two columns of 24 lines between four verticals ruled in black, the outer double ruled, and 25 horizontals ruled in plummet, rubrics in red, text capitals touched red, large initials in blue or red or black and red, some flourished in black with foliate forms; ILLUMINATIONS: Volume one: two very large penwork initials in grey, five flourished initials in varied colour combinations, some with staves with faces, 20 VERY LARGE INITIALS IN FULL COLOURS,WITH BIRDS, BEASTS, FACES AND FOLIAGE two with gold; Volume 2: 16 very large flourish initials in varied colour combinations, eight very large initials painted in full colour with stylised fol … [Click Below for Full Description]
Bookseller:
Arader Galleries
Augsburg, Johannes Miller, 1515. With full-page title-woodcut by Hans Burgkmair, some floral woodcut initials, and large woodcut printer's device at the end. 70 unn. leaves. Small folio. Marbled 18th-century boards. (Augsburg, Johannes Miller, 21 March 1515). Editio princeps of Jordanes' (6th cent.) chronicle of the Goths, a primary source of the epoch of the völkerwanderung, together with the exemplary edition of Paulus Diaconus' (or Warnefrid, d. 797) important history of the Langobards, first printed in 1471. Editor of both historical sources is the Augsburg town scribe Conrad Peutinger (1465-1547) with his privilege issued by Emperor Maximilian I, dated 1511, printed on title verso. It is followed by the dedicatory letter to the Italian Count Hieronymus Nogarola, in which Peutinger mentions the astronomer Johannes Stabius as co-editor. Nogarola is known for handing over the keys of the town of Vicenza to Maximilian when he was approaching after the siege of Padova. At the end of Jordanes' work, Peutinger gives a short summary of the epoch of the decline of the Roman Empire and the migration of nations. The impressing title-woodcut by Burgkmair, executed by Jost Dienecker, according to Muther one of his most important works, shows the Langobardian king Alboinus talking to Athanaric, king of the Goths. - Old name and note on first paste-down, title somewhat dustsoiled and with old ms. note on lower white margin, contemp. ms. marginal notes and underlinings throughout, margins cropped affecting some written or printed marginal notes. - VD 16 J 932; STC (German) 463; Adams … [Click Below for Full Description]
Bookseller:
Hellmut Schumann Antiquariat
[Zurich, Switzerland]
[colophon: impressum Florentaie [Florence] opera & sumptu Philippi Iuntae ...], 1515. 8vo. ff. [iv], 269 [ie 369], lacking final leaf (V8) which is blank except for printer's device to verso. Latin text, printed in italic letter, light waterstaining, a few early marginalia, nineteenth-century sheep-backed boards, rebacked, sprinkled edges. Quintilian's twelve-book guide to rhetoric was written in the late first century CE, under Domitian. It was popular with Renaissance humanists such as Petrarch. This is the only Giunti edition, described by Dibdin as 'a very elegantly printed book', which was edited by Niccolò Angeli da Bucine, a grammar teacher and lecturer in rhetoric at the Studio Fiorentino, and dedicated by Filippo Giunti to Roberto Acciaioli. Dibdin II, 367; Adams Q53. Book
Bookseller:
Bryars and Bryars
[United Kingdom]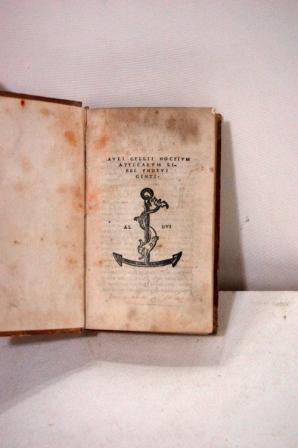 Venetiis, In Fine: Venetiis in Aedibus Aldi et Andreae Soceri, Mense Septembri M.D. XV. 1515. 1515, Prima e Unica Edizione con Doppio Indice. Rilegato. Libro, [ALDINA] (cm. 16) solida mz. pergamena XIX secolo con angolini.-- cc. 32 nn. + cc. 289 + cc. 51 nn. Ancora aldina al frontis e al verso dell' ultima carta (Fletcher 3). Prima ed unica edizione corredata di un doppio indice con spiegazione del testo in greco e con la dedica di G.B. Egnatio al notaio Antonio Marsilio. Seconda tiratura con al colophon "duernionem" anzichè "duerniorem". Edizione assai importante che contiene frammenti di archeologia, lessico e grammatica che altrimenti sarebbero andati perduti. E' inoltre uno degli ultimi libri stampati e rivisti da Aldo Manuzio prima della sua morte nel 1515. Lieve ombreggiatura in alto alle prime 8 carte a sparire. Il quaterno b è legato dopo la c per errore. Un tarlo è stato ottimamente restaurato a circa 70 carte all' inizio a sparire Altrimenti esemplare bello nitido e fresco al verso dell' ultima carta una nota manoscritta dell' epoca in 7 righe. RENOUARD 73/9; BURGASSI n° 5 p.43; FIRMIN-DIDOT 406; FOURNIER n° 150 p. 4; PALAU "G.F. D' ASOLA" n° 9; UCLA AHMANSON-MURPHY n° 119; BM. STC. 294; ADAMS G 343.[f40]. ottimo.
Bookseller:
LIBRI ANTICHI E RARI FRANCESCO&CLAUDIA
[AREZZO, Italy]
Nuremberg: Johannes Stüchs, ca, 1515. First published ca. 1475, this treatise explains the origin of the custom of using Holy Water in church ceremonies and defends its healing efficacy to counter sterility and other lamentable conditions. Turrecremata (Juan de Torquemada, 1388-1468) was a Spanish Dominican monk who studied in Paris. He attended several church councils and defended the doctrine of the Immaculate Conception at the council of Basel. He became a cardinal in 1439 and was known for his charity. Incunabular editions of this work were published without illustration, and ours may be the first printing to be illustrated. Early printings of this work are uniformly rare: ABPC lists an aggregate total of four copies of all the editions at auction since 1975.. 203 x 149 mm. (8 x 5 7/8"). [8] leaves. Later (19th century?) light green paste paper boards decorated with an all-over pattern of gilt scrolling vines, some terminating in grotesques and inhabited by rabbits, wolves, and birds. Title page with a fine large (114 x 89 mm.) woodcut depicting a cleric preparing to bless a crowd with holy water in a courtyard outside a church. Final leaf with publisher's device. Inscriptions on title page (one a Latin motto) and on one other leaf in two or possibly three early hands. STC German, p. 876. Minor (partly patched) worming to foot of first three leaves (woodcut not affected, but with small losses to a handful of letters), title page faintly soiled, otherwise excellent, the binding clean and sound, the leaves fresh, and with deep impressions of the type.First publishe … [Click Below for Full Description]
Bookseller:
Phillip J. Pirages Rare Books (ABAA)
[McMinnville, OR, U.S.A.]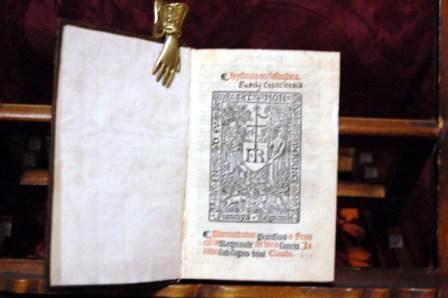 1515, Prima Edizione del XVI Secolo. Rilegato. Libro, -- EUSEBIUS PANPHILIUS--HYSTORIA ECLESIASTICA VENUNDATUR PARISIIS A FRANCISCO REGNAULT IN VICO SANCTI JACOBI SUB SIGNO DIVI CLAUDI.(IN FINE): PARISIUS, IMPRESSA EXPENSIS MONESTI VIRI FRANCISCI REGNAUT COMMORANTIS IN VICO SANCTI JACOBI IN INTERSIGNO DIVI CLAUDI.(SENZA DATA MA 1515 O 1520)[Alta Teologia] (cm.16) Bel pieno vitello bruno antico ben restaurato, nervi, sgurdie antiche.cc.131 (cxxxi) + 1 c. bianca + cc.24nn.+ 1c. bianca.Bellissimo frontis rosso e nero con grande marca al centro sorretta da due figure.Testo in gotico a due colonne, molti bei capilettera grandi e piccoli ornati e figurati anche a fondo nero.PRIMA EDIZIONE DEL XVI SECOLO preceduta da quella di Parigi del 1497 in folio.Edita da G. Boussard teologo, diplomatico e cancelliere all'univeristà di Parigi.Circa l'anno di stampa BM. STC. dice 1515 edADAMS circa 1520.esemplare completo delle 2 carte bianche (R4 e C8) l'ultima, antica ma non originale.Un foro di tarlo, ben restaurato interessa le ultime carte degli indici in fine, altrimenti bellissimo esemplare fresco e nitido come raramente si incontra.Antico ex libris manoscritto in fine: ".Jacobi massi.Pauli Bucci.Bucciis Aretinis."- ADAMS E 1089;-BM. STC. FRENCH, 158. buono..
Bookseller:
LIBRI ANTICHI E RARI FRANCESCO&CLAUDIA
[AREZZO, Italy]
Paris: Parvus 1515. With titlevignette cut in wood, 1 woodcut, and several beautiful initials. Fol. (5) + (151) leaves. With contemporary underlinings. Bound together with:PAULUS OROSIUS: Viri sane eruditi Historiarum liber, e tenebraru[m] faucibus in lucem æditus, una cum indicibus tersissimis huic volumini, haud infrugaliter, adiectis. Paris: Jo. Parvus 1524. Titlepage within engraved woodcut border, titlepage printed in red and black and with large woodcut of printer's coat of arms. With beautiful initials throughout. (14) + (113) +(1) leaves. Colophon with woodcut on verso. Bound in one late seventeenth-century full vellumbinding, title written in hand. Upper headband loose. With a few old underlinings and notes in margin, some leaves browning.. Annius or Giovanni Nanni (1432-1502), was born in Viterbo. He was a dominician, a trained theologian who taught, preached and published mainly in Genoa and in Viterbo. He made up a number of ancient historical texts and inscriptions, and wrote commentaries on them. He was the greatest forger of the 16th century. Graesse I, 137.Orosius (ca. 390-ca. 431), was a friend of St. Jerome and a disciple of St. Augustine, at whose suggestion he wrote this work. This world chronicle, the first universal history still extant to be written by a native of the Iberian Peninsula, aims to demonstrate that calamities such as famine, earthquakes and pestilence were caused not by the wrath of the neglected pagan gods, and in fact that such events had become less severe since the spread of Christinanity
Bookseller:
Peter Grosell's Antikvariat