Displayed below are some selected recent viaLibri matches for books published in 1493
GERMANY: ANTON KOBERGER, 1493 THIS EDITION ONLY PREDATED BY THE LATIN OF EARLIER 1493. HAND COLORED AFTER PUBLICATION. 400 LATIN AND 300 GERMAN EDITIONS SURVIVE TODAY. TRANSLATED INTO GERMAN BY GEORG ALT. THIS ILLUSTRATION OF FLORENCE WAS BASED ON A VIEW BY FRANCESCO ROSSELLI. POSTAGE TO BE DETERMINED.
Bookseller:
Longed for Books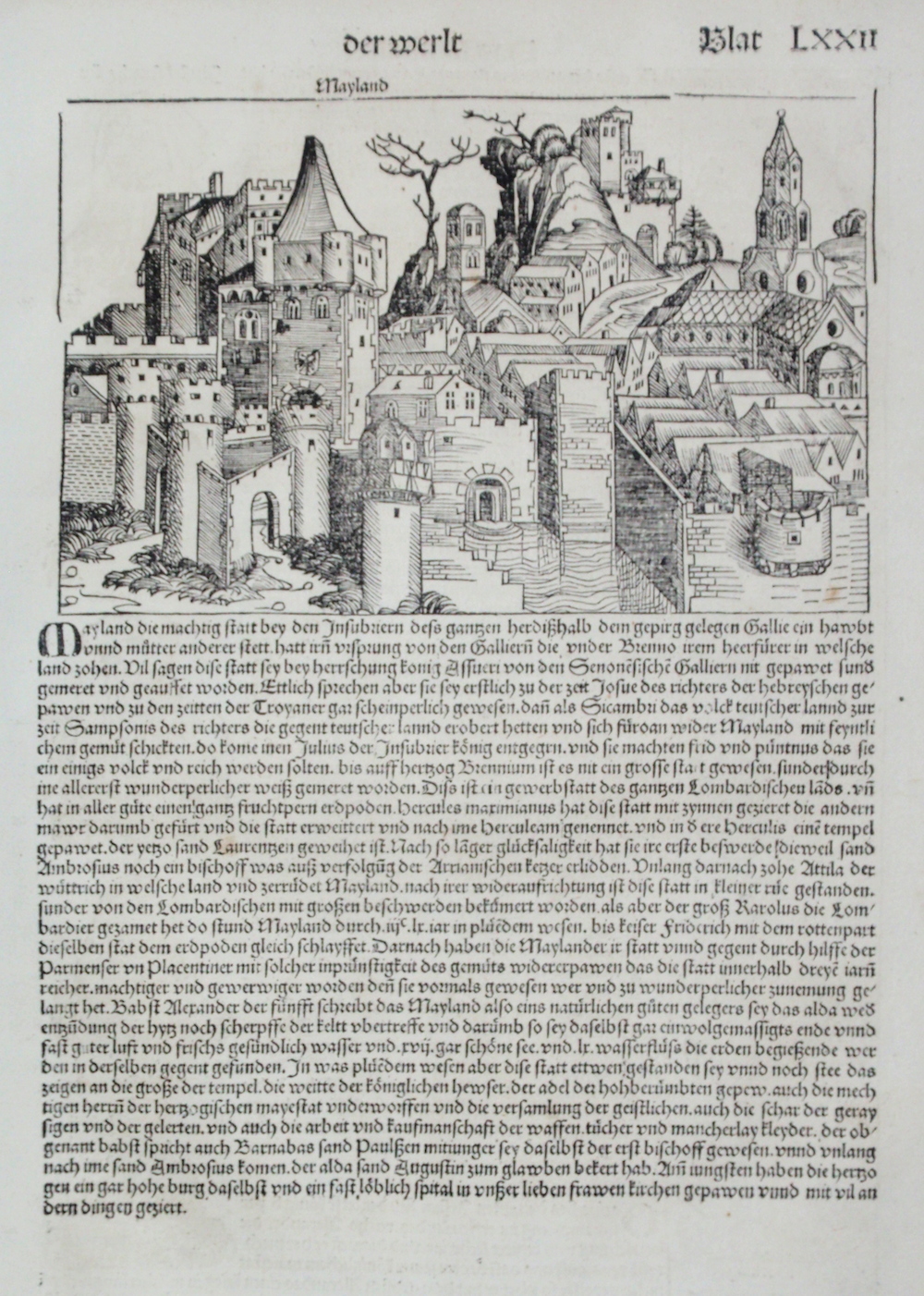 Norimberga, 1493 - Silografia, di mm 226x200 (l'immagine), mm 420x300 (il foglio completo di testo in tedesco). Veduta fantastica della città. Esemplare in perfetto stato di conservazione. Il "Liber Chronicarum" comunemente chiamato "Cronaca di Norimberga" dalla città di stampa, fu la prima opera contenente anche raffigurazioni reali delle città del mondo ed ebbe un enorme successo, tale da essere considerata una pietra miliare nello sviluppo della conoscenza geografica. vedutistica.
Bookseller:
libreria antiquaria perini Sas di Perini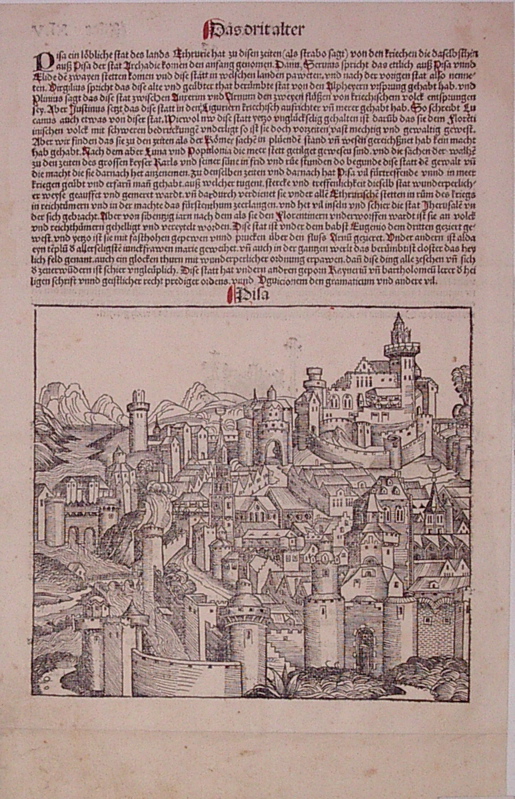 Bookseller:
Argosy Book Store, ABAA, ILAB
[New York, NY, U.S.A.]
. Kolorierter Holzschnitt v. Hartmann Schedel aus Schedels Weltchronik, b. Anton Koberger , Nürnberg, 1493, 19 x 51,5 cm, gedruckt auf der vollen Blattseite.. Lateinische Ausgabe.
Bookseller:
Antiquariat Peter Babendererde
Koberger, Anton, Nuremburg 1493 - From the German edition of the Liber cronicarum (Nuremberg Chronicle). The first secular published book, it tells the history of the earth through seven "ages". As the verso of blat XLV, this piece shows a fictitious view of Pisa. Although many towns and cities in Europe and the Near East are illustrated in the book, 49 of them were printed with only 14 different woodblocks. Therefore, this illustration is identical to the page describing the Roman town of Tiburtina. Some very minor foxing and a fold along bottom margin, not affecting image. Woodcut, uncolored. Image measures 8" x 9", image plus text measures 13.75" x 9".
Bookseller:
Argosy Book Store, ABAA, ILAB
1493. Motivmass: 20,2x50,6 Blattmass: 41,9x57,0 Holzschnitt aus: Weltkronik Die über 2000 Holzschnitte stammen von M. Wohlgemuth, W. Pleydenwurff und deren Lehrling A. Dürer rechter Rand fehlt z. T. Schwarzweiß.
Bookseller:
Conzen Kunsthandel Düsseldorf GbR
1493.. . Gesamtansicht von Osten. Kolor. Holzschnitt von Michael Wolgemut oder/und Wilhelm Pleydenwurff, aus Hartmann Schedel, Das Buch der Chroniken, bei Anton Koberger, Nürnberg 1493. 33 x 52,5 cm (mit Textpassage). - Sehr dekorativ und repräsentativ. Restauriertes Blatt, fachmännisch zusammengesetzt aus verschiedenen Exemplaren, Textpassage lateinisch und später; kleine unauffällige Läsuren im Bug restauriert, links und unten knapprandig, links oben ca. 4 cm breiter Streifen angesetzt, kleine Quetschfalte rechts unten geglättet. Passendes neues Kolorit. - Älteste Gesamtansicht der Stadt Würzburg. Die Schedelsche Weltchronik gilt als ein Meisterwerk des frühen Buchdruckes, mit über 1500 Holzschnitten. Die Abbildung von Würzburg ist nach der Nürnbergs die zweitgrößte. Gegenüber den meisten Darstellungen in der Chronik ist die Würzburger keine Phantasieansicht. Beherrschend ist die Festung als Bischofssitz erkennbar, deren Aussehen mit der heutigen Form wenig gemein hat. Im Detail waren Wolgemut und Pleydenwurff jedoch nicht allzu genau mit der Realität, es fehlt z.B auch die steinerne Mainbrücke. - Mfr. Museum, Gesamtansichten, 1.
Bookseller:
Antiquariat Tobias Müller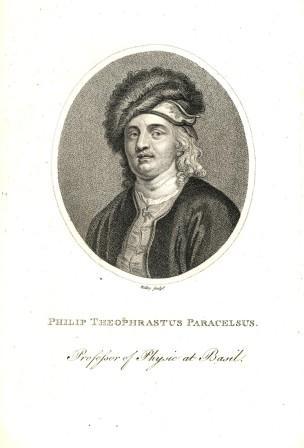 Sculp. by W.Ridley, n.p., n.d. 22 x 14 cm. Aureolus Theoprastus Bombastus von Hohenheim (1493-1541), M.D. Ferara. Swiss physician and alchemist. Portr. Wellcome Inst. Hist. Med., R.Burgess No.2218.4.
Bookseller:
Antiq. F.-D. Söhn - Medicusbooks.Com
[Marburg, Germany]