Recently found by viaLibri....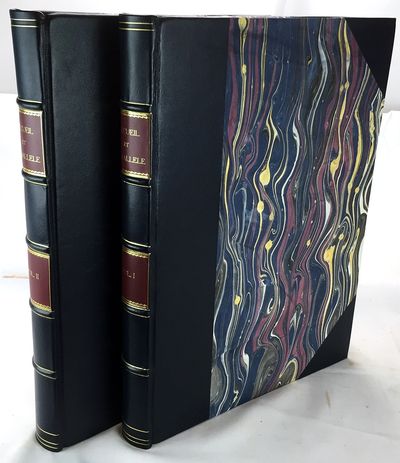 Recueil et parallele des edifices de tout genre, anciens et modernes: remarquables par leur beaute, par leur grandeur ou par leur singularite, et dessines sur une meme echelle 2 volume set
Paris : Auteur, An IX, 1801-01-01. Hardcover. Good. 2 volume set. Folio. Engraved title, 90 double-page engraved architectural plates. Modern 1/2 black leather over marbled boards, raised bands, leather spine labels. House in custom blue cloth clam shell case. All pages linen backed. Marginal loss to title, table and first 4 plates. Restoration to title page, following pages and several pages. Soiling to plates, heavy soiling to the first few plates of Volume I, offsetting and foxing to plates.
An important work in the history of architecture. First edition of the "first survey of world architecture based on building types" - RIBA. "Durand's lasting contribution is the separation of architecture from its traditional association with nature and with style." Durand "was the first architectural theoretician to clarify architectural objects by their common formal characteristics - to establish a rational science of design through standardization of functional topology. In the Recueil, Durand totally overturns the traditional relation between architecture and nature in favor of abstraction based on a scientific method of classification by type. His concept of architecture is in perfect agreement with the prevailing political philosophy and its emphasis on utility." (Millard 174-75)
Brunet II, 904; British Architectural Library 956. Millard, French 67. Mongland V, cols 349-353 (list of plates). BMC VII, 961.887. This is an oversized or heavy book, that requires additional postage for international delivery outside the US.

[Bookseller: SequiturBooks]
Last Found On: 2017-06-09
Check availability:
Biblio
---
Home Wants Manager Library Search 562 Years Links Contact Search Help Terms of Service Privacy
---
Copyright © 2018 viaLibri™ Limited. All rights reserved.