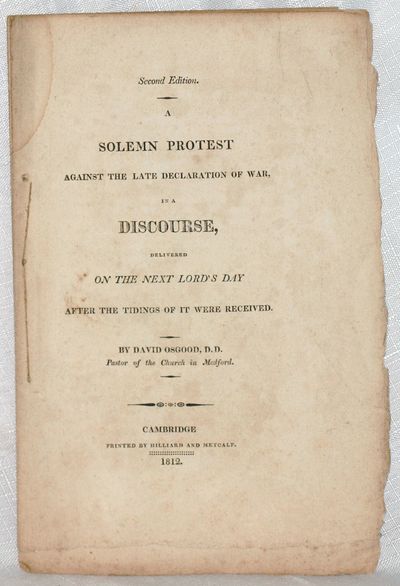 A Solemn Protest Against the Late Declaration of War : In a Discourse Delivered on the Next Lord's Day After the Tidings of It Were Received
Cambridge [Mass.] : Printed by Hilliard and Metcalf, 1812. Paperback. Very Good. Second edition. Pamphlet. 20 p. Good binding and cover. Clean, unmarked pages with toning.

Written by the pastor of the Church in Medford, Osgood delivered the contents of this pamphlet in a sermon delivered the day after the declaration of war against Great Britain.

[Bookseller: SequiturBooks]
Last Found On: 2017-09-23
Check availability:
Biblio
---
Home Wants Manager Library Search 563 Years Links Contact Search Help Terms of Service Privacy
---
Copyright © 2019 viaLibri™ Limited. All rights reserved.