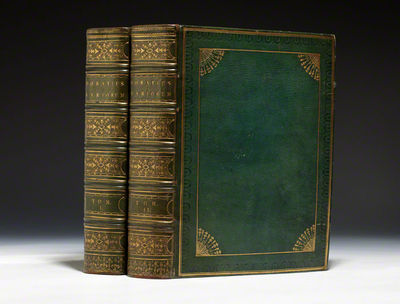 Opera
1792. (COMBE, Charles, editor) HORACE. Q. Horatti Flacci Opera, cum variis lectionibus, notis variorum, et indice locupletissimo. London: William Brown and John Warren, 1792-93. Two volumes. Quarto, contemporary full straight-grain green morocco, elaborately gilt-decorated spines and boards, raised bands, all edges gilt. $3200.First edition of Combe's "very magnificent and valuable" variorum edition of Horace, one of ancient Rome's greatest lyricists, one of only 25 to 30 large-paper copies, beautifully bound. "Exceedingly rare.""When [Horace] gets away from battles and triumphs, of gods and heroes and the whole machinery of Olympus, and turns to the familiar world in which he lives, he plays with a master hand upon the chords that vibrate in the breast of all men… Words cannot do justice to the exquisite polish of his verse, the crispness and terse vigor of his phrases, and the perfect choice of words… He, more than any other, makes antiquity live for us again… He is thus the most human of all the classic writers" (Peck, 845-46). Also a physician and numismatist, Charles Combe "had a taste for classical studies… In 1788 Combe began to work in conjunction with Mr. Henry Homer, fellow of Emmanuel College, Cambridge, upon an edition of Horace, with variorum notes… Combe's colleague died before the first volume was completed, and he finished the work alone… It was a fine specimen of typography" (DNB). "A very magnificent and valuable edition… In the compilation, the editors carefully collated the editio princeps [printed circa 1470] and seven Harleian manuscripts… It is supposed that there were 30 copies only struck off on a large paper, which are excessively rare" (Moss II:31-32); more recent estimates put the number of large-paper copies at 25. With engraved frontispiece portrait (of William Murray, first Earl of Mansfield, to whom the work is dedicated). Text in Latin. Brueggemann, 587. Lowndes, 1114. Bookplates, including armorial bookplate of Samuel Bradshaw. Small inkstamps. Bookbinder's small ticket in Volume II.Foxing to preliminary blank leaves, otherwise generally quite clean. Small closed tear toward gutter of leaf U1 of Volume I, not affecting text; small marginal hole to leaf [3C4], not affecting text. An about-fine copy, beautifully bound.

[Bookseller: Bauman Rare Books]