Recently found by viaLibri....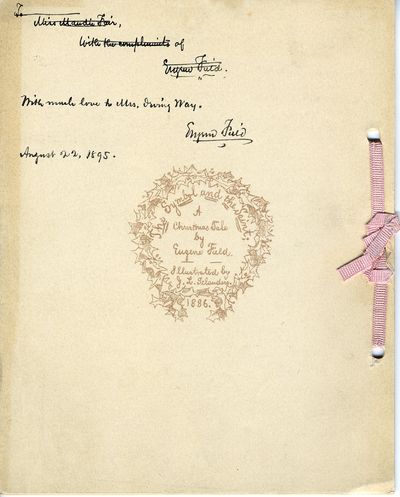 "The Symbol and the Saint" - SIGNED COPY OF FIELD'S CHRISTMAS TALE
Used; Like New/Used; Like New. Facsimile manuscript copy of Field's Christmas story The Symbol and the Saint, apparently an offprint prepared for the author, hole-punched and bound on the right with pink ribbon, with a signed dedication in Field's hand to Mrs. Irving Way, dated August 22, 1895, a few months before Field's untimely death at the age of 45.  Mrs. Way, the wife of Field's friend and fellow book collector W. Irving Way, did illuminations and illustrations for several of Field's books.  The story, a fable that explains the origin of Santa Claus, is dated 1886 and was first published in A Little Book of Profitable Tales in 1889.  Eleven sheets. Slight toning around the edges, a previous autograph signed inscription from the author canceled out before the inscription to Mrs. Way, otherwise in fine condition; 14 x 17.5 cm.

A fine signed edition from the beloved American poet, humor writer and journalist, the "poet of childhood" best known for his light-hearted poems for children, among the most famous of which are "Wynken, Blynken, and Nod," "The Duel" and "Little Boy Blue." 



[Bookseller: Schubertiade Music & Arts]
Last Found On: 2017-01-21
Check availability:
Biblio
---
Home Wants Manager Library Search 563 Years Links Contact Search Help Terms of Service Privacy
---
Copyright © 2019 viaLibri™ Limited. All rights reserved.