Recently found by viaLibri....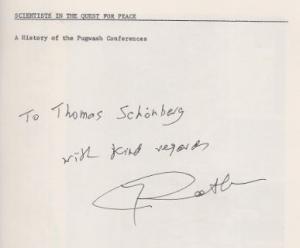 Scientists in the Quest for Peace. A History of the Pugwash Conferences.
300 Seiten 4, Softcover/Paperback das Buch sauber frisch, lediglich der Buchblock oben rects bestossen, auf dem Vortitel persönlich signierte Widmung des Autors. Sir Józef Rotblat (* 4. November 1908 in Warschau/Polen - + 31. August 2005 in London auch: Josef oder Joseph Rotblat) war ein polnisch-britischer Physiker. Als Kernphysiker war er anfänglich an der Entwicklung der ersten Atombombe beteiligt, verließ dann aber wegen ethischer Bedenken 1944 das Projekt. Er war einer der Mitgründer der Pugwash-Konferenzen und kämpfte ein Leben lang für die Abschaffung aller Atomwaffen. Stellvertretend für die Pugwash-Konferenzen wurde er im Jahr 1995 mit dem Friedensnobelpreis ausgezeichnet.
Bookseller:
Bührnheims Literatursalon GmbH