Recently found by viaLibri....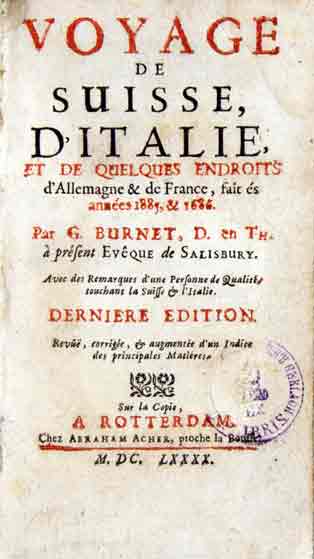 Voyage de Suisse, d' Italie, et de quelques endroits d' Allemagne et de France, fait dans les années 1885 (sic =1685), et 1686. Avec des remarques d?une personne de qualité touchant la Suisse & l?Italie. Dernière edition. Revûë, corrigée & augmentée d?un Indice des principales matières.
Rotterdam, Chez Abraham Acher, M. DC. LXXXX, 1690. in-8vo, (16,5:10 cm), 2 ff. (titre en rouge et noir + 468 p. + 8 ff. (table des matières), tampon sur titre ?Ex-Libris Gerlach?, reliure en perchemin d?époque, tachée. Ouvrage composé de 5 lettres écrites à Zürich, Milan, Florence, Rome, Nimègue, suivies de Remarques.?.This curious and entertaining narrative surpasses everything in its kind extant, in the style, sentiments, matter and method. The observations upon the corruptions, impostures of popery will afford pleasure to every consistent Protestant.? (Lowndes).Burnet, bishop of Salisbury ?.met with many ups and downs in his ecclesiastical career, being in and out of favour with Charles II, James II, and William III? (Cox).Dans son voyage il visitait e.a. Paris, Rome, Strasbourg, Francfort, Heidelberg, Utrecht et plusieurs villes de la Suisse. L'auteur traite e.a. l'histoire du Quiétisme en Italie, ainsi que la vie de Miguel de Molinos, un des principaux représentents du Quiétisme.Cf. (pour l'édition anglaise): Cox I/110; Lowndes I/319.Mehrfach aufgelegtes Reisewerk, auch in deutscher u. holl. Sprache erschienen. - Leicht gebräunt; gering stockfleckig; bis S. 50 in der oberen Ecke mit kleinem Wasserrand; Titel mit altem Besitzstempel.Please notify before visiting to see a book. Prices are excl. VAT/TVA (only Switzerland) & postage. Pescarzoli 63, vgl. Haller I, 946 (dt. Ausg.); cf. Perret 0765 (Some letters. 1686 edition); Wäber S. 26 (la première: Rotterdam 1687 puis 1688, 1690 et 1718 en plus un édition d?Amsterdam en 1687, un bestseller d?époque),
Bookseller:
Harteveld Rare Books Ltd.
[Fribourg, Switzerland]
Search for more books on viaLibri