Recently found by viaLibri....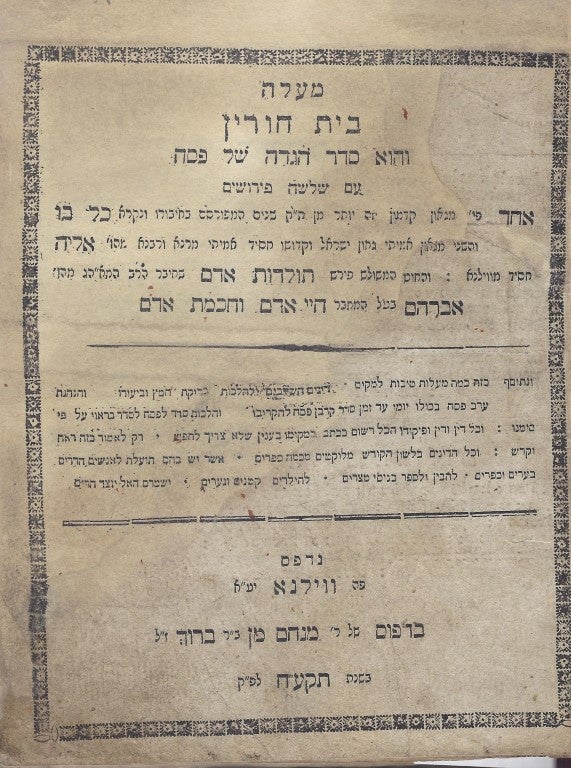 MA'ALEH BET HORIN: VE-HU SEDER HAGADAH SHEL PESAH ? IM SHELOSHAH PERUSHIM: EHAD, PERUSH KOL BO
Vilna; Bi-Defus Menahem Man Ben Barukh, 1818. Vilna; Bi-Defus Menahem Man Ben Barukh. 1818. Hardcover. Hag5, rab10, spec6. (ja) . Later boards. 8vo. 78 leaves. 40 pages. 22 cm. First edition. In Hebrew. Contains Kol bo and Toldot adam. Contains first appearance of excerpted commentaries from the Kol Bo on the text of the Hagadah, together with the commentaries of the Vilna Gaon (3rd appearance) and the first appearance of Abraham Danzig's 'Toledot Adam, ' a commentary on the Passover Haggadah. Thus the first haggadah with Kol Bo commentary and the third haggadah published in Vilna Yudlov 587. Yaari 416. Last leaf in fascimile. Bound in attractive modern marbled boards, red quarter cloth, and gilt title on spine. Subjects: Haggadot - Texts. Seder - Liturgy - Texts. Judaism - Liturgy - Texts. Haggadah – Commentaries. OCLC lists 1 copy (JTSA) . Light soiling foxing throughout and minor wormholing throughout; quality rag paper shows wear but is solid. About half of title page, as well as final leaf, in high quality facsimile; otherwise solid, Good condition. Scarce (HAG-13-15) .
Bookseller:
Dan Wyman Books, LLC
[Brooklyn, NY, U.S.A.]
Search for more books on viaLibri