Recently found by viaLibri....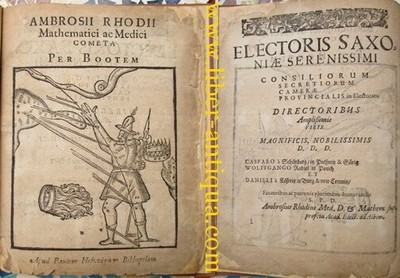 Cometa per Bootem Rhodius, A.:
Artikeldetails Cometa per Bootem Rhodius, A.: Extremely rare first edition Wittenberg/ Paulum Helvvigium, 1619. gebundene Ausgabe Sprache: Deutsch Bestell-Nr: 97202 Bemerkungen: A. Rhodius: Cometa Per Bootem. Wittenberg. Apud Paulum Helvvigium. [P. Helwig]. [1619]. 1st ed. Small 4to. (21,5 x 16,8). (32) pp. With large woodcut on title and several woodcuts in the text. Vignette on last page. Frayed edges, some repairs/ reinforcements to corners. Browning due to age. Bound in later full paper. 1st edition of a rare book on the comet of 1618 which interested Galileo, Kepler, Snell, and the other leading astronomers of the time. Rhodius (1577- 1633), was a German mathematician who served Tycho Brahe in Prague 1600-1 and later became professor of mathematics at the University of Wittenberg.EUR 5.630,00 Versandkostenfrei innerhalb Deutschlands Aufgenommen mit whBOOK Sicheres Bestellen - Order-Control geprüft! Artikel eingestellt mit dem w+h GmbH eBay-Service Daten und Bilder powered by Buchfreund (2019-02-10).
Bookseller:
Antiquariat Liber Antiqua
[Unteriberg, CH]
Search for more books on viaLibri