Recently found by viaLibri....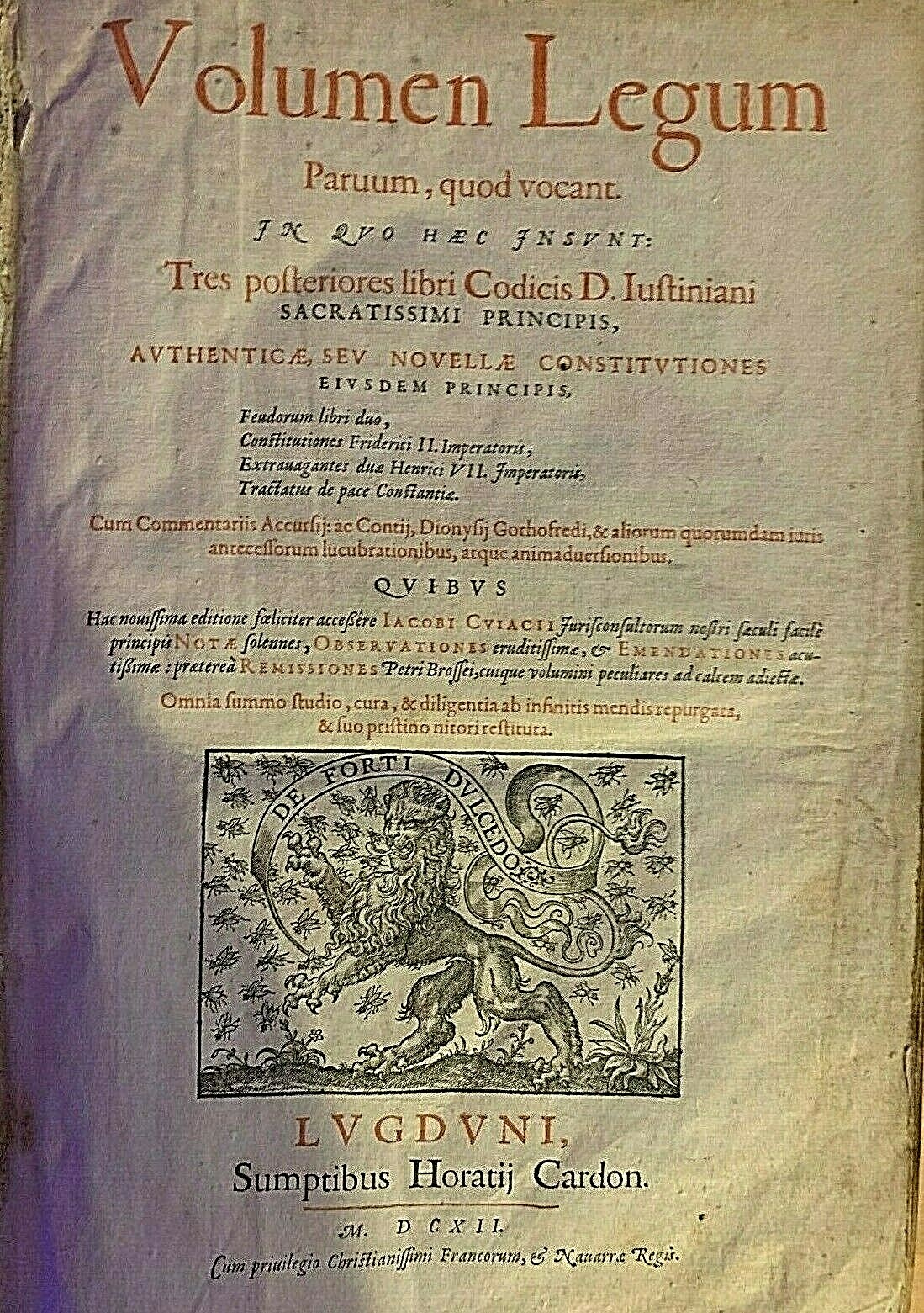 ultra rare book 1612 antique Justinian Code complete law codex
Lyon: 1612. Niveau bibliographiqueOnly circulating volume of that edition......the others are protected by national library or in the hand of particularsType de documentTexte imprimétitre5: Volumen legum paruum, quod vocant. Quo haec insunt tres posteriores Livres Codicis D. Iustiniani Sacratissimi Principis, ... Les commentaires sur le salaire: Accès au contenu, Contenu de la discussion, Remarque ... Observer ... Observer ... . & Emendationes ...; praetereà Petri Brossei Remission, ...publicationLugduni: sumptibus Horatij Cardon, 1612 IlCorpus iuris ciuilis Iustinianei: commentaires sur le contenu, les textes, les contes et les dieuys gothiques IC ... Nouissima a été modifié pour l'accès Iacobi Cuiacii ... Noté, Obseruationes, ... dans Digestorum, le Pandectarum libros 50. Codicis libros 12. Nouellas, Consulusudines , & Iustiniani Institutiones: ... Praeterea eiusdem célèbre Iacobi Cuiacii Paratitla dans Pandectas, & Codicem, ... Canones Chronicos Antonij Contij répertoire à succès index de noms de lecteurs, ... auteur Stephano Daoys Pampilonensi: ... accessible aux ... autres P. Brossei, ... nunc verò, ... methodice ad calcem cuiusque tomi subiectae. ... Tomus primus [-sextus] ... , 5Auteurs · · Brosse, Pierre: de · Godefroy, Denis · Cujas, carte d'autorité Jacques · Leconte, Antoine · [Editeur] Cardon, Horace Langue de publicationLATINOPays de publicationFRANCE, Lyon.
Bookseller:
madzden
[Chambly, Quebec, Canada]
Search for more books on viaLibri