Recently found by viaLibri....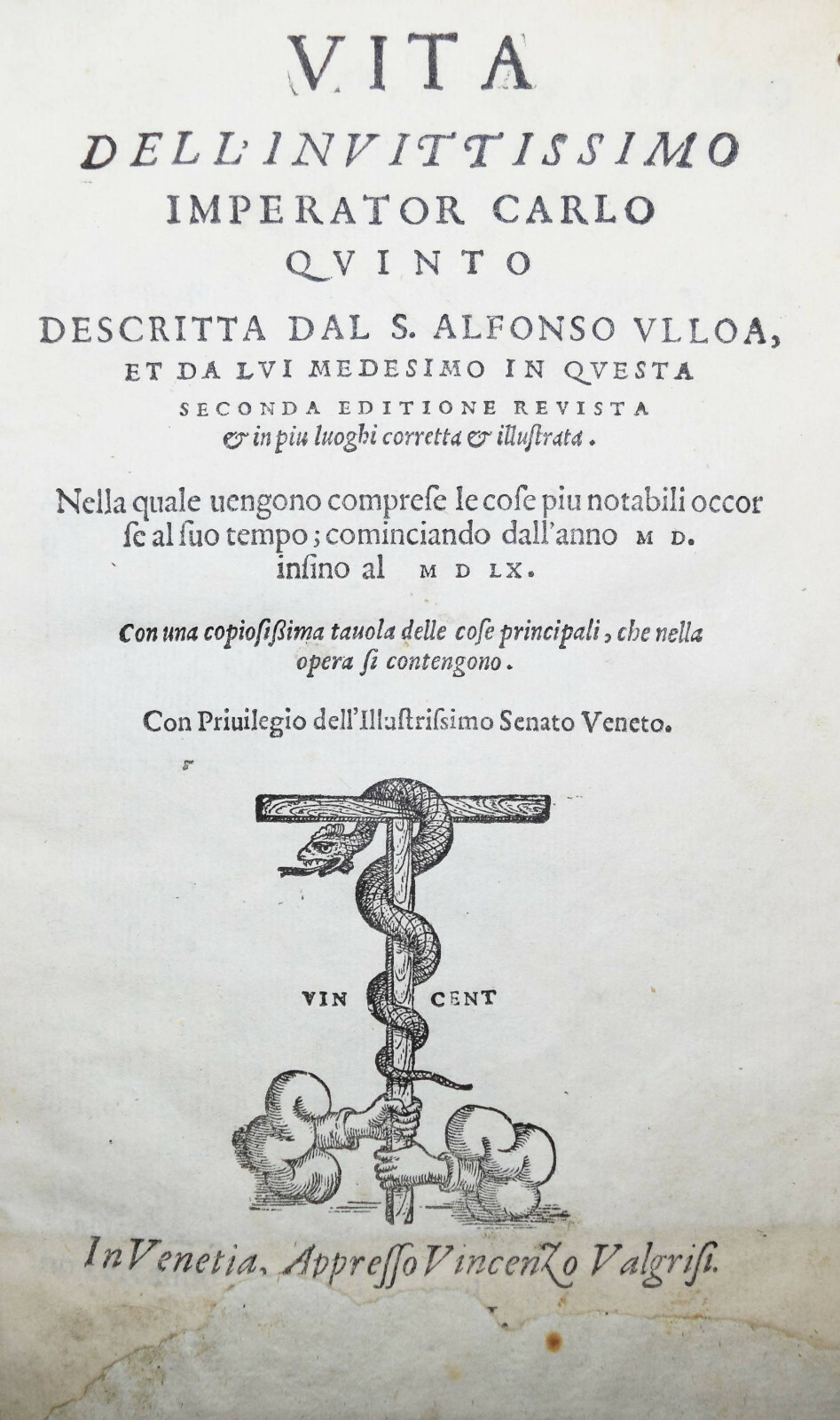 BIOGRAPHIE KARL V. 1562 AMERICA CORTEZ PIZARRO Ulloa, Vita...Carlo Qvinto Ulloa
1562. Ulloa, Alphonso de Vita dell'invitissimo imperator Carlo Qvinto. Nella quale uengono comprese le cose piu notabili occor se al suo tempo; cominciando dall'anno MD. infino al MDLX. Seconda editione revista & in piu luoghi corretta & illustrata. Venedig, Vincenzo Valgrisi (1562). Kl.-4°. 12 unn., 336 num. Bl. mit Holzschnitt-Druckermarke auf dem Titel u. einigen figürlichen Initialen. Hpgt. d. 18. Jhdts. mit handschr. Rückentitel, Deckel mit Kleisterpapierbezug. Brown, European Americana 562/33. Palau 343391. Sabin 97680. STC 704. Toda y Gell 5086. Vgl. Adams U 41 u. Muller 176; Nicht bei Church u. Leclerc. - Verbesserte zweite Ausgabe der wichtigen frühen Biographie Kaisers Karl V., der 1530 offiziell, als letzter römisch-deutscher König, durch Papst Clemens VII. zum Kaiser gekrönt wurde. - "This highly esteemed biography of Charles V includes an account of all events, which took place during the years 1500-1560, and especially of all the achievements of the Spaniards in America under Cortez, Pizarro, etc.; for inst. nearly half of the book V (65 pp.,) treats exclusively on the affairs of Peru; smaller notices on America will be found throughout the whole book" (Muller). - Titel unten unter Verlust der Jahreszahl schadhaft u. angerändert, sonst wohlerhaltenes Exemplar, kaum gebräunt oder fleckig, vord. Spiegel mit typogr. Bücherzeichen "Aus Tit. Herrn Ernst Christian Jasche, angesehenen Handelsmanns und E. E. Hansgerichts Assessoris Vermächtnis zur Rathsbibliothek 1787" (Warnecke 927).
Bookseller:
Antiquariat Haufe und Lutz (x-library)
[Karlsruhe, Germany]
Search for more books on viaLibri