Recently found by viaLibri....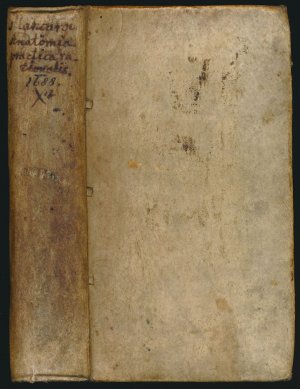 Steph. Blancardi Anatomia practica rationalis sive Rariorum cadaverum morbis denatorum anatomica inspectio. Accedit item Tractatus novus de circulatione sanguinis per tubulos, deque eorum valvulis &c.
Ex officina Corn. Blancardi, 1688. 12. 13,5 x 8 cm. Frontispiz, Titelblatt [10] Blatt, 321 Seiten, [6] Blatt (Index rerum Catalogus Operum). Pergamentband der Zeit mit handschriftlichem Rückentitel. Steven Blankaart (auch Stephan Blancard, latinisiert Stephanus Blancardus), geboren am 24. Oktober 1650 in Middelburg, gestorben am 23. Februar 1704 in Amsterdam. Niederländischer Mediziner, Chemiker, Pharmazeut und Entomologe. Überprüfte als Anhänger von René Descartes Theorien experimentell, in der Entomologie beispielsweise die Erzeugung von Insekten aus dem Ei. Erste Ausgabe. Mit gestochenem Frontispiz "Szene einer anatomischen Demonstrationen bzw. Sektion mit Zuschauern". Blankaart beschreibt Krankheiten, die zum Tod führten, erläutert deren Ursache und beschäftigte sich mit Fragen der Leichenkonservierung und der Herstellung anatomischer Präparate. Pergamentband fleckig, gedunkelt, Besitzereintrag von alter Hand auf erstem leeren Blatt. Gutes, innen gutes bis sehr gutes Exemplar. First edition. Graesse ... With engraved frontispiece "Scene of an anatomical demonstration or section with spectators". Blankaart describes diseases that led to death, explains their causes and dealt with questions of corpse preservation and the production of anatomical specimens. Parchment ribbon stained, darkened, owner's entry from old hand on the first blank sheet. Good, inside good to very good copy.
Bookseller:
Antiquariat Lenzen GbR
[Germany]
Search for more books on viaLibri