Recently found by viaLibri....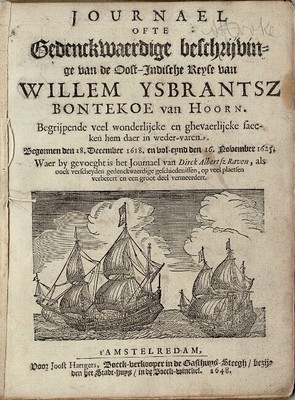 Journael ofte Gedenckwaerdige beschryvinge van de Oost-Indische Reyse van Willem Ysbrantsz Bontekoe van Hoorn. Begrijpende veel wonderlijcke en ghevaerlijcke faecken hem daer in weder-varen. Begonnen den 18. December 1618. en vol-eynd den 16. November 1625. Waer by gevoeght is het Journael van Dirck Albertsz Raven, als oock verfcheyden gedenckwaerdige geschiedenissen, op veel plaetsen verbetert, en een groot deel vermeerdert
Joost Hartgers, 1648. Small 4to, pp. [4], 56 (i.e. 76); collating [A1]-E8; engraved woodcut vignette of 2 ships on both primary and secondary title pages; historiated initial on A3; includes the Journal of Dirck Albertsz Raven on p. 59-76; old blue paper-covered boards; small oil stain in the top fore-margin throughout; worn, but sound. First published in Haarlem, 1646. Willem Ysbrandtszoon Bontekoe (1587-1657) was a captain in the Dutch East India Company (VOC), who made only one voyage for the company (1618-1625). He became widely known because of the journal of his adventures that was published in 1646 under the title Journael ofte gedenckwaerdige beschrijvinge van de Oost-Indische. In 1618 Bontekoe enlisted in the service of the Dutch East India Company. On a voyage to Java he was shipwrecked, along with part of his crew, and continued in a lifeboat. After a grueling journey, including an attack by hostile natives on Sumatra, they reached Batavia on Java. Bontekoe was given a new command and an order to harass the Chinese coast, returning to Holland in 1625. The OCLC record calls for a portrait (and indeed in other editions there is a portrait), but neither Alden nor Sabin does for this edition. Sabin 6337, and 67980n (detailing the 30-odd editions up to 1810); European-Americana 648/21; 3 copies in OCLC, none in the U.S.
Bookseller:
Rulon-Miller Books (rulonmillerbooks)
[Saint Paul, Minnesota, United States]
Search for more books on viaLibri
LINK TO THIS PAGE:
https://www.vialibri.net/years/books/266559321/1648-bontekoe-willem-ysbrantsz-dirck-albertsz-raven-journael-ofte-gedenckwaerdige-beschryvinge-van-de
Browse more rare books from the year 1648