Recently found by viaLibri....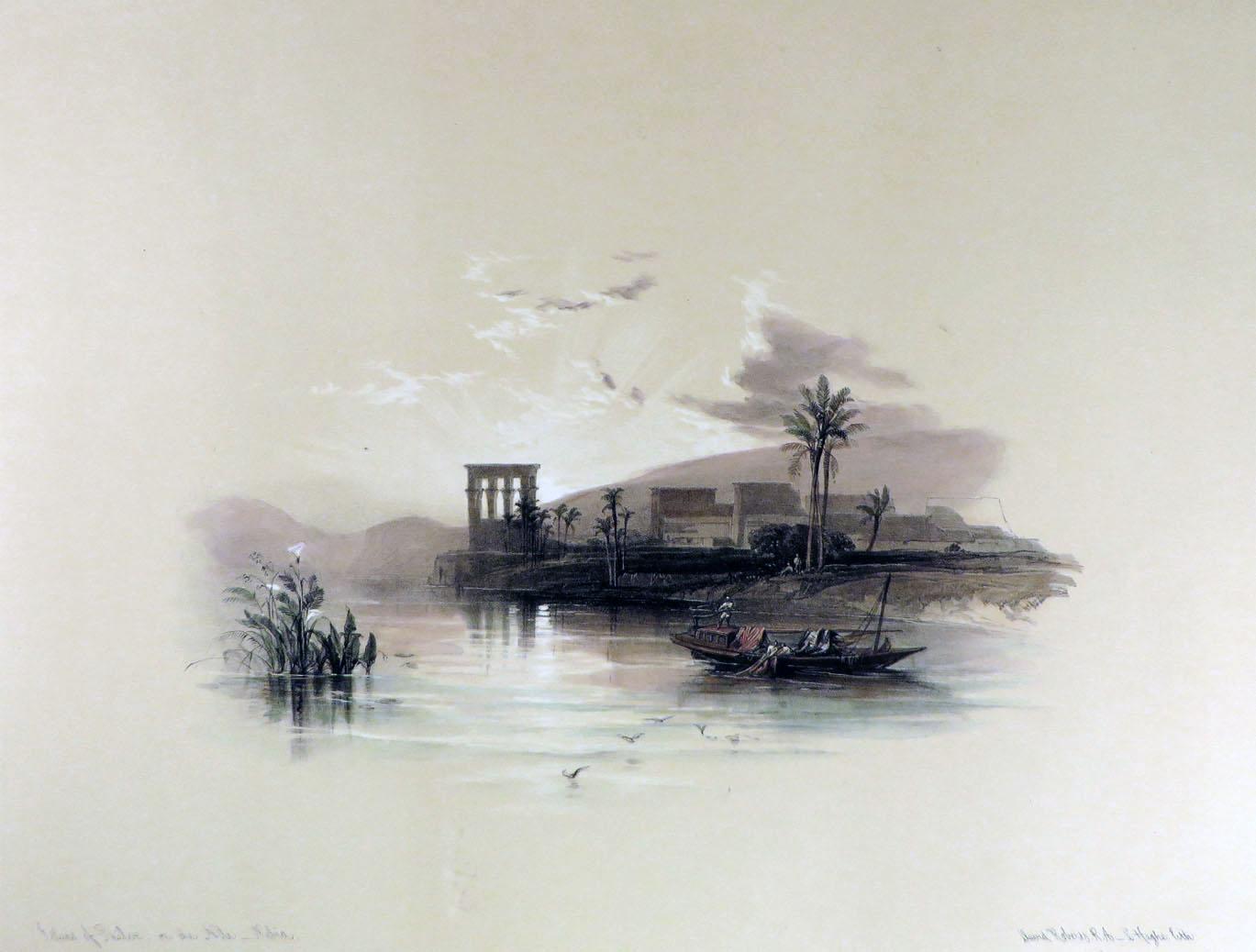 Island of PHILAE on the nile [Showing the Temple Compound at Sunset, Being an Original Hand-Coloured Lithograph From] THE HOLY LAND, SYRIA, IDUMEA, ARABIA, EGYPT AND NUBIA
London F.G. Moon and Co. 1846. From the Standard Folio First Edition, limited to 500 sets only. A single original hand-coloured lithographic plate drawn on stone by Louis Haghe after David Roberts' paintings done on location in 1838. Printed on a half folio sheet 17" x 15", the captioned image, is 14" x 10", now presented in cream mounting boards 21" x 17" glazed behind clear mylar. Beautifully hand-coloured to the highest standards of the time. An example in excellent condition, clean, fresh, beautifully preserved. FROM One of the most desirable of all travel and COLOURplate books. A very beautiful image of the the Island of Philae from the Nile at Sunset. In the foreground are reeds and a sailboat, behind which can be seen in near silhouette the Temple of Isis on the island. Philae was accounted to be one of the burying-places of Osiris, and was held in high reverence both by the Egyptians to the north and the Nubians to the south. It was deemed profane for any but priests to dwell there and was accordingly sequestered and denominated "the Unapproachable." This is a view now un-viewable to modern eyes. Due to decades of constant flooding of Philae after the construction of the Aswan Low Dam every building was dismantled into about 40,000 units, and then transported to higher ground on the nearby island of Agilkia. The project was completed in time for the 1970 construction of the the Aswan High Dam. We have a good number of impressive images from the Standard Folio Edition of this classic work available for purchase. As well as many views of Egypt we also have available, … [Click Below for Full Description]
Bookseller:
Buddenbrooks, Inc.
[Newburyport, MA, U.S.A.]
Search for more books on viaLibri