Recently found by viaLibri....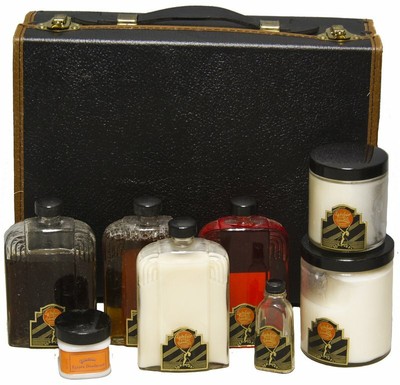 [Velvetina Company Beauty Aids Sample Kit]
(Omaha, NE): [Circa 1920s]. Sales representatives sample kit for Velvetina Egypta housed in imitation leather sample case measuring 11.5" x 8.75" x 4" approx. Containing: promotional tri-fold brochure with prices, measuring 3.25" x 5.5" approx.; Local sales representative contract with list of selling outfits on verso, 8.5" x 11" approx.; 8 oz jar tissue builder and skin food; jar vanishing cream; jar deodorant; 4 oz bottle astringent lotion; 4 oz bottle almond cream; 4 oz bottle oil hair dressing; 4 oz bottle cocoanut oil shampoo (sic); color sample palette of rouge, powder, lip stick, 7.5" x 4.25" approx.; jar cleansing cream; small unlabeled bottle, empty (likely perfume); wrapped, unmarked box, (likely powder). All sample jars and bottles are glass and packed in corrugated cardboard. Case suffers light wear, contents generally fine. Exceptionally well preserved. A salesman's sample kit in almost unaccountably fresh condition, with original contents intact. The accompanying documents detail the full product line and prices, while delivering insight into the company's proto-Mary Kay relationship with local sales representatives. A remarkable survival.
Verkäufer:
write-field (typepunchmatrix)
[Silver Spring, Maryland, United States]
Search for more books on viaLibri