Recently found by viaLibri....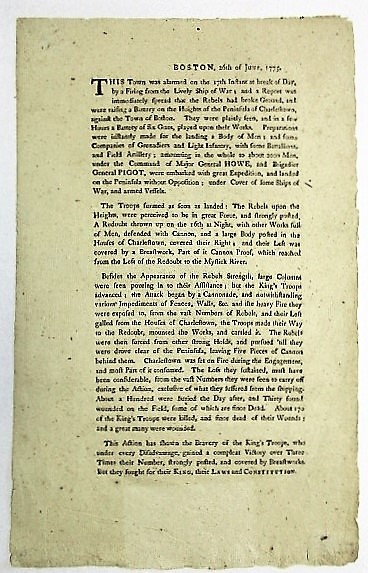 BOSTON, 26TH OF JUNE, 1775. THIS TOWN WAS ALARMED ON THE 17TH INSTANT AT BREAK OF DAY, BY A FIRING FROM THE LIVELY SHIP OF WAR; AND A REPORT WAS IMMEDIATELY SPREAD THAT THE REBELS HAD BROKEN GROUND, AND WERE RAISING A BATTERY ON THE HEIGHTS OF THE PENINSULA OF CHARLESTOWN, AGAINST THE TOWN OF BOSTON.
Printed by John Howe, [Boston, 1775. Folio broadside, 36cm x 22cm. Thomas W. Streeter's copy, with his small sticker on the blank verso. Near Fine. "British account of the battle of Bunker Hill" [ESTC], printed in Boston a week after the Battle. The printer, John Howe [1754-1835], was a Loyalist; he witnessed the Battle and wrote this scarce broadside. Recording the responses of British Generals Howe and Pigot as American troops amassed, he describes the heroic British assault on the American left flank: "notwithstanding various Impediments of Fences, Walls, &c. and the heavy Fire they were exposed to, from the vast Numbers of Rebels, and their Left galled from the Houses of Charlestown, the Troops made their Way to the Redoubt, mounted the Works, and carried it. The Rebels were then forced from other strong Holds, and pursued 'till they were drove clear of the Peninsula, leaving Five Pieces of Cannon behind them." "This Action has shown the Bravery of the King's Troops, who under every Disadvantage, gained a compleat Victory over Three Times their Number, strongly posted, and covered by Breastworks. But they fought for their KING, their LAWS and CONSTITUTION." Reese, The Revolutionary Hundred 32, Evans 13842. Streeter Sale 760, with illustration at page 563.
Bookseller:
David M. Lesser, ABAA
[Woodbridge, CT, U.S.A.]
Search for more books on viaLibri