Recently found by viaLibri....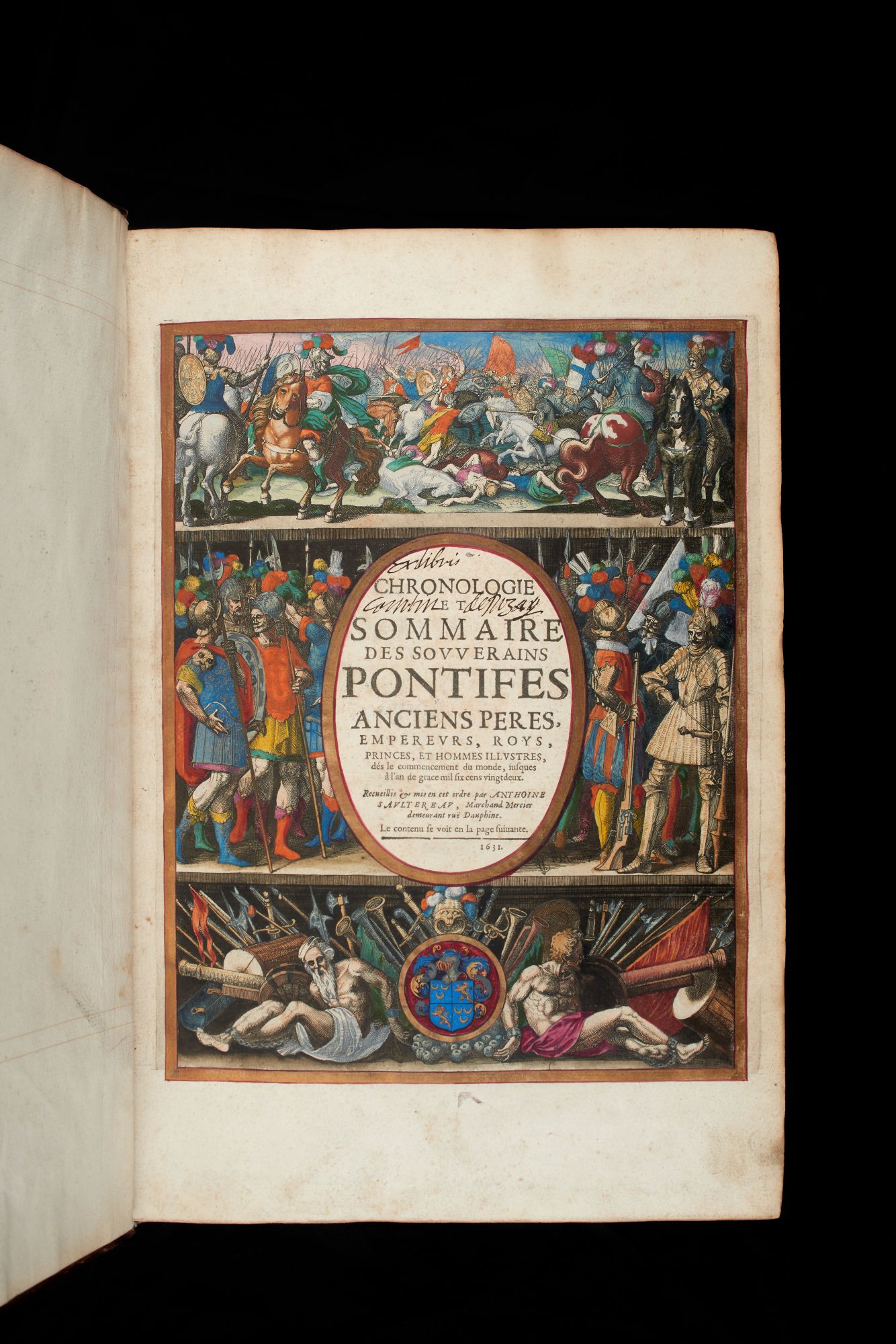 Chronologie Et Sommaire Des Souverains Pontifes Anciens Peres, Empereurs, Roys, Princes, Et Hommes Illustres dés le commencement du monde, jusques à l'an de grace mil six cens vingtdeux
Antoine Saultereau, Paris, 1631. THIS BEAUTIFUL AND COMPLEX HYBRID BOOK BINDS ART, COLLECTING, INSTRUCTION AND ENTERTAINMENT. It was destined for a curiosity cabinet (Man in miniature), an artist or artisan (patterns of ornament, arms and armor, textiles, needlework, precious gems, hair styles, furs and ecclesiastical fashion), a collector of heads, a historian or a wealthy family to home-school women and children in secular, sacred, cultural and military history. The present example has twenty-one illustrated individual narratives, spanning Eastern and Western rulers, biblical figures, intellectuals, statesmen, nobles, clerics and pagan gods. The iconography expressly draws on coins, medals, statuary, painting, architecture, manuscripts and printed books. The most celebrated series, Famous Frenchmen since 1500 (here no. 18), was cut by Léonard Gaultier. We find Vesalius, Fernel, Rondelet, Joubert, Paré, Belon, Erasmus, Scaliger, Ramus, Nostradamus, Gaguin, de Thou, Budé, Alciati, Hotman, Mercator, Ortelius, Thevet, Rabelais, Marot, Ronsard, the Du Bellays, Robert Estienne, Plantin, Garamond and one hundred twenty more soldiers, aristocrats, lawyers, poets, politicians and painters, INCLUDING THE ONLY KNOWN PORTRAITS OF ARTISTS FRANÇOIS CLOUET AND GERMAIN PILON. For more information about those in this pantheon, the Advertissement directs the reader to Sainte-Marthe's biographies, Rouillé's Promptuaire des Medailles and the bibliographies of Du Verdier and Gesner. Another unusual feature is the incorporation of thirteen small views and buildings in the suite devoted to Savo … [Click Below for Full Description]
Bookseller:
Bruce McKittrick Rare Books, Inc.
[Narberth, PA, U.S.A.]
Search for more books on viaLibri