Recently found by viaLibri....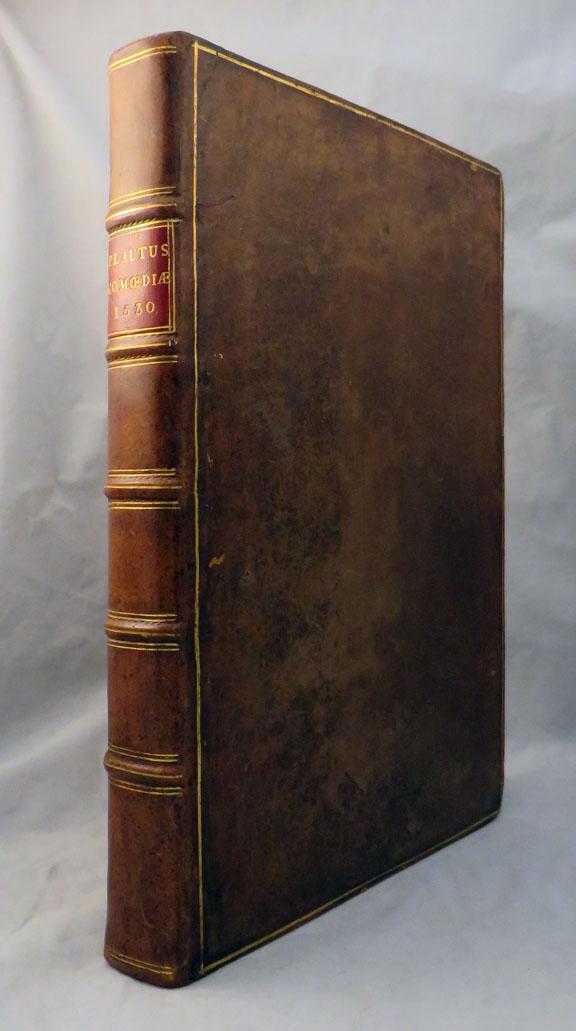 COMOEDIAE XX, EX ANTIQUIS, RECENTIORIBSQUE EXEMPLARIBUS INVICEM COLLATIS, DILIGENTISSIME RECOGOGNITAE
Paris Robert Estienne 27 January 1530. First Estienne Folio Edition Printer'solive tree device on title-page (Schreiber no. 3) Folio (305 x 202mm), 18th century polished calf, the spine with raised bands gilt ruled and bordered with double gilt fillet lines, red morocco lettering label gilt, the covers with wide gilt fillet rule. [10] 256 ff. A very fine copy, excellently preserved in original state with hinges tight and strong, the calf in beautiful condition, the textblocks clean, crisp and unpressed. This is also a large copy, of significantly greater dimensions than the Schreiber copy. RARE FIRST EDITION IN FINE ANTIQUE CALF OF THE FIRST ESTIENNE FOLIO PRINTING OF PLAUTUS. This was a highly important edition of the comedies of Plautus which was instrumental in the forming of Estienne's highly influential THESAURUS "in which Estienne had virtually founded modern Latin lexicography" (thus replacing the outdated work of Calepinus). Estienne had failed to persuade any suitable scholar to compile a new Latin dictionary and so prepared for this work by reading and making exhaustive notes on the whole of Terence and Plautus; these notes were then written out and put in alphabetical order to form the basis of the new work. The PLAUTUS appeared a year before the THESAURUS but it is not clear whether this edition had already been projected, or whether it was a by product of the dictionary. 'Plautus, the great comic dramatist of Ancient Rome lived until about 184 B.C. according to Cicero. He may, in certain respects be regarded as completely original, viz. in his development of th … [Click Below for Full Description]
Bookseller:
Buddenbrooks, Inc.
[Newburyport, MA, U.S.A.]
Search for more books on viaLibri