Recently found by viaLibri....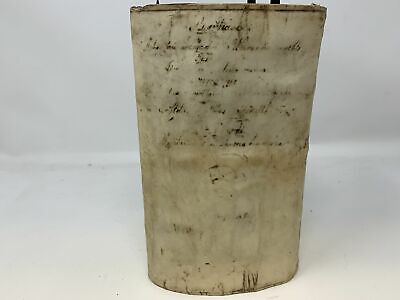 FIVE 18th-CENTURY MEDICAL BOOKS, IN LATIN BOUND AS ONE (NEARLY 2000 PAGES) 1. APHORISMI DE CONGNOSCENDIS ET CURANDIS MORBIS. IN USUM DOCTRINE DOMESTICAE DIGESTI; 2. LEBELLUS DE MAGTERIE MEDICA ET REMEDIORUM FORMULIS, QUAE SERVIUNT APHORISMIS DE CONGNOSCENDIS ET CURANDIS MORBIS; 3. DE HABITUS CORPORUM GERMANICORUM. ANTIQUE AC NOVI CAUSIS. LIBER SINGULARIS. ANNOTATIONIBUS UBERRIMIS DILUCIDAVIT JO. HIULIPPUS BURGGRAVIUS, FILS. 4. VIRORUM CLARISSIMORUM GUNTHERUM CHRISTOPHORUM SCHELHAMMERUM EPISTOLAE SELECTORES, REM LITTERARIAM, PHILOFOPHIAM NATURALEM AC MEDICINAM POTISSIMUM SPECTANTES. RECENFUIT SIMULQUE VITAM SCHELHAMMERI CUM INDICE SCRIPTORUM EIUS TAM EDITORUM. 5. MEDITATIONS DE ANIMA HUMANA IN QUIBUS DE EJUS NATURA, COMMERCIO ET UNIONE CUM COR;PORE HARMONIA SIC DICTA PRAESTABILITA ET CAETERIS AFFECTIONIBUS DISQUIRITUR
various, 1727. Vellum. Small, thick octavo. Full vellum binding with manuscript title of spine fading. Some soiling, as is frequently seen with vellum. Binding solid. Some light dampstains to first fifteen pages, some toning but overall a bright copy. All title pages in red and black. Book 1: 1727. 349 pages plus 16 page index. Johannen Van der Linden, Batavia. 1727. Book 2: 445 pages plus 32 page index. At Isaac Severium. Batavia. 1727. Book 3: 441 pages plus 32 page index. Frankfurt. 1727. Book 4: 387 pages plus 30 page index. Lochmanni [?]. Book 5: 256 pages. 1726. Rostochii. [Rostock, Mecklenburg]. very good. Boerhave [1668-1738] was a noted Dutch physician and professor of medicine. Christopher Schellhammer [1648-1716] was a professor of physic in Jena and published on physiology and hearing. Buchard was a physician in Rostock and was interested in animal movement. Hermann Conring [1606-1681] was a German intellectual who studied medicine, politics and law.
Bookseller:
ezra9
[Eugene, Oregon, United States]
Search for more books on viaLibri
LINK TO THIS PAGE:
https://www.vialibri.net/years/books/250656932/1727-boerhaave-hermano-conring-hermannischelhammerum-guntherum-five-18th-century-medical-books-in
Browse more rare books from the year 1727