Recently found by viaLibri....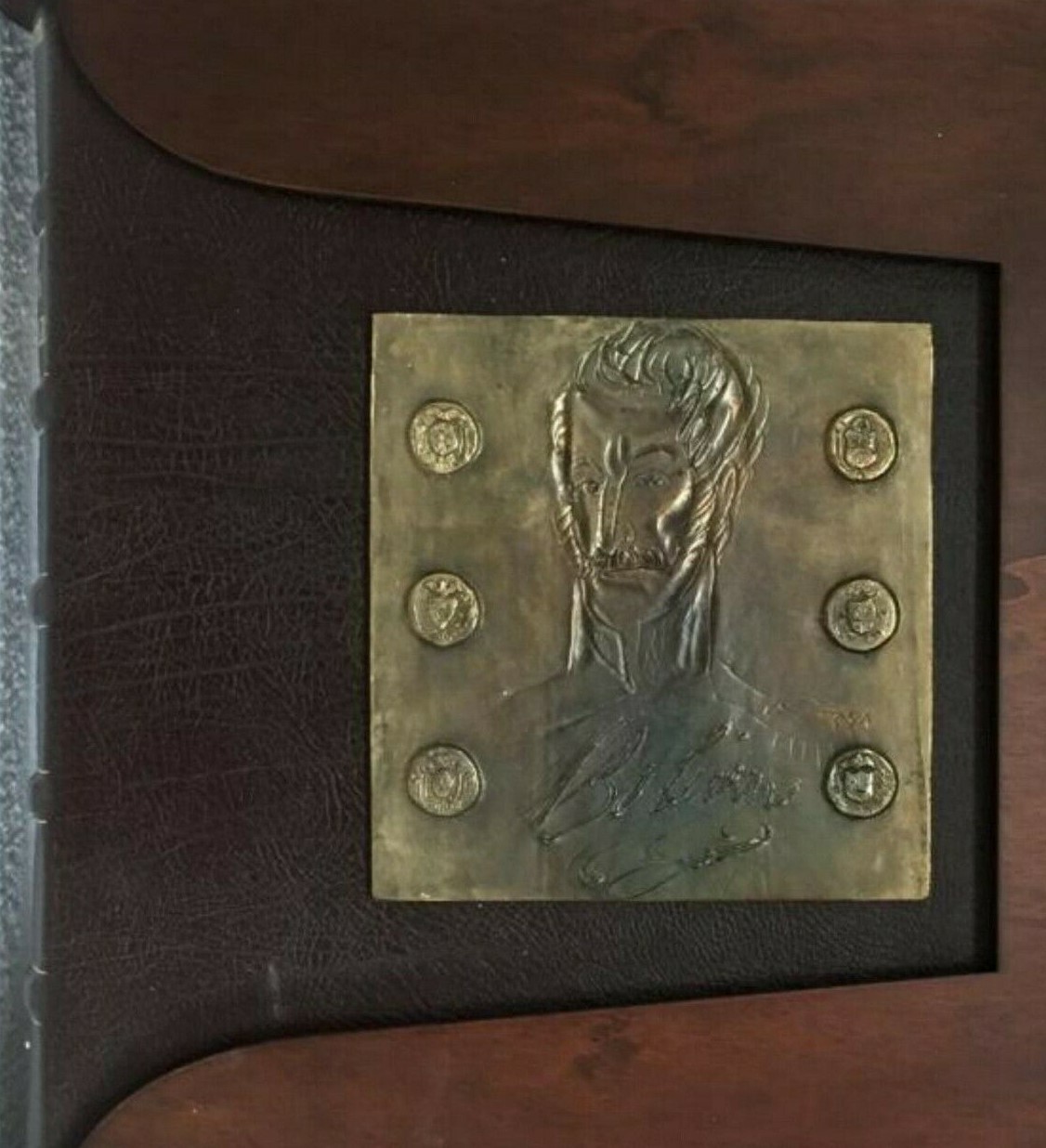 SIMON BOLIVAR-Illustrato da JOSE ORTEGA - SIMON BOLIVAR-by JOSE' ORTEGA 1980
1980. Condition: Buone condizioni. Fioriture di umido alle prime pagine esterne. Vedi foto. SIMON BOLIVAR - illustrato da JOSE' ORTEGA Esemplare n. 217/2861 - Tavole a colori protette da velina.Tiratura limitata numerata e firmata dall'artista. Bassorilievo scolpito in bronzo raffigurante il ritratto di Bolivar e gli stemmi degli Stati resi indipendenti. Legatura in piena pelle e custodia in legno. EDIZIONE: TREC Edizioni pregiate, 1980 FORMATO: Volume: 51,5 x 49,5 cm. Cofanetto: 54,5 x 54,5 Rilegato con copertina rigida in piena pelle, titoli e nervi al dorso, bassorilievo in bronzo al piatto, custodia in legno. PAGAMENTO CON BONIFICO BANCARIO ENTRO 3 GIORNI - SECONDO ISTRUZIONI CHE VERRANNO COMUNICATE DOPO L'ACQUISTO. SIMON BOLIVAR - illustrated by JOSE 'ORTEGA - Copy no. 217/2861 - Color plates protected by tissue. Limited edition numbered and signed by the artist. Bas-relief carved in bronze depicting the portrait of Bolivar and the coats of arms of the states made independent. Full leather binding and wooden case. EDITION: TREC Fine editions, 1980 FORMAT: Volume: 51.5 x 49.5 cm. Box: 54.5 x 54.5Hardcover with full leather hardcover, titles and nerves on the spine, bronze bas-relief on the plate, wooden case. PAYMENT BY BANK TRANSFER WITHIN 3 DAYS - ACCORDING TO THE INSTRUCTIONS THAT WILL BE COMMUNICATED AFTER THE PURCHASE.
Bookseller:
pietroangelo273
[Genzano, Italy]
Search for more books on viaLibri