Recently found by viaLibri....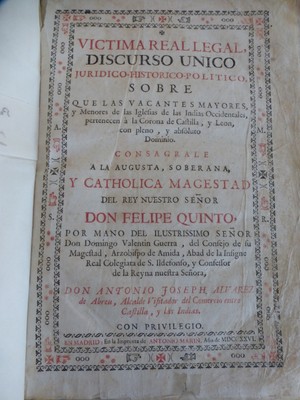 1726 Victima Real Legal Discurso Unico Juridico-Historico-Politico Alvarez Abreu
Madrid: Imprenta de Antonio Marin. Antique, authentic, original edition, see the photos, 1 edition , year 1726 very rare book. Antonio José de Alvarez Abreu, Marqués de la REGALIA. Victima real legal, discurso unico juridico-historico-politico, sobre que las vacantes mayores, y menores de las iglesias de las Indias Occidentales, pertenecen à la Corona de Castilla, y Leon, con pleno, y absoluto Dominio. Published by Madrid, Imprenta de Antonio Marin, 1726. Title in red and black within type metal border, sm folio, limp vellum (outer margin of title frayed; some staining in text) Madrid 1726 *** FIRST EDITION, defending the Spanish Crown's right to income from vacant positions in the churches of America. Alvarez Abreu (1688-1756), a member of the Consejo and Camara de Indias, Minister of the Juntas Generales de Tabaco, Comercio, & Moneda, Asiento de Negros, and one of the most learned jurisconsults of Spain, was rewarded for this work with a pension of a thousand ducats and the title of Marquis de la Regalía. The second edition appeared in Madrid, 1769.***.
Bookseller:
forestequijo
[Maracaibo, Venezuela]
Search for more books on viaLibri