Recently found by viaLibri....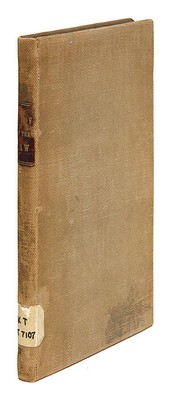 A Treatise on the Study of Law: Containing, Directions to Students,...
1797. Advice on Legal Study from Mansfield, Ashburton and Thurlow [Murray, William, 1st Earl of Mansfield (1705-1793)]. [Dunning, John, 1st Baron Ashburton, (1731-1783)]. [Thurlow, Edward, 1st Baron Thurlow (1731-1806)]. A Treatise on the Study of Law: Containing, Directions to Students, Written by Those Celebrated Lawyers, Orators, And Statesmen, The Lords Mansfield, Ashburton, And Thurlow, In a Series of Letters to Their Respective Young Friends; With Notes, And Additions, By the Editor. London: Harrison, Cluse, and Co., 1797. viii, iii, [1] 147, [1] pp. Octavo (7-3/4" x 4-3/4"). Later library cloth, lettering piece to spine, endpapers renewed. Some shelfwear and soiling, front joints just starting at ends, upper section of lettering piece lacking, along with front free endpaper. Light toning to text, negligible faint spotting to a few leaves, faint library stamp and (illegible) early owner signature to title page. ,000. * Only edition. Sir William Murray, or Lord Mansfield, was born in Perth, but came to England in 1718. He became Chief Justice of the King's Bench in 1756 and exerted a great influence on the common law. He suggested to Blackstone the notion of a series of lectures on English law at Oxford and would on occasion explicate principles in court for the benefit of students present. John Dunning, or Lord Ashburton, defended Wilkes against charges of seditious libel. Edward Thurlow, or 1st Lord Thurlow, made his reputation with his speech in the Douglas Cause and became Chancellor in 1778. English Short-Title Catalogue T102875.
Bookseller:
lawbook exchange (intrepidbooks)
[Clark, New Jersey, United States]
Search for more books on viaLibri