Recently found by viaLibri....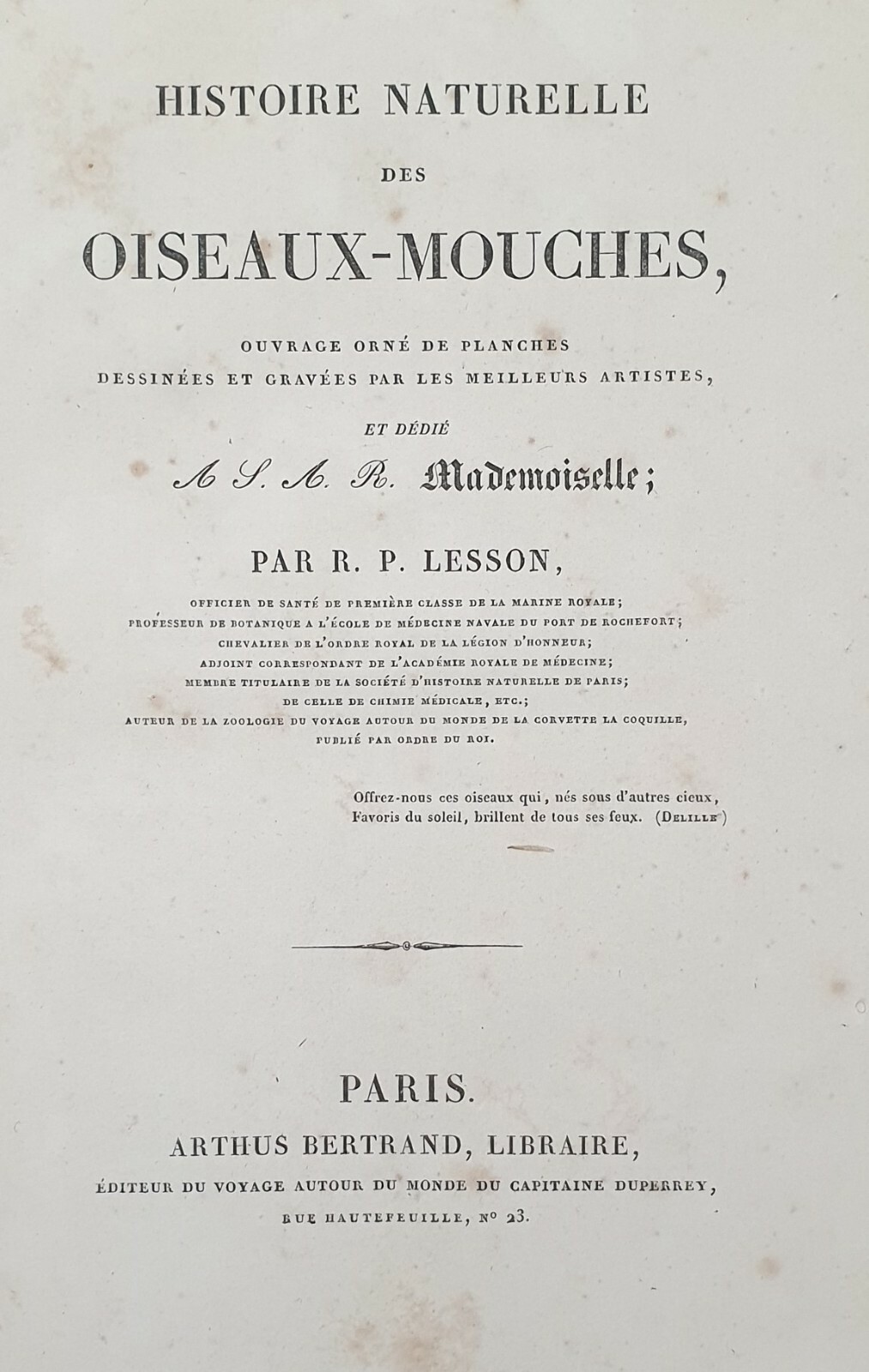 LESSON : HISTOIRE NATURELLE DES OISEAUX MOUCHES
PARIS: 1829. EDITION ORIGINALE. 2 Volumes grand in 8° (250 x 180mm) Ouvrage orné de planches et dédie S.A.R. Mademoiselle. Relié demi chagrin vert, dos à 5 nerfs orné de motifs teste 223 pp et 85 planches en couleur finement gommées et 38 planches. En tout 123 planches. Edition originale de ce traité fondamental, un des premiers sur le sujet, parue en 17 livraisons III. De 85 planches gavées en noir par Coutant d'après Bevalet et Pretre, joliment rehaussées à l'aquarelle et partiellement gommées + 38 planches finement coloriées. Par le chirurgien de la marine et ornithologue français R.P. Lesson (1794-1849), qui participa notamment au voyage d'exploration de « La Coquille », placée sous le commandement de Dumont d'Urville et Duperrey. Work adorned with boards and dedicated H.R.H. Mademoiselle. Bound in half green grief, spine with 5 ribs decorated with motifs. tests 223 pp and 85 finely gummed colour plates and 38 plates. A total of 123 plates. First edition of this fundamental treatise, one of the first on the subject, published in 17 issues III. Of 85 plates gummed in black by Coutant after Bevalet and Pretre, nicely enhanced with watercolour and partially gummed + 38 finely coloured plates. By the French naval surgeon and ornithologist R.P. Lesson (1794-1849), who took part in the voyage of exploration of "La Coquille" under the command of Dumont d'Urville and Duperrey.
Bookseller:
docteur_ramirez
[Antibes, France]
Search for more books on viaLibri