Recently found by viaLibri....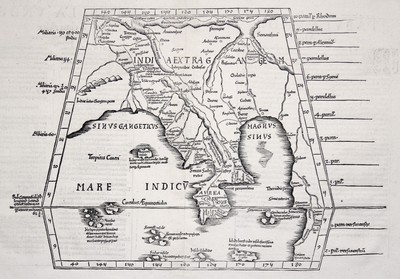 Südostasien Original Holzschnitt Landkarte Fries Ptolemäus 1541
1541. SÜDOSTASIEN ( East India ): Hschn.- Karte, v. L. Fries aus Ptolemäus 'Geographicae enarrationes', ohne Titel, rückseitig 'Tabula undecima Asiae continet Indiam extra Gagem & synarum regionem', 1541, 28 x ( 22 - 28 ) Trapezform Klassische ptolemäische Karte von Südostasien vom 'Sinus Gangeticus' (Golf von Bengalen) im Westen und der von Ptolemäus vermuteten Verbindung zum Südkontinent jenseits des Magnus Sinus. Wie alle Meere war auch der Indische Ozean in der Ptolemäischen Geografie ein Binnenmeer eingeschlossen von Afrika, Asien und dem unbekannten Südkontinent (Terra australis incognita). Die Karte zeigt demnach Bangladesch, Myanmar, Thailand und Malaisia sowie Kambotscha und Vietnam. Bei der mit 'Aurea Chersone' an der Südspitze der Malaiischen Halbinsel bezeichnete Landmasse handelt es sich möglicherweise um Sumatra. 'The Golden Chersonese is generally accepted to be Malaya, which Ptolemy considered and important place . . .[It] may in fact be Sumatra, portrayed here without the strait that separates it from Malaya. If this is so, it would explain both the shape of the Malay Peninsula and also its extension into the Southern Hemisphere.' (Suarez). Die kleine mit 'Sinus Permimulicus' bezeichnete Bucht östlich der Aurea Chersone wäre demnach der Golf von Thailand. Aus der 1541 bei Trechsel in Vienne/Dauphine gedruckten und von Michael Servetus herausgegebenen Ausgabe mit Seitenzahl 25, auf der Rückseite lat. Text. Artikelnummer: 307823.
Bookseller:
Antiquariat Clemens Paulusch GmbH (cpaulusch)
[10178, Germany]
Search for more books on viaLibri