Recently found by viaLibri....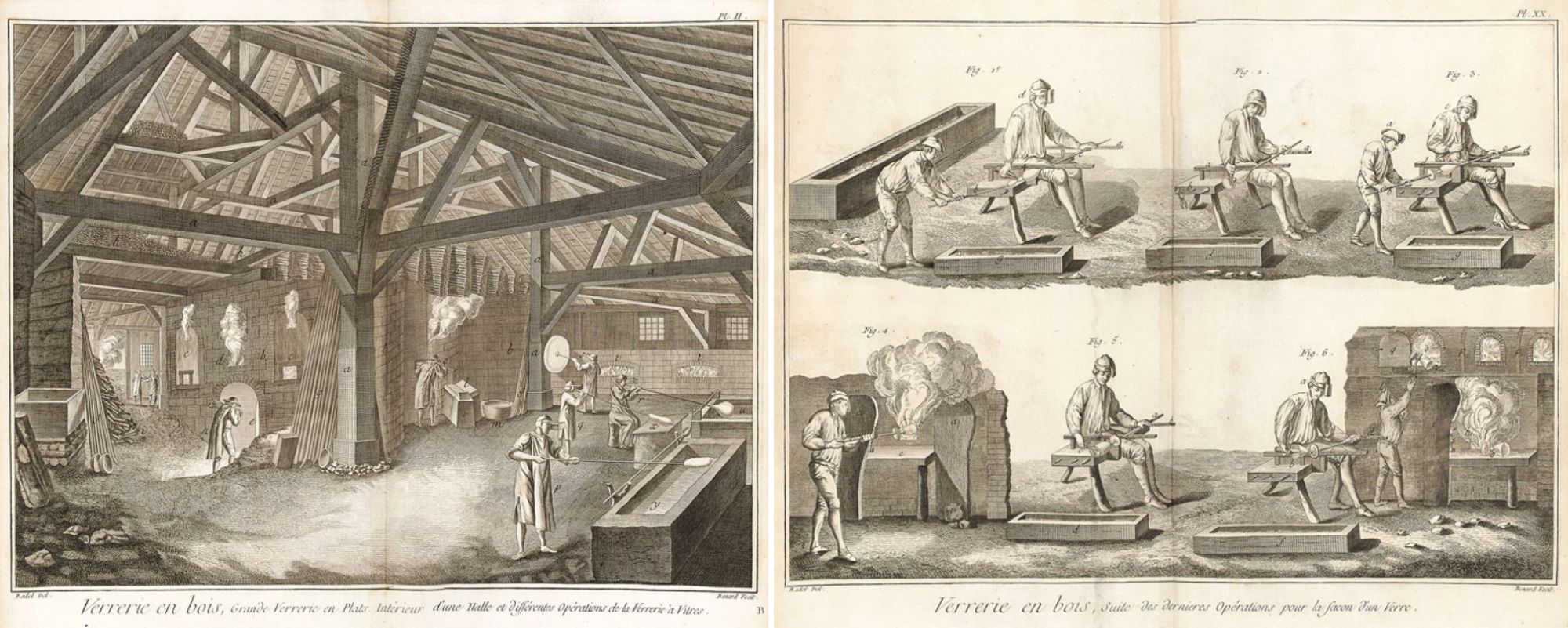 Verrerie (Glass-Blowing) Encyclopédie, ou dictionnaire raisonné des sciences, des arts et des métiers. Plates vol. 10.
Paris (1772). Folio, 253 x 393mm. 25 pages of descriptive text and 57 loose plates with their accompanying 5 text sheets. Slight browning to margins, a little spotting otherwise very good. § The 57 plates and descriptive text for the entry of Verrerie from volume X of plates. There are fives sets of plates in this suite. The first is entitled Verrier en bois and has twenty-two numbered plates with seven doubles (1-4, 19, 20, and 21). The second set, also entitled Verrier en bois, contains nineteen numbered plates, of which five are doubles (2, 4, 19, 20, 21). The third set, entitled Verrier Angloise, has 3 numbered plates that are all single plates. The last set contains 4 numbered plates which are also all single. Also with the relevant entries listed under Verrier in the Table Analytique et Raisonnée du Dictionnaire des Sciences, Arts et Métiers. Vol II. (1780). 2 pages (605 & 856) from volume I of the Encyclopédie (1751) including Les arches du four and Attremper un pot.4 pages (92, 393, 504 & 837) from volume II of the Encyclopédie (1751) including Barres, Comment le tiseur fait la braise, Cachere dans les verries en bouteilles and La maniere de couper le verre.2 pages (219 & 243) from volume VII of the Encyclopédie (1756) including information on L'usage de la fougere en verrerie and Les fourneaux.16 pages (102-115 & 155-156) from volume XVII of the Encyclopédie including La verrerie en général. 1 page (156) from volume XVI of the Encyclopédie (1765) which includes information on Communauté de marchands verriers ou fayanciers, établie à Paris Verrier.
Bookseller:
John Windle Antiquarian Bookseller, ABAA
[San Francisco, CA, U.S.A.]
Search for more books on viaLibri