Recently found by viaLibri....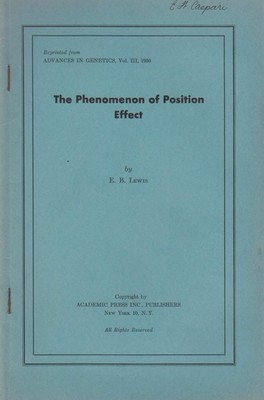 9 offprints by E.B. Lewis
Academic Press Inc., Publishers, New York 10, N.Y., 1950 and various others. Condition: Collectible, Very Good. *"Edward B. Lewis (May 20, 1918 - July 21, 2004) was an American geneticist, a corecipient of the 1995 Nobel Prize in Physiology or Medicine." Wikipedia Titles Include: The Phenomenon of Position Effect (1950); The Pseudoallelism of White and Apricot in Drosophila Melanogaster (1952); The Theory and Application of a New Method of Detecting Chromosomal Rearrangements in Drosophila Melanogaster (1954); Normal Interchromosomal Crossover Relationships in Drosophila Melanogaster, with H.H. Kramer (1956) ; Leukemia and Ionizing Radiation (1957); Genes and Developmental Pathways (1963)Genetic Control and Regulation of Developmental Pathways (1964); Genes and Gene Complexes (1967); A Gene Complex Controlling Segmentation in Drosophila (1978) Staples little rusty, Earnst Caspari signature of ownership on 2 copies. Small stain on one copy.
Bookseller:
Robinson Street Books (robinson_st_books)
[Binghamton, New York, United States]
Search for more books on viaLibri